By Chris McKhann
Options are active in Leap Wireless (LEAP) as the telecom carrier's stock labors near its lows.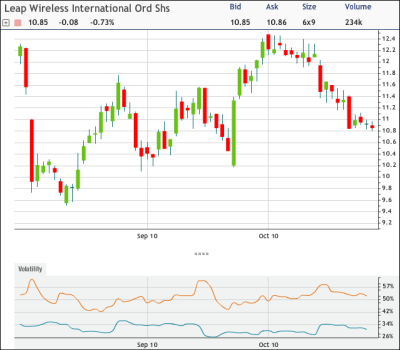 The average option volume for LEAP is 1,280 for a full day, but we are already seeing close to 10 times that number just 90 minutes into the session. Puts are outpacing calls in the name by 10 to 1.
A trader bought 5,000 April 10 puts for 1.09 against open interest of 8,130. Seconds later 5,000 November 11 puts were sold for $0.67. This volume was almost double the previous open interest at this strike.
This certainly isn't a reverse roll, so it seems likely that this is a new opening diagonal spread. The trade is reasonably neutral right now and will profit from time decay, taking a maximum profit if LEAP is around $11 at expiration. The break-even points are around $10.25 and $13 at expiration, all else held equal.
LEAP trades at $10.85, down fractionally on the day. It had climbed to $12.50 earlier in the month as it crept higher from a 52-week low of $9.51 set in mid-August. Shares were near $19 in May.

Disclosure: No position