By Craig Bowles
Overview
Qualcomm, Inc. (NASDAQ:QCOM) is slated to report 3Q 2014 earnings after the bell on Wednesday, July 23rd. The earnings release is expected at approximately 4:00 p.m. EST with a conference call to follow at 4:45 p.m. that is webcast through Qualcomm Investor Relations.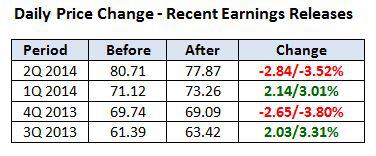 Outliers & Strategy
Key measures:
Non-GAAP Earnings Per Share: Company guidance is for $1.15 to $1.25. The current Street estimate is $1.22 (range $1.18 to $1.25. (Source: Yahoo! Finance).
Revenues: Company guidance is for $6.2 bln to $6.8 bln. Analysts expect an increase of 4.5% y/y to $6.52 bln (range $6.28 bln to $6.74 bln).
Adjusted Earnings Per Share Guidance / Revenue Guidance (4Q2014 & FY2014):
4Q 2014 Adjusted EPS Guidance will compare to analyst expectations for $1.39 (range $1.29 to $1.47).
4Q 2014 Revenue Guidance will compare to analyst consensus of $7.15 bln (range $6.68 bln to $7.38 bln).
FY2014 Adjusted EPS Guidance is currently $5.05 - $5.25 per share after having been increased another 5c last quarter. Analysts expect $5.17 (range $5.07 - $5.27).
FY2014 Revenue Guidance of $26.0 bln to $27.5 bln was given in November and not updated with January and April's increased EPS guidance. Analyst consensus is $26.67 bln (range $26.19 bln to $27.27 bln).
Qualcomm's ratios suggest valuation is close to the 5-year average.
Insiders have sold 606,885 shares the last three months and 3.7 mln shares over the past year. In March, the company had $2.8 bln to be used for stock buybacks and authorized an additional $5 bln buyback, so $7.8 bln became available to support the stock price. This is nearly double the available amount two years ago.
Qualcomm is compared most often to chipmakers with quarterly results possibly impacting Texas Instruments (NASDAQ:TXN) and Broadcom (NASDAQ:BRCM).
Qualcomm shares have a 1-day average price change on earnings of 4.78%. Options are pricing in an implied move of 3.18%.
Recent News
07/11: Tigress Financial downgraded Qualcomm to Buy from Strong Buy due to headwinds from a slower-than-expected LTE ramp in China, according to a post on Benzinga.com.
07/11: Goldman removed Qualcomm from the Conviction Buy List citing an industry pause in phone momentum, according to a post on Barron's Blog.
07/09: Evercore Partners reiterated an Overweight rating on Qualcomm citing the royalty part of the business and urged investors not to look at the royalty rate percentage, but rather how much it makes on every device shipped in the world, according to a post on Barron's Blog.
07/09: Raymond James reiterated a Market Perform rating on Qualcomm due to the overall maturation of the smartphone market, according to a post on Barron's Blog.
Technical Review
Qualcomm shares continue to fluctuate around the 20-day moving average which has flattened out recently. The $81.66 high is similar to the year 2000 peak area but the rise has been much more gradual. Balance areas have moved higher, as well, with areas around $66, $72, and now the current $79. As long as the balance areas are moving higher, traders tend to come in and buy pullbacks but the upswing since mid-2013 appears overdue to at least retest the 200-day moving average. (Chart courtesy of StockCharts.com)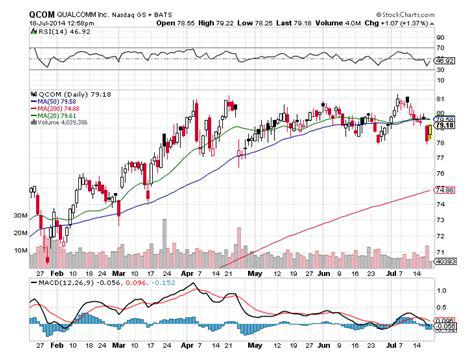 Summary
Qualcomm earnings releases are a mix of current results and forward guidance that create an often exciting stock price reaction. The company recently named a new CEO, so investors will be alert for any possible policy changes. Earnings estimates have been reduced three cents over the last three months, but the company has beaten earnings by 8c and 9c the last two quarters, so probably needs to report close to the high end of expectations on better than expected revenue to be viewed favorably by market participants. Traders have to factor in a combination of current results and forward guidance.
DISCLAIMER: By using this report, you acknowledge that Selerity, Inc. is in no way liable for losses or gains arising out of commentary, analysis, and or data in this report. Your investment decisions and recommendations are made entirely at your discretion. Selerity does not own securities in companies that they write about, is not an investment adviser, and the content contained herein is not an endorsement to buy or sell any securities. No content published as part of this report constitutes a recommendation that any particular investment, security, portfolio of securities, transaction or investment strategy is suitable for any specific person.
Disclosure: The author has no positions in any stocks mentioned, and no plans to initiate any positions within the next 72 hours. The author wrote this article themselves, and it expresses their own opinions. The author is not receiving compensation for it (other than from Seeking Alpha). The author has no business relationship with any company whose stock is mentioned in this article.