Savient (OTC:SVNT) announced in May that it would try to find a buyer after its gout drug, Krystexxa, gained FDA approval. That day finally came Sept. 14, 2010. Savient looked for a buyer, but on Oct. 25, 2010 Savient announced that it had not found a buyer. The shares of Savient plunged on this news. They fell further Tuesday as short sellers continued to try to push the stock down.
However, Savient has likely already fallen more than enough to make it a good bargain. It is the same company that was selling for $22/share a few days ago. There have been no accounting irregularities. No new problems with the drug have been discovered. A law suit filed against Savient was dismissed in U.S. District Court on Sept. 30. No stock is perfect, but this one looks like it should return good profits over the long term (and perhaps short term). The gout drug, Krystexxa, has been designated an "orphan drug" by the FDA. This means Savient can sell it without competition for 7 years. Savient also gets some tax incentives.
The reason Savient could not find a buyer has not been explained. There is little doubt that Savient has a viable and valuable product in Krystexxa. The doubt seems to be about just how big the market for Krystexxa really is. The estimates run from worldwide sales of $200M/year to $1B/year. Likely the reality is in the middle somewhere. If you guesstimate $500M/year in sales worldwide, you can probably ballpark the company's earnings potential.
Making the drug is not overly expensive. All the company has to do now is sell it. It has announced that it will hire 60 sales persons by Dec. 2010. It has already manufactured enough Krystexxa for the product launch and the ensuing several months. The product has a shelf life of 2+ years. That will not be a problem. The target buyers/audience are a very defined niche of the medical profession (rheumatologists and nephrologists). This means the sales costs should be relatively constrained. If Savient chooses not to hire a sales team, there are successful consulting companies that provide this service for drug companies. Savient is in a good position.
The net margin on this drug will be high. It is not expensive to manufacture. Development costs have already been paid. It only has to pay sales and administration costs in addition to the small manufacturing costs. Net margins should run 50% or possibly better. If you postulate $500M in worldwide sales per year (although not in the 1st year), Savient may see $250M in profits before taxes, etc.
Small drug companies typically sell for anywhere from 1-5 times yearly sales. Since Krystexxa is not expensive to manufacture, Savient would likely sell for 2-5 times sales. If sales are $500M/yr worldwide, that would mean a $1B to $2.5B market cap. If Krystexxa sales total closer to $1B/yr worldwide, the market cap would be $2B to $5B. It is unlikely the sales will be as low as $200M/yr. The market cap at the $11.56 close Tuesday Oct. 26, 2010, was $778.12M. Most likely Savient is in the range of fairly valued to 5-6 times under valued.
The belief of how Savient should be valued may be why Savient could not find a buyer. The big drug companies have likely been looking at the above numbers. Some pundits were suggesting Savient should sell for as much as $47/share. This would have put the market cap at 4+ times the current market cap (4+ times the current price -- $11.56). Given that the midpoint of above estimates for "exceptional sales performance" is only about 3.5 times the current market cap, this does not seem reasonable. The midpoint of the more reasonable sales estimate above would only yield $1.75B in market cap. This would put the stock buyout price in the $26 range. Even Jon Najarian had been recommending buying $25 calls.
It is clear that the company's expectations for a buyout price were not in line with the reasonable sales expectation numbers. This goes a long way to explaining why the company could not find a buyer. It does not mean that there is something drastically wrong with the company. The stock should have upside. A rebound to the $16/share level in the near term seems reasonable. A buyout in the $20-$26 range seems reasonable, if the company can bring down its apparently grandiose expectations. Krystexxa is an "orphan drug". A major pharmaceutical company would be more likely to come close to the higher end sales figures.
A chart of Savient is below: (Click to enlarge)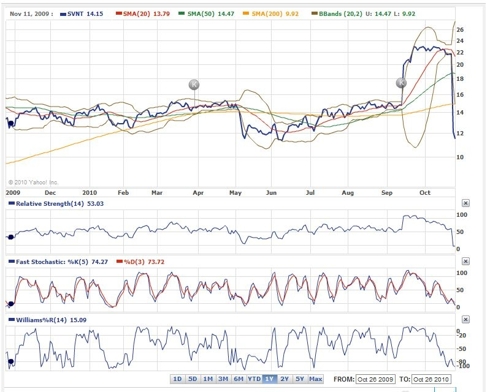 Click to enlarge

The average stock price before the FDA approval for most of 2010 was approximately $15. The sales expectations have not changed over that time. What has changed is that the drug has been approved. Rational thought says this stock should move upward soon. It should regain the $15-$16 area in the very near term. Still the short sellers are currently having their day, so you may wish to average in.

I did not find the Savient conference call very helpful. You might still want to look at it though.

Disclosure: I am long SVNT