Three topics fascinate me on a regular basis. They are American Football especially as the fantasy league draft is coming up and all 32 teams are in training camps with aspirations of making the playoffs. The second is American politics which is going to be an increasing theme in 2014 as we approach the critical mid-terms later in the year. Finally, we have the U.S. equity markets where I make my living and which I find as interesting as they were three decades ago when I first started investing.
One of the most intriguing parts of these three spaces is what I call the "payback period". If you have a strong opinion on a pro or college football game, you can place a bet - where it is legal to do so of course - and know if your wager pays off by the end of the game.
Politics are in the opposite part of the spectrum. You can have strong opinions on which of two competing economic models lead to less wealth inequality, greater job growth and show where people are "voting with their feet" by moving to states with better economic opportunities; it simply does not matter as roughly 50% of population will have a different opinion despite the facts on the ground.
Somewhere in between these two extremes is the stock market. One can have a strong opinion on an equity that is deeply undervalued and make an investment. Unlike football, the market may not recognize that the stock is trading at a discount to intrinsic value by the time the weekend is over. However, if the company is indeed undervalued; eventually it will be rewarded by the market.
I try to combined my political opinions with my investment themes when prudent to do so. One thing I have noticed in my portfolio recently is that I am overweight "Red" Texas and underweight "Blue" California. There are logical reasons for this disposition.
Texas is consistently one of CNBC's top states for business and also is a focal point for the march to U.S. energy independence as well. Thanks to pro-business policies and no state income taxes, the state is seeing considerable job growth as well as in-state migration from other states including California, which accounts for approximately one quarter of Texas's in-state migration.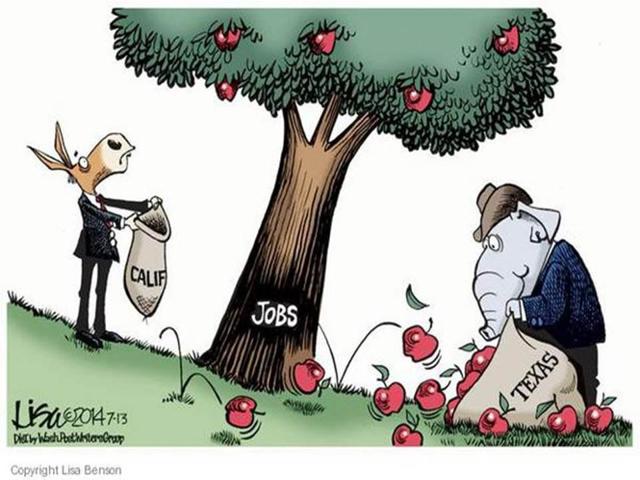 California on the other hand has the second worst credit rating in the nation behind only Illinois. It still has a high unemployment level, sky high tax rates, job killing regulations and is no longer growing in population. The state is non-competitive in just about every industry that does not benefit from a network effect (Hollywood, Silicon Valley) or is supported by significant state and federal tax subsidies [Ex, Tesla Motors (NASDAQ:TSLA)].
It seems only logical to follow the migration of both population and companies like Apple (NASDAQ:AAPL) and bet big on the Lone Star State. Here are three solid companies with headquarters or substantial business in Texas that look attractive here.
It is hard to discuss Texas investment plays without covering energy first. The Permian is fast becoming the biggest tight oil play in the nation and tremendous production growth is coming from the Eagle Ford region as well.
I recently picked up a small (~$500 million) fast growing Permian play named Callon Petroleum (NYSE:CPE). Not only is the Texas focused E&P concern rapidly increasing production but it could be a logical bite sized acquisition if M&A activity in the energy space continues to be strong as highlighted by the recent purchase of Kodiak Oil & Gas (NYSE:KOG) by Whiting Petroleum (NYSE:WLL).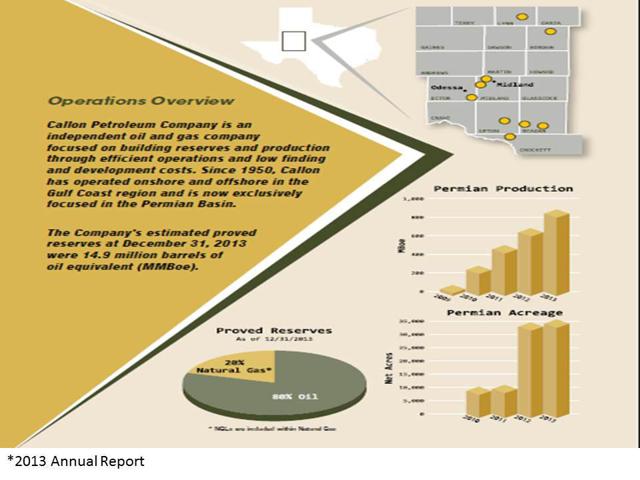 Revenues are tracking toward over 50% growth this year and analysts project another 30% gain in FY2015. Callon broke even in 2013 but looks like it will post 55 to 60 cents a share in profit this year and 80 to 90 cents a share in FY2015. Given growth prospects, the stock is not expensive at just over 13 times next year's projected earnings. Insiders have been net buyers of the stock over the past year as well.
Austin based Whole Foods Market (NASDAQ:WFM) is offering one of the cheapest entry points to long term growth investors in quite some time. The shares are off some 40% from highs late last year on fears around increasing competition and they are now selling at two year lows (See Chart).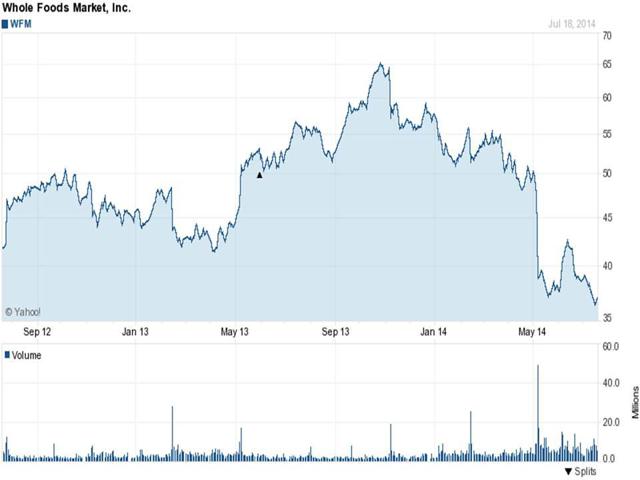 However, the company is still the unquestioned leader in the organic food space and only major brand that has a national footprint - other pure play organic food plays like The Fresh Market (NASDAQ:TFM) are regional players. The company is still seeing annual revenue growth in the low teens, has a pristine balance sheet with $1 billion in net cash on the books and the shares are significantly under the $46 a share price target held by the 25 analysts that cover the company.
Speaking of beaten down market leaders, San Antonio based Valero (NYSE:VLO) is down some $10 a share after the Commerce Department allowed two Texas E&P concerns to start to export condensate overseas bypassing refiners. As I stated recently, I think this will turn out to be more limited ruling than the market is factoring in and Valero is a buy on this dip.
The shares go for just over 8 times forward earnings (half the market multiple), yields 1.7% and the company has beat earnings estimates for four straight quarters. Long term value investors should action this lower entry point. The company has also consistently increased the amount of cash flow it has returned to shareholders via dividends and stock buybacks over the past few years.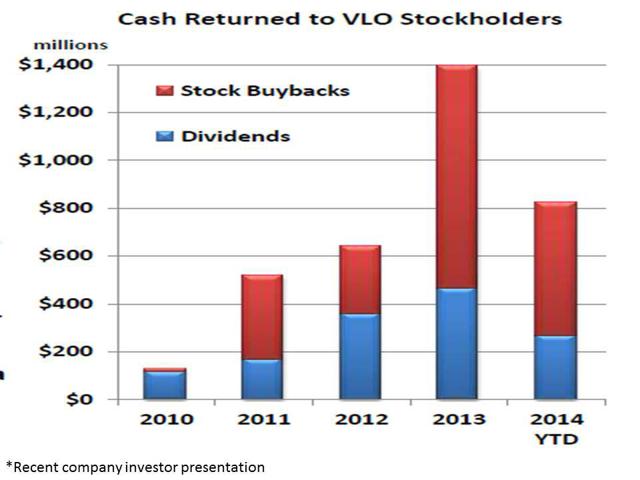 I have mostly given up trying to convince individuals of the economic merits of pro-growth policies despite numbers, metrics and facts that seem self-evident. However, that does not mean I cannot benefit by investing in companies that are benefiting from these enlightened pro-business policies at the state level. For like-minded investors, the selections above are a good starting point. For a more comprehensive list of Texas based companies, I attach the following list. Happy hunting.
Disclosure: The author is long CPE, VLO. The author wrote this article themselves, and it expresses their own opinions. The author is not receiving compensation for it (other than from Seeking Alpha). The author has no business relationship with any company whose stock is mentioned in this article.