Netflix Inc. (NASDAQ:NFLX) is one of the leading Internet television networks with nearly 50 million streaming members in over 40 countries. Members can watch programs on Netflix anytime, anywhere on their televisions, computers, mobile devices, or nearly anywhere there is an Internet connection. The company's core strategy is to grow its subscriber base by enhancing the user's experience and expanding streaming content with a mix of third-party and original programming. Recently, Netflix has experienced explosive growth in membership and revenue. Below is the company's historical operating performance: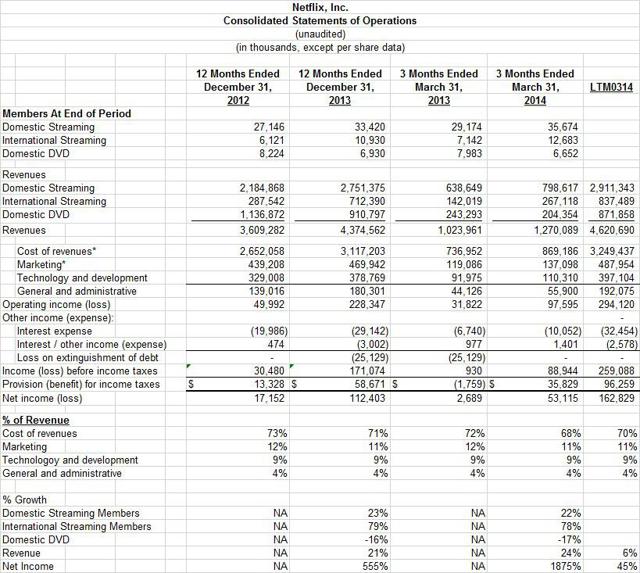 Click to enlarge
Subscribers
Subscribers - the growth engine of the business - have experienced double-digit growth. From Q1 2013 to Q1 2014 domestic streaming and international streaming grew 22% and 78%, respectively.
Domestic DVD volume declined 17% from Q1 2013 to Q1 2014.
Revenue
Revenue grew 24% from Q1 2013 to Q1 2014. Revenue also increased 21% from 2012 to 2013. Revenue growth is a function of subscriber growth and average subscription fees.
Assuming subscription fees remain constant, revenue growth will continue to track growth in subscribers.
Earnings
Earnings growth has been explosive. While revenue grew 24% from Q1 2013 to Q1 2014, more of it is falling to the bottom line.
Cost of revenue declined from 72% to 68% annually, while operating expenses (marketing, technology & development, general and administrative) as a percentage of revenue declined from about 25% to 24% during that period.
Valuation
At a market capitalization of $27 billion, Netflix trades at about 166x net income through last twelve months ended March 31, 2014 ("LTM0314") of $163 million. With $900 million of long-term debt and an enterprise value of about 28 billion, the company trades at 6.4x LTM0314 revenue of $4.6 billion.
Given Netflix's explosive growth in earnings, valuing the company as a multiple of earnings may a challenge.
However, the valuation appears justified. The company's international and domestic franchises could grow revenue at double-digits for the foreseeable future before its market penetration becomes saturated.
Analysts are expecting the company to achieve revenue and earnings per share for the quarter of $1.33 billion and $1.16 per share, respectively. The revenue estimate equates to a 6% increase above Q2 2013 revenue of $1.1 billion. Earnings per share represents a 137% increase above the $0.49/share earned in Q2 2014.
Earnings estimates are high, yet appear fair given Netflix's historical earnings trajectory. How Q2 results measure up against expectations will determine how the stock performs after the close. The market can be unforgiving to companies who do not meet current earnings expectations or those like Advanced Micro Devices (NYSE:AMD) or SanDisk Corporation (NASDAQ:SNDK) whose earnings guidance fall short of future expectations.
Conclusion
Netflix's earnings and revenue can grow at double digits for years before reaching market saturation. If its earnings are in line with its historical trajectory, the company should exceed earnings estimates.
Disclosure: The author is long NFLX. The author wrote this article themselves, and it expresses their own opinions. The author is not receiving compensation for it (other than from Seeking Alpha). The author has no business relationship with any company whose stock is mentioned in this article.
Additional disclosure: I own straddles on Netflix