By Craig Bowles
Overview
Facebook, Inc. (NASDAQ:FB) is slated to report 2Q 2014 earnings after the bell on Wednesday, July 23rd. The actual results are expected to come through at approximately 4:05 p.m. EST with a conference call to follow at 5:00 p.m. This is Facebook's ninth earnings release since its IPO back in May, 2012 and could have a direct impact on LinkedIn (NYSE:LNKD), Twitter (NYSE:TWTR), and online game-maker Zynga (NASDAQ:ZNGA).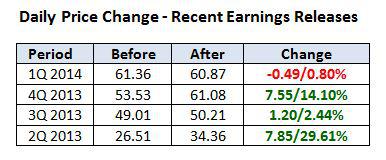 Outliers & Strategy
Key measures:
Non-GAAP Earnings Per Share/Earnings Per Share Excluding Items: These measures are typically the same and comparable to estimates. Analysts expect $0.32 (range $0.28 to $0.38). (Source: Yahoo Finance).
Revenues: Analysts expect an increase of 54.9% y/y to $2.81 bln (range $2.66 bln to $2.97 bln).
Mobile Monthly Active Users: Mobile MAUs are expected to rise from 1.01 bln last quarter to 1.06 bln (Estimates provided by: Zack's Institutional Services).
Monthly Active Users: MAUs are forecast to rise from 1.28 bln to 1.32 bln average users.
Daily Active Users: DAUs are seen rising from 802mln on average last quarter to 828mln. Last quarter's YoY growth of 20.6% is expected to be halved over the next two years. 2011 growth was nearly 50%.
The Street also has high hopes for two key growth drivers -- Instagram and video advertising.
Insiders have bought 668,447 shares in the last three months and sold 13,391,055 shares over the last year.
Facebook shares have a 1-day average price change on earnings of 10.53%. Options are pricing in an implied move of 8.43%.
Recent News
07/17: Facebook is testing a "Buy" button in its latest effort to help businesses boost their sales, according to a post on Yahoo Finance.
07/16: SunTrust reiterated a Buy rating and $72 target citing that second-quarter performance was driven by strong advertiser returns from Facebook's newsfeed, custom audiences and app installations, according to a post on Benzinga.com.
07/16: Mobile ad revenue having accounted for 59% of total ad revenue last quarter will need to show continued strength, according to a post on Fool.com.
07/14: Instagram Direct enables the social network to compete with other private and ephemeral messaging services and has been used by close to a quarter of Instagram users in the first 7 months since it was launched, according to a post on WallStCheatSheet.com.
07/10: A U.S. senator has joined the call for the Federal Trade Commission to investigate Facebook's controversial research into users' emotions, according to a post by the Mercury News.
07/09: European Union antitrust officials have started questioning rival firms about Facebook Inc.'s proposed $19 billion acquisition of messaging service WhatsApp, ahead of a formal review, according to a post on WSJ.com.
Technical Review
The rise from $25 to the all-time high of $72.59 occurred in less than one year. Facebook shares have recently found resistance at $68 in the push back toward March's all-time. Supporting balance is now similar to the uptrending long-term MA. (Chart courtesy of StockCharts.com)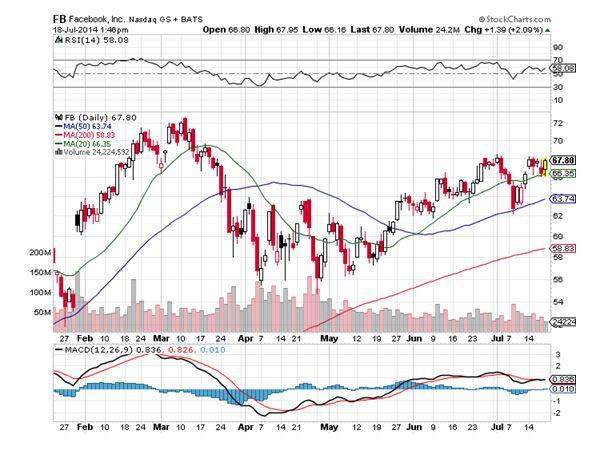 Summary
Analyst expectations for Facebook earnings have increased 4c over the last three months. The company has beaten estimates each of the last four quarters by 4c-10c, so needs to beat by at least 4c on slightly better than expected revenue. Traders will also focus on the "user" data and the amazing growth of mobile advertising revenue. Future growth is seen possibly coming from recent changes to Facebook's advertising formats as well as video advertising, Instagram and the eventual launch of a mobile advertising network.
Disclaimer: By using this report, you acknowledge that Selerity, Inc. is in no way liable for losses or gains arising out of commentary, analysis, and or data in this report. Your investment decisions and recommendations are made entirely at your discretion. Selerity does not own securities in companies that they write about, is not an investment adviser, and the content contained herein is not an endorsement to buy or sell any securities. No content published as part of this report constitutes a recommendation that any particular investment, security, portfolio of securities, transaction or investment strategy is suitable for any specific person.
Disclosure: The author has no positions in any stocks mentioned, and no plans to initiate any positions within the next 72 hours. The author wrote this article themselves, and it expresses their own opinions. The author is not receiving compensation for it (other than from Seeking Alpha). The author has no business relationship with any company whose stock is mentioned in this article.