Moody's deep junk B3 credit rating for Navistar (NYSE:NAV) is grossly overstating NAV's fundamental credit risk. NAV's fundamentals show growing cash flows and sizable cash balances that far exceed its operating obligations and debt service requirements by approximately $1 billion for each of the next five years. The opportunity to refinance its debt service in coming years will also serve to reduce default risk. These have driven a Valens Credit rating of lower investment grade level, at IG4+ (equivalent to Baa1).
Credit markets also overstate NAV's risk with a credit default swap (CDS) of 598bps and 2021 cash bond YTW of 6.619% or 461bps Spread to Worst (comparable number to CDS, equivalent to YTW minus the risk free rate). In contrast, the Valens Credit iCDS is only 200bps. Valens fully expects that the CDS will tighten as Navistar's true credit profile becomes better understood.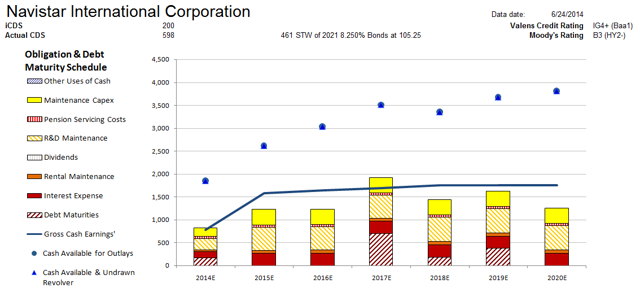 Click to enlarge
Source: Valens Credit Analysis and Capital IQ.
Valens Credit produces a "Credit Cash Flow Prime" chart for Navistar. The chart shows the cash flow generation and cash obligations related to the credit of the firm, adjusted for non-cash financial statement reporting distortions from GAAP. The blue line shows the gross cash earnings expected to be generated based on consensus analyst estimates and Valens Credit's own in-house research team. The blue dots above that line include the cash available when cash on the books and existing, available credit lines are used.
Meanwhile, the stacked bars show the cash obligations of the firm in each year forecast. The most difficult obligations to avoid are at the bottom of each stack, such as interest expense. The obligations with more flexibility to defer year to year, such as pension contributions and maintenance capital expenditures, are at the top of the stacked bars.
All of the calculations are adjusted for non-cash distortions that are inherent in GAAP accounting, including the terribly problematic and so often misused statement of cash flows.
If the company generates and has cash levels that sail above the obligations, then the risk of default is extremely low such as with NAV. Even if the cash generated yearly is close to the levels of the stacked bars, the company has the flexibility to defer payments of various kinds, such as by letting assets age a little longer. While decisions such as those can create other business concerns, the issue in credit risk is whether or not credit obligations can be paid. A chart like NAV's shows quite a lot of cushion before those tough decisions would even have to be made.
Navistar's corporate actions have also begun to generate increasing gross cash earnings, which will further increase the existing cushion of over $1 billion over obligations. Navistar can handle debt maturities and operating obligations through cash flows alone from 2014-16, without drawing down existing cash balances, should the management team choose. The nearest headwall where the company's gross cash earnings' (Valens scrubbed cash flow number) will fall below total annual obligations is not until 2017.
In 2017, obligations including debt maturities do exceed cash flows by $215mn assuming the company does not refinance. That is a shortfall that NAV will have no issue handling, as NAV currently has $1bn in cash on hand, has not operated with less than $700mn in cash on hand the last 10 years, and is projected to have $1.8bn in cash on hand in 2017, indicating that they should have more than enough cash to handle the 2017 debt maturity. Also, management has material room to reduce R&D expenses or maintenance capex expense in 2017 if they do not want to draw down on cash balances or refinance their obligations, confirming the company's limited credit risk.
People do what they are paid to do and NAV's Form DEF 14A is key to understanding this company's fundamentals, something which the credit agencies seem to be totally missing. Valens' "Incentives Dictate Behavior™" analysis focuses on important changes in NAV's senior executive compensation and governance.
NAV's prior senior executive compensation framework was based on Return On Equity and EPS. In the past, both of these measures could be easily "gamed" to increase simply by growing the company through excessive debt levels. The new compensation framework is far more aligned with creditors. It focuses management on improving margins and building cash liquidity levels.
Analysis of the company's statements on earnings calls, termed "Management Representation Benchmarking™," did highlight concerns in NAV's Q2 2014 call. There is potential for continued issues of the ongoing impact of warranty expense. Management also appears wary about their ability to recapture or re-grow market share. However, these risks do not appear to impact the company's cash flow profile going forward sufficiently enough to justify current negative Moody's and market views on the company's credit risk profile. (More about Valens' innovative research tools is available here.)
At the end of the day, credit risk or lack thereof is driven by cash available against cash obligations. This trucking company's credit risk is being overstated by credit markets and the big ratings agencies, as key points are being missed. There is thus likely to be ratings improvements at some point when the agencies realize NAV's real credit profile. Also of note, tightening of credit market spreads is inevitable given NAV's fundamentals.
Disclosure: The author has no positions in any stocks mentioned, and no plans to initiate any positions within the next 72 hours. The author wrote this article themselves, and it expresses their own opinions. The author is not receiving compensation for it (other than from Seeking Alpha). The author has no business relationship with any company whose stock is mentioned in this article.