By David Russell
ProLogis (NYSE:PLD) is rallying after a big stock sale, but the options activity is bearish.
Our Depth Charge tracking program detected heavy put buying and unusual call selling in the real-estate investment trust, which owns warehouses and industrial space.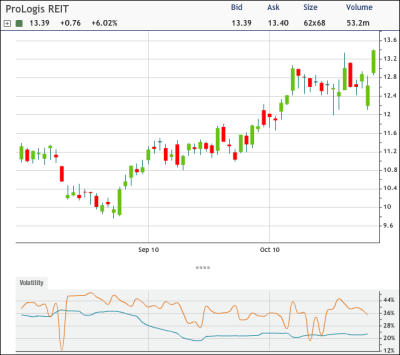 The January 2012 15 calls were the busiest strike, trading 5,944 times over the space of about three minutes. They all priced for $1.25, which reflects a belief that PLD will remain below about $16.25 over the next 14 months.
PLD is up 6.02 percent to $13.39 in afternoon trading and is up 16 percent in the last month. The debt-laden company sold 80 million shares for $12.30, triggering a rally in its bonds and relieving concerns about a liquidity crunch.
The transaction came one day after PLD reported better-than-expected third-quarter earnings. It also cut its dividend to save cash, a move announced in conjunction with today's capital raising.
In the puts, new money flowed into the December 12 contracts, which investors mostly purchased for $0.40. Volume at 2,233 puts was more than 350 times the open interest. The November puts saw heavy selling but were below open interest, so the activity may have resulted from a trader exiting a position.
Overall options volume in PLD is 12 times greater than average so far today.
Disclosure: No position