There have been only two days during this rally when the market has broken the 13-day moving average intraday - a week ago Tuesday, and today. Both days, buyers showed up to bounce the market off that level - and that's been as close to a chance in direction as we have had. Last week, Tuesday and Thursday were non POMO days (and we sold off Tuesday). This week Monday/Wednesday/Friday are non POMO days but as I outlined earlier - almost every Monday we now gap up to start off the week, and Friday bears are afraid to press bets because of the before mentioned Monday melt up effect. So that only left Wednesday of this week to selloff in our managed free market. (Click to enlarge)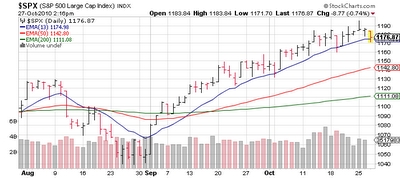 So to review: There have only been 3 days in the past 2 weeks where bears are not in outright fear... last Tue & Thur and this week Wednesday. We sold off heavily 2 of those 3 days. Every other day we have the Fed 'helping' the market, or the threat of the Monday morning melt up. End of review.
I don't want to drop hints but I would say the odds of the market being up POMOrrow* are pretty good, right Annie?. (wink wink)
*Please note - in a normal market when everyone is buying on nothing other than dreams of POMOrrow, it would have stopped working long ago. But as El-Erian says ... we're in a 'new normal'. Ahem.
Disclosure: None