The market was shocked by Thursday's (July 17) housing starts report, which showed an unexpected plunge in housing starts, as reported by the Census Bureau. I say "shocked" because the Dow Jones Home Construction index (DJUSHB) plummeted 16 points, or 3.3%, which was 3x more than the 1.1% decline in the S&P 500 that day. As I have been asserting in previous articles this year, a detailed look at the month-to-month sequential data shows that the housing market has been in a definitive downtrend since last July - despite some limited areas in which sales have been strong. I will show data from this past week that show the decline in the housing market may be about to accelerate.
The first problem, and one I have been analyzing and presenting for close to a year, is the sharp drop in mortgage purchase applications. This past week, the Mortgage Bankers Association reported another big decline in purchase applications. Through the week ended July 11, purchase applications dropped 8% week-to-week vs. the previous week, and 16% year-over-year for the same week. This is despite mortgage rates which are lower now than the same time last year: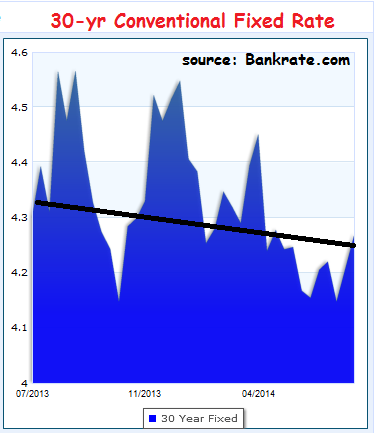 (Source: Bankrate.com, edits are mine)
One of the primary reasons the Fed has been buying mortgages as part of its QE is to try and stimulate home sales with lower interest rates. It's clearly not working. Purchase applications have been dropping every week year-over-year, at a mid-high teens percentage rate this year (see previous article I've written for source data). This should especially not be happening right now, given that July is typically the second or third-strongest seasonal month for sales. To be sure, the all-cash investment buyer has been a significant portion of sales this year, however, a healthy housing market is dependent historically on first-time and move-up buyers who require mortgages to purchase a home.
A second ominous sign for the housing market is housing starts, which took a large, unexpected drop last week. The Census Bureau reported that starts for June dropped 9.3% vs. May. The reported number for June was 893k (seasonally adjusted annualized rate) vs. the 1.03 million expected by Wall Street. Not only did the market miss the market by quite a bit (over 10%), but May's originally reported 1.001 million starts was revised lower to 985k. The market was clearly not expecting the big decline reported, as the Dow Jones Home Construction index tanked 3.3% on Thursday.
This number likely came as an even bigger surprise to the market after the Wells Fargo/NAHB Builder Confidence index showed a big jump from June the day before. One would think, if home builders are feeling confident about the market, that this confidence would be reflected with higher housing starts and not the big drop that was reported. However, as the next two graphs show, big moves up in the confidence index do not necessarily correlate with strong home sales: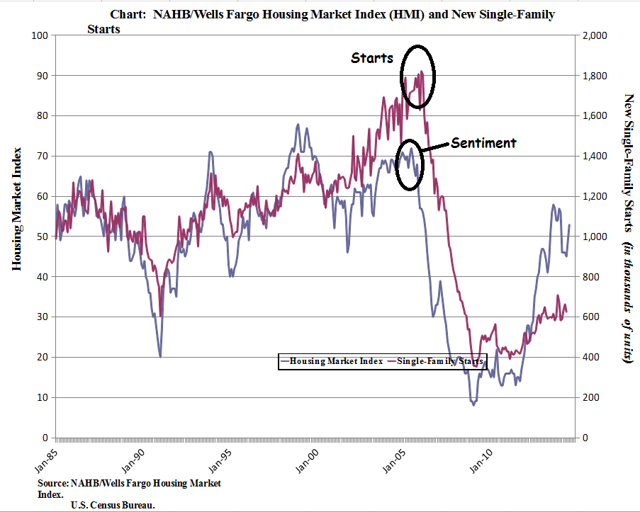 (Source NAHB, edits are mine)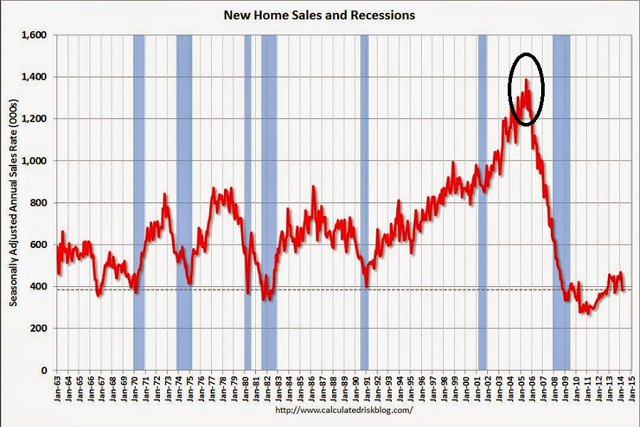 (Source CalculatedRiskBlog.com, edits are mine)
As you can see from the two graphs, sentiment and starts spiked up to a peak in early 2005, and then fell of a cliff. The sentiment/starts peak preceded a cliff-dive in sales by a few months. While I do not necessarily expect to see a drop in sales of the magnitude that occurred in 2005, I do believe that home sales are going drop at a rate that is not expected by the market - or that is even remotely reflected in homebuilder stock prices.
The homebuilder stocks (DJUSHB) were outperforming the S&P 500 from the beginning of 2014 through the end of February. Since the end of February, however, the homebuilder stocks have negatively diverged from the SPX, despite the fact that the SPX has been hitting new all-time highs: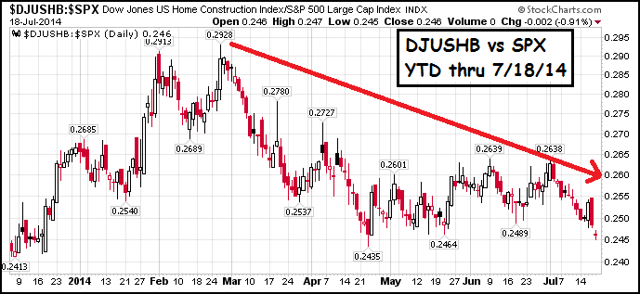 (Source: Stockcharts.com, edits are mine)
Although the homebuilder stocks have not performed well since the beginning of March, several of the homebuilder stocks still have P/E ratios in the high teens and low 20s. Historically, homebuilder stocks have averaged P/E ratios ranging from 5x-8x. For instance, KB Home's (NYSE:KBH) P/E peaked at 8.8x in Q4 2006, when the housing market was in the early stages of collapsing. Currently, KBH's P/E ratio is 18x. This example applies to several homebuilder stocks.
Because the homebuilder P/E ratios are still excessive, in my opinion, reflecting market expectations which are entirely too high, I believe the homebuilder stocks represent a great short-sell opportunity. I am currently short D.R. Horton (NYSE:DHI), Ryland (NYSE:RYL) and KBH. I also believe that Pulte (NYSE:PHM), Beazer (NYSE:BZH), Lennar (NYSE:LEN) and Toll Brothers (NYSE:TOL) are excellent short-sell plays. At the very least, given the homebuilder stocks' inability to move higher with the stock market, shorting the homebuilders gives any investor with heavy exposure to the long side of the market, and who does not want to sell, a good way to hedge downside risk.
Disclosure: The author is short DHI, KBH, RYL. The author wrote this article themselves, and it expresses their own opinions. The author is not receiving compensation for it (other than from Seeking Alpha). The author has no business relationship with any company whose stock is mentioned in this article.