This is an interesting time, an interesting week. I hope you all had a chance to read DoctoRx's essay on gold. I think it has a lot of merit.
The Fed is on the cusp of embarking on money printing QE2 to stimulate the economy. The data is still very weak and I think QE2 will happen. I still see stagflation in our future as capital is continuing to be destroyed (corrected is a better way of putting it) and yet the dollar gets weaker. Germany is recovering, the UK is embarked on reining in spending which will lead to recovery, China is tightening, Japan is mixed as is the rest of the EU.
Today we find that housing is still weak.
The Case-Shiller index of 10 major metropolitan areas fell 0.1% in August compared with July, while the 20-city index declined 0.2%. Adjusted for seasonal factors, the 10-area index fell 0.2%, while the 20-area declined 0.3%.

Prices had been climbing since April, boosted by the expiration of the government's first-time home-buyer tax credit that lured waves of people to purchase homes before it expired. Growth had slowed in recent months as its effects waned. Before prices had started rising, they had fallen sequentially for six straight months.

David M. Blitzer, chairman of S&P's index committee, called the latest figures "disappointing," noting that prices declined broadly. He added, "17 of the 20 cities and both composites saw a weakening in year-over-year figures, as compared to July, indicating that the housing market continues to bounce along the recent lows."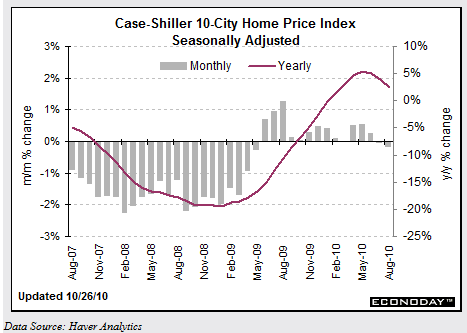 Is anyone surprised by this? The west coast still looks good, but the rest of the metro areas weakened. As I've mentioned, my own anecdotal evidence from the west coast bears this out. Even with interest rates at historic lows, folks are still worried about their jobs. And in many of the sinking areas, there is still a big surplus of homes. As we know, the unemployment needle is stuck in high. Add to this the Mortgage Bankers Association prediction that home lending in 2011 will be the lowest since 1996, below $1 trillion. They expect interest rates to rise and limit the flood of refis.
The Consumer Confidence report also came out today basically unchanged, and weak according to the Conference Board, even though it rose slightly. This is basically in line with the U. of Michigan report that came out last week that was a bit more negative. Even though retail sales have been creeping up, analysts say consumers are driven by sales. A Gallup survey on Christmas spending was "disappointing." Here is what they found:
click to enlarge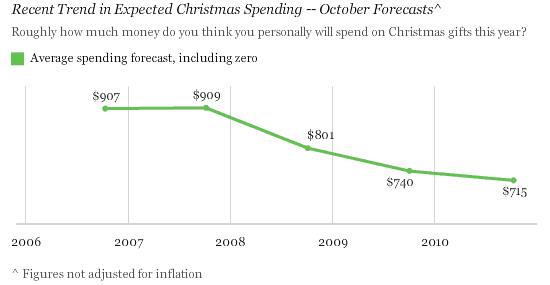 Before we get back to the Fed, I think it is important that we are seeing a growing trend in regional and local banks to dump nonperforming assets. This is critical to any recovery. Banks have been reluctant to foreclose on commercial real estate (CRE) because of a lot of reasons, but mainly that it would negatively impact their Tier 1 capital. Recent reports shows that they are making money mainly by releasing nonperforming loan reserves, which were set aside to reserve against loan losses. This indicates that they are more aggressively dumping nonperforming loans. In the banks surveyed by American Banker, Fifth Third (NASDAQ:FITB), BB&T Corp. (NYSE:BBT), SunTrust Banks Inc. (NYSE:STI), First Horizon National Corp. (NYSE:FHN), Comerica (NYSE:CMA), M&T Bank Corp. (NYSE:MTB), and TCF Financial Corp. (NYSE:TCB), all were selling off hundreds of millions of dollar of CRE and more aggressively foreclosing on residential loans.
Even the big banks, Citi (NYSE:C) and JP Morgan Chase (NYSE:JPM) are having problems. Citi just announced that they won't see daylight until sometime in 2012. And that bastion of capitalism, Goldman Sachs (NYSE:GS), had a bad quarter, down 40%. Don't shed a tear: bonuses so far are $13.1 billion.
Then there is inflation: flat (1.1% YoY). You would think low inflation would be a good thing, but the Fed wants to see it double.
The Federal Reserve Open Market Committee (FOMC), the policy committee which votes on Fed policy such as setting the Fed Funds rate and its Primary Open Market Operations (POMO) policy (QE), meets on November 2-3, and there has been a lot of speculation about how much they will eventually pump into the economy to stimulate price inflation.
By then they will have a good idea what the preliminary GDP numbers are going to be for Q3 (the preliminary numbers will be released on Friday). I expect GDP to be weaker in Q3 than in Q2. That is based on a lot of data that has been sinking in the charts. Readers will be familiar with the data.
I have said that the Fed will pump at least another $1 trillion into the economy. That was based on some Goldman Sachs research reported on Zero Hedge ($500 billion to $1 trillion). Now Zero Hedge says GS's latest research has revised its estimate upward to $2 trillion of QE is needed to achieve the desired inflation goal of 2%+. But here is the kicker: GS says they really need about $4 trillion in QE to hit their target! They say the Fed won't do that of course.
The whole analysis is based on what is called the Taylor Rule. That rule is an econometric formula that determines what kind of stimulus is needed to achieve an inflation target. It is a complex rule based on neoclassical models of aggregate economic behavior, which in my opinion is a bit of witchcraft, but more importantly most economists at the Fed believe it and it will guide their actions. If you wish to know more about the Taylor Rule, here is a Wikipedia explanation, and if you really want to know why it doesn't work, see this analysis at the Mises Institute by Frank Shostak.
But GS believes it too:
Our analysis is therefore consistent with additional asset purchases of around $2trn if the FOMC's forecasts converge to our own. It is unlikely, however, that the FOMC will announce asset purchases of this size in the very near term. Rather, our analysis suggests that the timing of the announcements should depend on whether, and how quickly, the FOMC's forecasts converge to ours.
I think GS may have a pretty good take on what the Fed will do. They think like the Fed, they follow Fed research and speeches, and use the same analytical tools as the Fed.
If you think about it, you could ask why we have inflation at 1.1%, or any inflation at all. Why don't we have deflation? A lot of it has to do with the way the CPI is measured. Or how the Fed's measure of price inflation, chained personal consumption expenditures (PCE), is measured. Based on declining real estate values, you would think it should offset other price increases per their measurements. But that's not how price inflation is measured. It is possible that we are actually in price deflation and the measurements are faulty by not throwing in real estate values.
I think the reason why we have some price inflation is because of the QE1. After all, the Fed did inject almost $1.2 trillion into the economy and that money had to have some impact on prices. So, another $2 trillion of QE to break out to the target of 2% price inflation is not a stretch. Of course, it could backfire on the Fed, and it is entirely possible that price inflation could far exceed their target. I firmly believe they have no idea what the real outcome of QE will be.
Disclosure: No positions