As I noted in Reaching for Yields with MLPs, few investments are better than a master limited partnership (MLP) with a long history of consistently boosting its distributions to unitholders. Steady Eddies such as Enterprise Products Partners LP (NYSE: EPD) have generated enormous wealth for unitholders over the long term.

But older MLPs don't necessarily offer the best distribution growth potential. In many cases, MLPs grow distributions at the fastest rate in their first two years as public companies. And there's nothing like rapid growth in distributions to drive strong price appreciation and total returns.
For example, in Williams Partners LP's (NYSE: WPZ) first two years as a public company, the firm boosted its quarterly payout from $0.35 to $0.575, thanks to a series of asset drop-downs from its general partner, Williams Companies (NYSE: WMB). These deals helped the stock soar 80 percent from the close on its first full day of trading.
Sunoco Logistics Partners LP (NYSE: SXL) enjoyed a similar pop. The refined-products pipeline giant increased its payout 23 percent in its first eight quarters as a public company, and the stock soared 100 percent. It pays to keep a close eye on initial public offerings (IPO).

Because distribution growth attracts investors, most MLPs are set up to generate rapid growth in their early years. Of course, not all MLP IPOs are winners: The investment landscape is littered with the wreckage of small MLPs that never managed to establish a sustainable business model or reach critical mass. Others expanded too quickly and took on too much leverage and commodity risk; many of the worst offenders got crushed during the 2007-09 bear market.
As with any MLP, the key is to look at the underlying business and the likely growth avenues. Here's a look at the prospects for one of biggest MLP IPOs in 2010.
Initial Take
Chesapeake Midstream Partners LP (NYSE: CHKM) was the most anticipated MLP IPO in recent memory, primarily because the MLP's general partner (GP), Chesapeake Energy Corp (NYSE: CHK), is one of the largest independent exploration and production (E&P) firms operating in U.S. unconventional natural gas and oil fields. CEO Aubrey McClendon has talked about taking a midstream gas MLP public for years, so investors have awaited this IPO for some time.

The 2008-09 financial crisis temporarily shelved plans for an IPO of Chesapeake Energy's midstream division, but improved credit conditions and solid demand for MLPs prompted the company to file its first registration statement for Chesapeake Midstream in February.
McClendon and his team appear to have picked an opportune time for the IPO; the units commanded prices at the top end of the projected range, suggesting strong demand from institutional investors. And since the IPO at $21, the units have climbed to $25, indicating that the secondary market is also interested in the new MLP.
Fundamentals support the market's enthusiastic reception of Chesapeake Midstream; the new IPO offers lower-than-average business risk and superior growth potential.
A Strong, Growth-Oriented GP
The GP manages the day-to-day operations of an MLP's assets and makes key decisions on acquisitions and organic expansion projects. Investing in an MLP whose GP doesn't have unitholders' best interests in mind often entails its fair share of pain. Fees paid to the GP called incentive distribution rights (IDR) underscore point: High IDRs can make it tougher for the MLP to raise capital for future growth prospects. (I discuss GPs and IDRs at length in Strong Parents Make Healthy MLPs).
Here are a few questions to ask when evaluating an MLP's GP.
Is the GP wholly owned by a private-equity firm? Private-equity firms often hold GP assets for a relatively short time and may look to sell at an opportune time.

Is the GP an operating company with assets suitable for drop-down transactions? In drop-down deals the GP sells assets such as pipelines or gas-processing facilities directly to the MLP. Drop-downs are usually highly accretive to cash flow and allow the MLP to immediately boost its distribution payouts.

What is the IDR structure and in which tier is the MLP? As noted earlier, IDRs are a fee paid by the limited partners (LP) in an MLP (for the most part, that's us) to the GP. IDRs are usually related to the size of the distributions paid to LP unitholders; the GP's take typically rises as distributions increase. Such a structure incentivizes the GP to grow the business, but high IDR payments early in an MLP's life can stunt its growth.

What is the GP's ownership stake in the MLP? GPs often own a significant proportion of the MLP's limited partnership interests when the MLP is first listed. Over time, the GP usually sells off its LP stake to raise capital. That being said, GPs that retain a significant stake in the LP are usually more sensitive to unitholders' interests.

Is the GP in a position to help the MLP when credit markets weaken? This was a key question to ask in 2008-09. Some GPs shored up the finances of the MLPs they sponsored by temporarily suspending IDR payments, providing direct loans or offering some sort of guarantee that the distribution wouldn't be cut.

How experienced is GP's management team? This is the most basic question investors can ask of any company. An experienced management team like the ones in place at Enterprise Products Partners LP (NYSE: EPD), Kinder Morgan Energy Partners LP (NYSE: KMP) and Linn Energy LLC (NSDQ: LINE) is preferable.
On all of these points, Chesapeake Midstream and its GP score well.
Chesapeake Midstream owns nearly 3,000 miles of gathering pipelines in two key regions: the Barnett Shale around Fort Worth, Texas and an area collectively known as the Mid-Continent that includes the Permian Basin, Anadarko and Granite Wash plays.
These assets are small-diameter pipelines that connect individual gas (or oil) wells to processing facilities and, ultimately, the interstate pipeline network. In addition to gas gathering, Chesapeake Midstream also provides ancillary services such as compression and treating. The latter process involves removing carbon dioxide from raw natural gas.
Chesapeake Energy drills actively in all of these regions. The company has spent north of $1.5 billion on midstream energy assets over the past few years because it needs gathering, treating and compression capacity to transport the gas, natural gas liquids (NGL) and oil it produces. Because these assets are integral to Chesapeake Energy's operations, the GP is incentivized to ensure that Chesapeake Midstream remains healthy.
Chesapeake Energy's motivation for spinning off these midstream assets is clear. First, holding these assets in an MLP structure is far more tax efficient. Second, the IPO brought Chesapeake Energy a substantial influx of capital, funds the firm can use to grow production. Meanwhile, capital raised by Chesapeake Midstream can be used to build out additional infrastructure to support Chesapeake Energy's drilling operations.
Drop-down transactions should drive distribution growth at Chesapeake Midstream over the next few years. The MLP's portfolio doesn't include Chesapeake Energy's extensive midstream assets in the Marcellus Shale of Appalachia, the Haynesville Shale of Louisiana and East Texas, and the Fayetteville Shale in Arkansas, among other regions. The gathering system owned by Chesapeake Midstream serves about 3,500 natural gas wells that produce about 1.532 billion cubic feet of gas equivalent per day, but Chesapeake has stakes in over 40,000 wells whose daily output amounts to 2.6 billion cubic feet of gas.
And this growth forecast isn't idle speculation. Management anticipates as many as two drop-down transactions of $250 to $500 million worth of assets in each year going forward.
With around $750 million available on its credit facility and the potential to raise low-cost cash in the debt markets, Chesapeake Midstream should have no trouble financing deals of that size. And as part of the partnership agreements, Chesapeake Midstream has the right of first refusal on any midstream assets that Chesapeake Energy chooses to sell.
Some analysts have expressed concern about Chesapeake Energy's debt load and subpar credit rating, questioning whether depressed natural gas prices will constrain the GP's ability to secure financing. These fears are largely unfounded.
Chesapeake Energy has set a goal of working its way back to an investment-grade credit rating. Actions speak louder than words, but the bond markets appear to be putting faith in the company.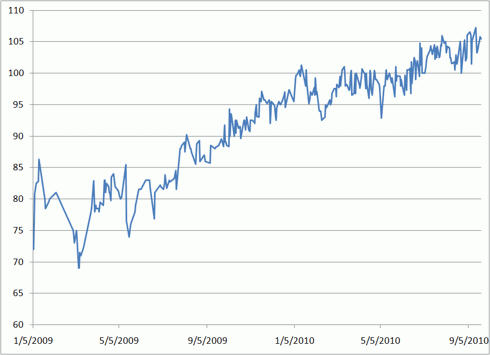 Source: Bloomberg

This graph tracks the price of Chesapeake Energy 6 7/8% due Nov. 15, 2020 (CUSIP: 165167BUO). As you can see, these bonds have appreciated steadily to the point that the current yield stands at roughly 6 percent, about 330 basis points (3.3 percent) above the current yield on a 10-year U.S. Treasury note. A year ago this spread was more than 480 basis points. Falling spreads to Treasuries is a sign of improving sentiment. Although the Chesapeake Energy's bonds still don't command a yield spread that's typical of investment-grade credits, the trend is heading in the right direction--even if natural gas prices aren't cooperating.
In addition, Chesapeake Energy has partnered with major international oil companies on many of its key fields, a move that significantly reduces the out-of-pocket investment required to develop the plays.
Chesapeake Energy's acreage in the Barnett Shale is far and away the single most important source of volumes for Chesapeake Midstream. These properties are developed as part of a joint venture (JV) with Total (NYSE: TOT). Under the terms of the deal, Chesapeake Energy sold Total a 25 percent stake in its Barnett Shale interests in exchange for $800 million cash and an agreement that Total will fund $1.45 billion worth of future drilling and completion expenses in the field. In other words, Chesapeake got cash and what amounts to a free ride on most of its expenses through 2012.
Given the backing of a giant like France-based Total, worries about Chesapeake's ability to fund drilling in the Barnett Shale are vastly overblown.
Finally, Chesapeake Energy has maintained a 41.5 percent ownership stake in Chesapeake Midstream, further aligning the GP's interests with unitholders.
Asset Risk and Commodity Exposure

The natural gas gathering and processing business tends to entail significant exposure to commodity prices. Typically, gathering is sensitive to drilling activity; the more wells being drilled in an area, the greater the demand for new well hook-ups. Gatherers often earn a fee for hooking up new wells to their systems and are remunerated based on the amount of gas transported. Robust drilling activity translates into strong results
Frenzied drilling in key U.S. shale plays despite low gas prices reflects superior economics in certain plays and the urgent need to secure leaseholds through production. But activity in these fields should pull back a bit in coming months. Aubrey McClendon noted in Chesapeake Energy's second-quarter conference call that the firm would focus on drilling in liquids-rich plays until the price of gas recovers to more than $6 per million British thermal units.
All of these developments at the GP level won't affect on Chesapeake Midstream's ability to pay distributions. Roughly three-quarters of the MLP's cash flows will come from its gathering operations in the Barnett Shale. These volumes are covered under long-term gathering agreements signed with the Chesapeake Energy-Total JV. Here are some of the key terms.
A fixed fee for every 1,000 cubic feet of gas gathered and treated from the Barnett Shale acreage. At the beginning of every year, this fee automatically increases 2 to 2.5 percent.

The JV has agreed to dedicate all gas produced from existing and future wells in the Barnett Shale to Chesapeake Midstream.

The JV has agreed to minimum volume commitments through mid-2019, and these commitments increase by 3 percent every year. In other words, the MLP will receive a certain contractually guaranteed minimum whether or not the gathering system is used. Not only will this minimum increase, but the volume-based fee will rise each year.

The remaining 25 percent of cash flow come from Chesapeake Energy's Mid-Continent operations. This gathering agreement resembles the one covering the Barnett Shale, with one notable exception: No minimum volume is set.
This omission is less of an issue in the Mid-Continent, an NGL- and oil-rich region where Chesapeake Energy likely will increase its output to take advantage of superior economics.
Distribution Growth Potential

Chesapeake Midstream has yet to announce its first quarterly distribution. But the MLP indicated that it would pay distributions equal to about $0.3375 per unit per quarter ($1.35 per year). This is the minimum quarterly payout set forth in the registration statement.

The first payment would be prorated because the MLP will be publicly traded for only two months in the third quarter. Expect the partial third-quarter distribution to be around $0.225 per unit. Based on the current price and an annualized payout of $1.35, units of Chesapeake Midstream yield roughly 5.5 percent.

Note that most brokers' websites and sites like Yahoo! Finance won't display the correct yield until the MLP declares a full quarterly distribution.

To forecast potential distribution growth, let's examine the MLP's IDR Tier structure, listed below:
Tier 1: 98 percent to MLP holders and 2 percent to the GP, up to $1.55 per unit;

Tier 2: 85 percent to MLP holders and 15 percent to the GP, between $1.55 and $1.69;

Tier 3: 75 percent to MLP holders and 25 percent to the GP, between $1.69 and $2.03; and

Tier 4: 50 percent to MLP and 50 percent to the GP, above $2.03.

To start, Chesapeake Midstream will be in the Tier 1 threshold, meaning that 98 percent of any distribution goes to the holders of the LP units. This scaled structure, which requires less growth in total cash flows to boost the payout to unitholders, often enables new MLPs to grow their payouts at a faster rate than mature rivals as it takes less growth in total cash flows to produce a rise in the payout to LP unitholders.
And the GP is incentivized to grow distributions as quickly and sustainably possible; the higher the distributions paid to unitholders, the higher the percentage received by the GP.
An example will flesh this idea out more clearly. Williams Partners LP offered a similar value proposition when it went public in 2005. The GP, Williams Companies, owned a large number of assets appropriate for drop-down transactions. The MLP hit the top end of its Tier 1 payout in two quarters, exceeded its Tier 2 payout in a year and hit its Tier 3 payout just two years after the IPO.
Although it's by no means a sure thing, Chesapeake Midstream could enjoy a similar growth rate, assuming that the GP drops down about $500 million in assets each year. If Chesapeake Energy sticks to its word, the MLP could pay out $0.3875 per quarter by mid-2011 and $0.4225 per quarter in early 201--an annualized growth rate of roughly 15 percent.
Chesapeake Midstream likely will end 2010 with an annualized yield of about 5.5 percent, less than the 6.2 percent average of the benchmark Alerian MLP Index. However, a lower-than-average yield is justified by fee-based gathering contracts that limit exposure to commodity prices. The potential for the distribution to grow at a double-digit rate also mitigates a lower yield.

Disclosure: No positions