Yelp Inc. (NYSE:YELP) has had a volatile, yet ultimately prolific track record in the stock market since its IPO at $15 per share in March of 2012. The shares quickly soared and nearly eclipsed $100 a share in March of this year. Despite this tremendous run-up in its share price, Yelp remains unprofitable. With no earnings to show, Yelp is trading based on future prospects, which can prove to be a dangerous notion. Even after trading down to its current level of $68.35 a share, Yelp still remains grossly overvalued.
About Yelp
Yelp Inc. connects people with great local businesses. Its users have contributed a total of approximately 56.9 million cumulative reviews of almost every type of local business, from restaurants, boutiques and salons to dentists, mechanics and plumbers. Its platform provides local businesses with a range of free and paid services, which help them to engage with consumers at moment when they are deciding where to spend their money. The company generates revenue from local advertising, brand advertising and other services. Its products portfolio includes local business, national/brand advertisers and transaction partners.
Recent Performance
Yelp remains categorized as being in the hyper-growth stage of its life cycle. In Q1 of 2014, Yelp recorded net revenue of $76.4 million, which is up an outstanding 66% y/y. Companies that are experiencing that level of top-line growth make investors sanguine about its future prospects. However, even with that remarkable revenue expansion, Yelp, nonetheless, remains unprofitable. With a deluge of competitors entering the space, it will prove difficult for Yelp to justify its current valuation.
Analysis of Profitability
Revenue Break-down
Yelp generates revenue from three avenues. Local advertising is its main driver with 85% of revenue coming from there. Brand advertising is the next largest with 10% and 5% comes from various other initiatives such as gift certificates and a third party ad network.

Source:10Q

Source:10Q
Deep Dive Into Expenses
On the expense side, their cost of revenue is quite minimal as it only includes credit card processing fees, web hosting expenses, internet service costs, benefits and stock based compensation, and allocated facilities costs. This expense segment represented 7% of revenue and increased 52% y/y.
Sales and marketing is by far the most substantial expense Yelp faces. This segment represented 59% of net revenue in the most recent quarter and increased 60% y/y. The reason for this expense structure is that community managers are responsible for building brand awareness and generating buzz once Yelp enters a new market. With 85% of revenue coming from local advertising, it is obvious why they rely so heavily on salesmen. This reliance will staunch their potential to become more profitable in the future.
Another notable expense to discuss is product development. Y/Y this segment grew a significant amount, 93%, and comprises 18% of net revenue. Investing in its infrastructure is essential to providing users with the best possible interface. Management realized this and stated that they expect product development expenses to continue to climb in future quarters.
The final expense category we will break-out is general and administrative. Y/Y this ballooned 50% as the company added more support staff. Management expects to expenses to grow considerably in this segment as well.
Overall, even though Yelp grew revenue exceptionally, its business model is not conducive to scaling. Its reliance on a local sales force ensures that profitability will remain low. Further, Yelp's quarterly earnings reports were propped up by an income tax benefit of $2 million, but it still reported a loss in excess of $2.6 million.
Management alluded to its difficult business model in the 10Q:
"For the three months ended March 31, 2014, substantially all of our revenue was generated by the sale of advertising products. We have incurred significant costs to attract current and future advertisers and expect to incur significant additional costs for the foreseeable future. Our ability to grow our business depends on our ability to maintain and expand our advertiser base."
Business Model
Yelp investors are expecting profitability to improve dramatically. However, with the way Yelp derives its revenue, that is unlikely to materialize. Ad rates should remain constant or decline as competitors enter the market, its load capacity for ads is limited, internationally is it failing to catch on, and the FTC investigation is proof of a flaw in its system.
So now that I have boldly claimed a flawed business model, I will move to substantiate my claims.
First a quote from the 10Q that investors should consider:
"We expect that our revenue growth rate will decline in the future as a result of a variety of factors, including the maturation of our business and the gradual decline in the number of major geographic markets, especially within the United States, to which we have not already expanded, and you should not rely on the revenue growth of any prior quarterly or annual period as an indication of our future performance."
Local Advertising
Yelp provides both free and paid business listing products to businesses of all sizes. It enables businesses to create a free online business account. Then businesses can have the option of enhancing the listing which eliminates search advertising and incorporate a video clip on their page. Business also have the option of paying to promote themselves as a sponsored search result through a cost-per-click program.
Source: Investor Presentation
The ad load that is possible with the ads for local businesses is quite limited. In a typical search for a business, a consumer will see one advertisement. In most cases, Yelp doesn't even earn revenue unless the ad is clicked on, so increased revenue generation through this avenue is dependent on the platform growing overall. Therefore, revenue expansion is tethered to the platform gaining users. With user growth decelerating as markets saturate, this does not bode well for Yelp.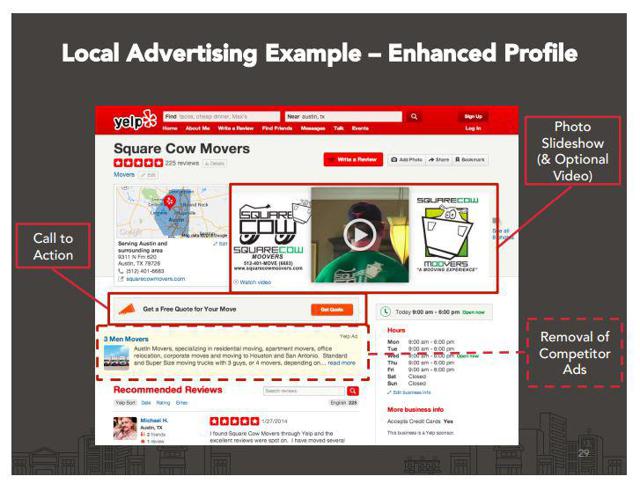 Source: Investor Presentation
Businesses Deterred
The number of businesses that believe the enhanced pages or ads are worth the cost is quite minimal compared to the overall number of businesses registered. On the entire platform, Yelp has 1.6 million businesses, but only 73,600 are active business accounts which represents roughly 4.6% of the total.
Many businesses may be deterred from entering the platform as the policy of saving user anonymity makes user reviews unverifiable. A situation may arise where competing businesses write negative reviews for each other which will not be able to be removed. Maybe this is to blame for the miniscule percentage of paying businesses.
Moreover, Yelp has a 1-9-90 business model in which 1% of users are dedicated reviewers, 9% are occasional reviewers and 90% only read the reviews. With such a high dependence on a concentrated segment of reviewers, a policy change removing anonymity could significantly reduce the number of reviews. Yelp is certainly in a catch-22.
Further, the Federal Trade Commission (FTC) is actively investigating 2,045 complaints leveled against Yelp from 2008 to 2014. The integrity of the platform is certainly in question and if continued negative sentiment mounts, Yelp will face an incredibly difficult situation where businesses will flock from it.
International Presence
Overall, Yelp has a presence in 120 cities. 61 are in the U.S., while 59 are international. Yelp seems relatively balanced until one looks closer into the revenue breakdown. In Q1 of 2014, international revenue accounted for a paltry 3% of total revenue. This is quite alarming when the business model is considered. Yelp has community managers attempting to spread the brand in new markets, but it is clearly failing internationally. Yelp is incurring the salaries of the managers, but is not reaping any reward. Its international strategy clearly is not working.
Competition
Since entering the industry, Yelp has faced mounting competition. Yelps main competitors are: OpenTable (NASDAQ:OPEN), Grub Hub (NYSE:GRUB), Trip Advisor (NASDAQ:TRIP), Foursquare, Google (NASDAQ:GOOGL) (NASDAQ:GOOG), and Facebook (NASDAQ:FB).
OpenTable had earnings of 33 million in 2013 with 30,000 restaurants in their database and sees an average of 15 million people book reservations on its platform each month. Recently, PriceLine (NASDAQ:PCLN) purchased OPEN for $2.6 billion. However, OPEN's platform is much more scalable and lucrative. Restaurants that have a subscription to the service have average charges of $697 per month. While Yelp's recent acquisition of SeatMe offers a similar service for $99 per month. However, OPEN has a first mover advantage in the industry. This acquisition created speculation that Yelp may be an acquisition target as well.
Grub Hub allows users to place takeout and delivery orders at restaurants. The business model is slightly different from Yelp's in that it is focused on creating orders online.
Foursquare helps users discover great places and boasts over 50 million users on its platform and 1.7 businesses that use the merchant platform.
Facebook is on the fringes of entering this industry with its new graph search. Facebook has the largest presence of business pages, with 30 million active pages including 19 million on mobile. Users can review businesses just like on Yelp. Graph search will allow users to see friend recommendations and may enable FB to cannibalize Yelp's business.
The competition between Yelp and Google has been apparent recently. In early July, Yelp filed a complaint against Google's search business. Yelp claims that Google is giving preference to its own service in search result lists. Google has been attempting to popularize its Google Places service which is a direct competitor to Yelp.
Ad Prices Will Remain Stable Or Fall
There are a number of competitors in the industry and Yelp's mere 132 million users will not be enough to sustain a competitive advantage. With a number of options for restaurants to advertise on, it will be unlikely for ad space to appreciate in value.
Valuation Level
The multiples that Yelp trades on are astonishing. Maybe Janet Yellen's insight will prove to be true.
"Some sectors do appear substantially stretched, particularly those for smaller firms in the social media and biotechnology industries, despite a notable downturn in equity prices for such firms early in the year."
Source: NY Times
On a forward price to earnings basis, Yelp trades at an incredible 235x. When juxtaposed with the profitable Facebook which has a current PE ratio of 80, the valuation of Yelp seems unbelievable, especially considering that their revenue growth rates were comparable. Further, on a price to sales basis Yelp trades at a lofty 19.26x. In order to justify those levels, Yelp would need to grow at an incredible pace.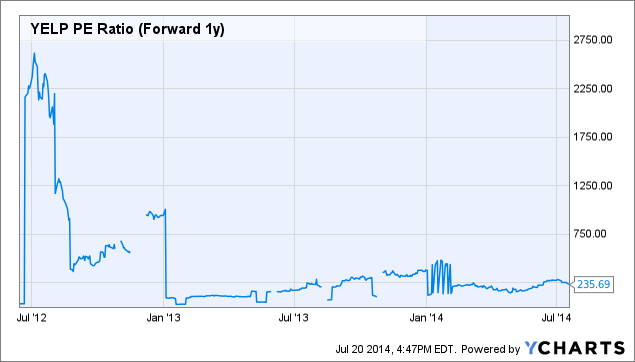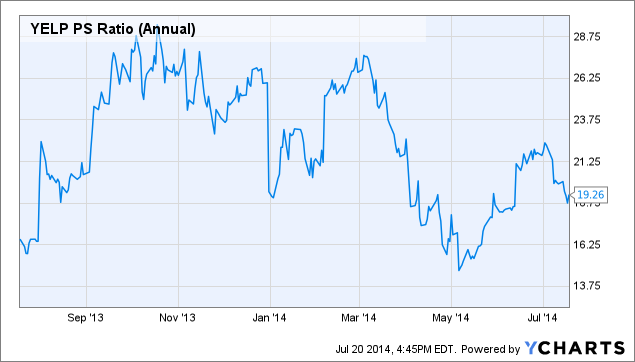 Looming Costs
Yelp's future profitability is further in question based on a few items in their 10Q.
First, as of March 2014, the company had 546,607 restricted stock units with a weighted average grant price of $53.86 and 63,782 restricted stock awards with an average grant value of $9.45. The RSUs at this trading level would be roughly $8.2 million if executed, while the stock awards would cost the company around $3.8 million. It is easy for investors to not factor in these future expenses.
Technology companies trade at higher PE multiples because most of their capex expenditures cannot be depreciated and amortized, so they flow right through and effect the bottom line directly. However, Yelp's recent acquisitions of SeatMe and Qype will hinder future quarters as well. SeatMe was acquired for $12.7 million in 2013 and Qype was acquired for $50 million in 2012. The company uses straight line depreciation so future quarters will be hurt by these expenses as well.
Strong Insider Selling
Although insiders may sell for numerous reasons, it is worth mentioning that insiders have been selling at a tremendous rate. Moreover the last insider purchase was in June of 2012 at $15.73 a share.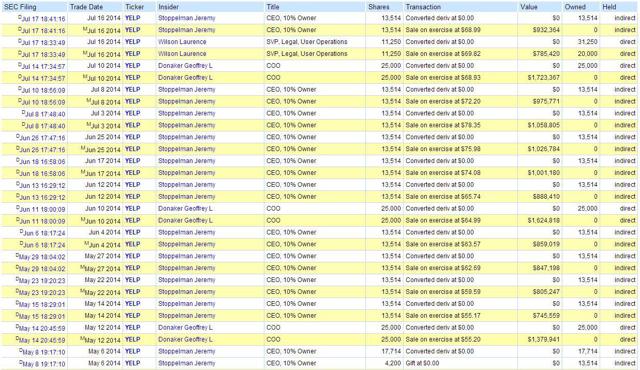 Source: Open Insider
Share Dilution
Another factor for investors to consider is the severe dilution they have been subject to since Yelp first IPOed. Each year the share count has risen and this points to management believing that its shares are overvalued.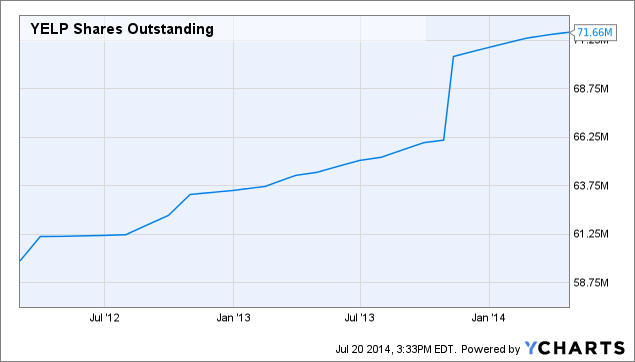 Potential Buyout
After the purchase of OPEN by PriceLine, the speculation of Yelp being a buyout target has risen dramatically. Even though losses are mounting and the company has yet to determine an efficient operating model, the buyout risk is still evident. A company that believes it can leverage its platform and integrate it with their user base could present an offer.
Moreover, Yahoo (NASDAQ:YHOO) will be getting a windfall once the Alibaba IPO happens in September. Although I do not believe Yelp will justify its valuation, a prudent investor should realize the buyout risk and be wary of outright shorting Yelp.
Concluding Remarks
Investors are pricing in exceptional revenue growth coupled with profitability improvement for Yelp to come anywhere close to justifying its enormous valuation. However, with its business model, scalable growth is difficult to obtain. Moreover, with heightened competition, an FTC investigation, and hidden costs on the horizon, Yelp's future outlook is dismal. Investors should avoid this overly-hyped stock.
Disclosure: The author is long FB. The author wrote this article themselves, and it expresses their own opinions. The author is not receiving compensation for it (other than from Seeking Alpha). The author has no business relationship with any company whose stock is mentioned in this article.