Overview
General Electric (NYSE:GE) reported an inline quarter yet sold off over the last couple of days.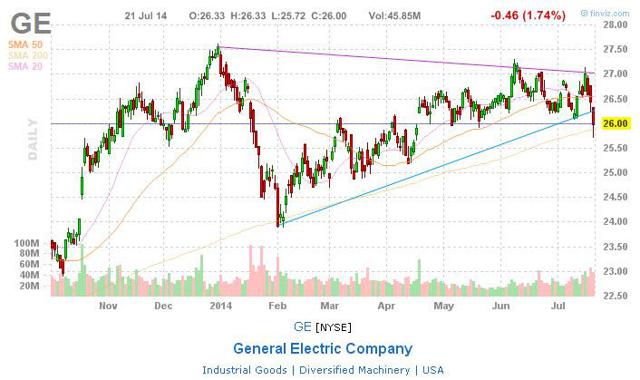 (Source: Finviz.com)
In the following sections I will lay out the reasons why I believe this has occurred. Further, I will make the case as to why this is actually a buying opportunity in the stock.
Last quarter earnings review
On 7/18/2014, General Electric reported second quarter 2014 earnings of $0.39 per share. This result was in-line with the consensus of the 11 analysts following the company and beat last year's second quarter results by 8.33%.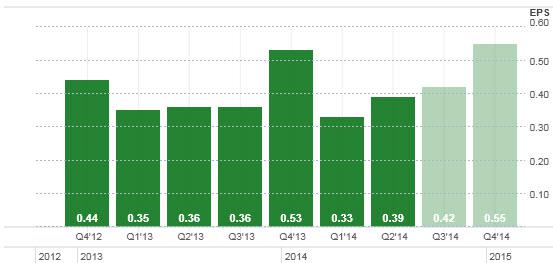 (Source: Scottrade.com)
Simply meeting consensus earnings estimates apparently wasn't good enough for market participants. After dipping nearly 1% Friday, the stock has been one of the worst performing DOW stocks on Monday as well. This may be attributable to a note put out by Morgan Stanley (NYSE:MS), which gave several reasons for the sell-off:
"Here are the reasons why the stock had heavy legs, in our view: 1) equipment orders fell 3% with flat to down outcomes across the board, ex-Transportation (on US freight strength). General Electric referenced some project push-outs in wind and subsea that are likely to pull through during 2H 2) cash conversion was very weak due to a decline in customer deposits, related to order weakness, and w/cap build. General Electric maintained its outlook for $14-17bn CFOA; 3) GECC net income matched at $1.85bn ex-preferred, but the underlying quality was weaker on 2-3c tax benefit; 4) A creeping realization that 3Qe of 42c may need to come down in light of normal season flat/down profile vs. 2Q."
Over the past few quarters General Electric's efforts to transition into primarily an industrial company and break away from reliance on its financial business has been highly praised by the analyst community. Nonetheless, this transition will not come without some proverbial "noise" in the numbers. JPMorgan's C. Stephen Tusa and Rajat Gupta reiterated their bearish thesis after the quarterly earning report stating:
"We come away from the General Electric quarter with reinforced confidence in our thesis. On operations, despite ok margin performance, we think the annual targets are a stretch and mix is a major headwind that is structural, and unlikely to get better, while cost inflation, most notably in corporate, remains a key drag, and a normal cost of doing business that will likely mitigate most above-the-line operating gains from dropping through to EPS. Both items played out in 2Q and should persist in 2H, and the net of it all is another cut to our already below consensus numbers to now show an earnings decline in '14, the only company in the group to do so, while our estimates in the out years remain materially below consensus. Meanwhile, negative free cash flow and cash to fund Alstom highlights the lack of optionality here, and the end of near term buybacks brings numbers even lower, while the dividend payout ratio on free cash flow remains high. With plenty of portfolio churn providing lots to talk about, the degree of quality improvement (ie - deserved multiple expansion) is debatable, and one way to look at the refreshed SOTP suggests the recent moves don't help as big ticket power gen valuations remain depressed. Either way, lower numbers, with no change in quality means we see the stock as fairly valued - we remain on the sidelines."
So after all that, they say the stock is fairly valued at present? I see their analysis as myopic and shortsighted in nature. They are focusing on short-term metrics. Furthermore, they apply an incredible amount of assumptions to come up with their future targets. In doing so, they are unable to see the forest through the trees, as it were.
Seeing the forest through the trees
I see these issues as nothing more than part of the turnaround process. These dips in General Electric's share price should be bought. The issues brought up by the negative analysts are all transitory in nature and will resolve themselves in short order. If you are looking to lock in shares at a higher dividend yield, now is the time. I see this as an excellent buying opportunity presently.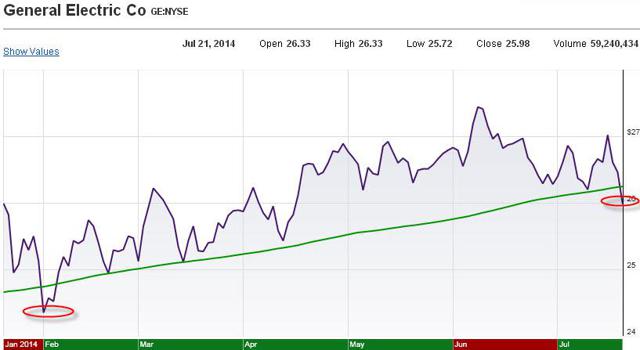 (Source: Scottrade.com)
The stock has been on a steady climb upwards for the past six months. During this time the stock has broken below the 200 day SMA only once and that dip was quickly bought. If you have low risk tolerance, you can wait for the stock to break back above the 200 day SMA for confirmation of a continued uptrend to start a position.
General Electric is a long-term buy based on fundamentals
If you are investing in General Electric it should be for the long-term. That means you should ignore the short-term noise and pay attention to the long-term prospects for the company. I did not hear anything in the conference call that leads me to believe General Electric is backing off any of their long-term goals. CEO Jeff Immelt stated on the call:
"General Electric ended the quarter with the record backlog of $246 billion. A particular highlight was the payback of our investments and technology. We recorded $36 billion of wins at the Farnborough Airshow, transportation is processing because of our commitments to push ahead with the Tier 4 locomotives, healthcare is getting share behind [side a bit] product launches, in oil and gas the same broad interest is the new subsea innovations.

In an important move for GE Alstom deal is announced and signed targeting a 2015 close. This is an exciting opportunity for GE and our investors. By 2016, we expect this will add $0.06 to $0.09 per share and allow the company to have 75% of our earnings from industrial. The synergies and returns are excellent."
I didn't hear anything about a long-term hit to EPS or a significant negative development in regards to General Electric's plans to reach its goal of achieving 75% of the company's earnings from industrial operations, quite the contrary as a matter of fact.
Conclusion
If you are a long-term dividend investor now is an excellent opportunity to lock in shares at a higher dividend yield. The stock is currently yielding 3.39%. If you were looking for a pullback to start a position, now is your chance. If you are holding the stock in your portfolio, this is an excellent opportunity to dollar cost average down your share price. If you are looking to start a position, yet have a low risk tolerance, wait for the stock to break back above the 200 day SMA prior to starting a position. I believe the stock is currently trading at a significant discount. This is based on the fact many analysts still don't buy the fact General Electric will make the transition into an industrial conglomerate successfully. The stock is currently trading at a 21% discount to its peers based on P/E ratio of 17.8 while the industry average remains at 21.
Final Thought
There is quite a bit of geopolitical tensions sprouting up across the globe currently. It truly amazes me how much resilience the stock market has in the face of all the hot spots flaring up as we speak. The problem is market sentiment can change on a dime. It's similar to a gigantic game of Jenga. One false move and the entire market comes unglued. For this reason, I would definitely layer into any position over time to reduce risk. The market is at all-times highs just as it seems geopolitical risk is at all-time highs. Take your time and be patient when building a position.
Disclosure: The author has no positions in any stocks mentioned, and no plans to initiate any positions within the next 72 hours. The author wrote this article themselves, and it expresses their own opinions. The author is not receiving compensation for it (other than from Seeking Alpha). The author has no business relationship with any company whose stock is mentioned in this article.