Netflix (NASDAQ:NFLX) reported revenue in-line with estimates of $1.34 billion and just missed analysts estimates of $1.16 reporting $1.15 in eps. Although analyst expectations were nearly met, guidance by management did not paint such a bright picture.
Quarterly Results
Overall, revenue grew 37% y/y and 7.5% q/q, primarily driven by international streaming growth. International streaming revenue grew 85% y/y and 15% q/q. However the segment still contributed a loss of $15 million. Domestic streaming grew 25% y/y and 4.8% q/q. Domestic streaming contributed $227 million to profits. The DVD business continued to shed subscribers, but management did not break out the overall revenue and expense figures of the segment.
Subscriber Update
570,000 U.S. streaming subscribers were added in Q2, which is above guidance of 520,000. Internationally, Netflix surpassed guidance as well with 1.12 million subscribers added, surpassing guidance of 940,000. The DVD segment subscribers fell by 391,000 to 6.3 million.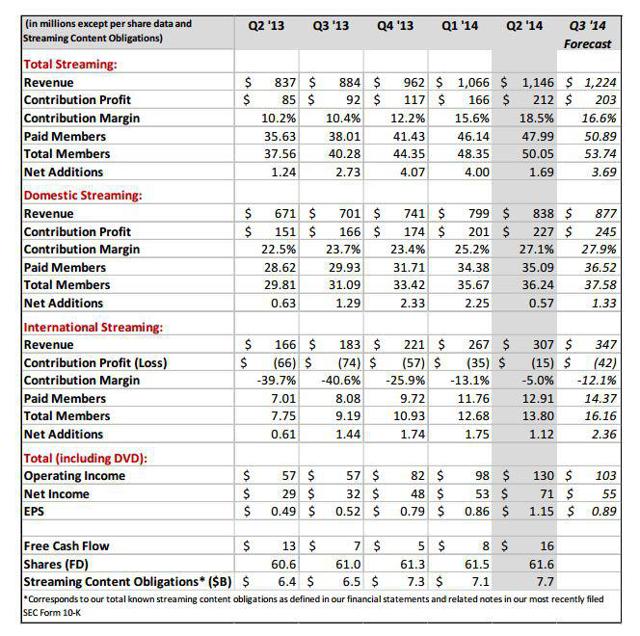 Source: Netflix 8K
Management Guidance
Netflix gave quite low guidance for Q3 with an EPS estimate of $0.89, below analyst consensus of $1.06. Management expects to add 1.33 million U.S. subscribers in Q3, and 2.36 million international subscribers. Management warned of rising expenses in the next quarter, as it will enter Germany, France, Austria, Switzerland, Belgium, and Luxembourg in September. Due to this, contribution margin from streaming is expected to fall from 18.5% in Q2 to 16.6% in Q3.
Competition For Content
During the earnings conference call, management discussed how content was the largest expense it faces. Retaining and growing its subscriber base is only achieved if Netflix can provide compelling content. Netflix has done this in the past through a combination of original shows and through deals.
However, with more competition entering the industry, the cost of new acquisitions will rise. Amazon (NASDAQ:AMZN), Hulu, Yahoo (NASDAQ:YHOO), AOL (NYSE:AOL), and even Microsoft (NASDAQ:MSFT) have announced plans to create their own content and fight Netflix to acquire other content. Streaming content obligations rose 20% y/y and 8.5% q/q. However, the content costs increased by the largest degree ever between Q1 and Q2 of 2014. With content providers gaining more pricing power, expect content acquisition costs to rise further. Even though it is growing the top-line, these rising costs are staunching the positive effects of that growth.
International Costs
The international segment remains unprofitable and expecting margins to rise to domestic levels is unreasonable. International markets are fragmented, with smaller countries having different viewing preferences. Due to this, content will have a much lower ROI to Netflix. During the conference call, management alluded to this headwind:
"So we do have a heavy focus on accessing the local content that matters, and establishing local relationships with local producers. In every market we imagine when we get out to some more exotic parts of the world that may skew a little more local but today it has been well within that 20% local range."
Moreover, analyst projections are overly optimistic, based on a clearly overstated addressable market. The addressable market outlined for the company is rather generic and includes anyone with a broadband connection and a credit card. In order to fulfill analyst expectations Netflix would have to capture 30% of this vast addressable market. Expecting that to occur is unreasonable.
Bottom Line
Netflix has been trading based on egregiously optimistic future prospects and not on business fundamentals. Although revenue growth remains steady and eps growth was strong, Netflix faces several headwinds. Investors should be quite wary of the guidance set forth and start to realize that justifying this ridiculous valuation will prove difficult.
Disclosure: The author has no positions in any stocks mentioned, and no plans to initiate any positions within the next 72 hours. The author wrote this article themselves, and it expresses their own opinions. The author is not receiving compensation for it (other than from Seeking Alpha). The author has no business relationship with any company whose stock is mentioned in this article.