ATP Oil and Gas (ATPG) engages in off-shore drilling and production at proven, but not-yet-developed fields in the Gulf of Mexico and North Sea. So far, the company has carved itself a profitable niche, drilling with a 98% success rate and avoiding the "wildcat" risks of targeting and then drilling exploratory wells.

The company operates three subsea wells in the North Sea, with its key operation at the Cheviot field coming online in 2012. The Cheviot project will use the Octabuoy rig, a unique pontoon facility marked by its octagonal ring. The structure is more flexible than traditional production facilities due to its design and will be reused at subsequent production fields.

The meat of ATP's deep-sea drilling operations are in the Gulf of Mexico, however, and the company was hit hard by the moratorium. The company's second well in the Mississippi Canyon, MC 941 #3, was delayed until production recently began in the first days of October. Two additional wells were delayed at MC 941 #4 (Mirage) and 942 #2 (Morgus), with each slated to produce in the last quarter of 2010 and first quarter of 2011, respectively. These wells will be brought online via ATP's newly financed Titan rig at some point in 2011. Development of MC 305 #2, a 40 mcfe per day natural gas site, was halted. The rig was released to other projects. Further, the company's plans to quadruple production to 20,000 barrels of oil equivalent per day at its 51% interest Gomez hub was postponed.
Click to enlarge: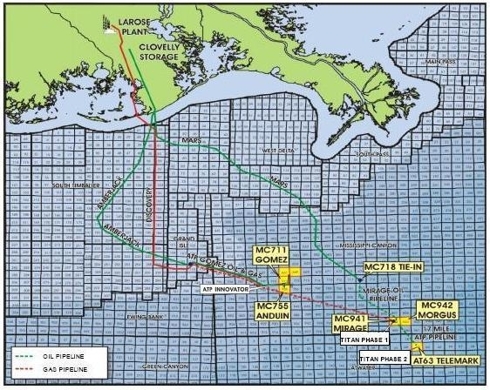 The company has been busy during the moratorium. ATP loosened its credit constraints by placing the Titan rig into an LLC and securing $350 million in a credit facility with Beal Bank Nevada. ATP smartly retains 100% ownership of Titan through its Titan LLC subsidiary. ATP also began production at 941 A-1 (formerly #3, the A-1 designation indicates the well is producing), and exceeded its expected flow rate of over 7,000 barrels of oil equivalent per day.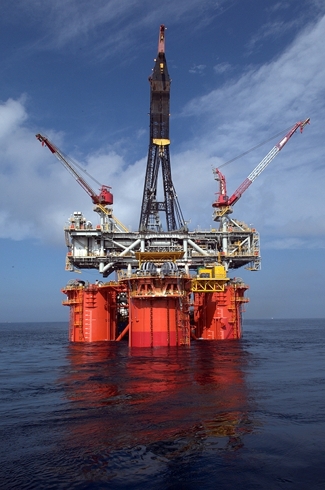 Catalyst
Shares short exploded from 11.5 million in late March to over 18 million in late May, after the moratorium was put into effect. Recent figures show short interest above 19 million shares, or well over 40% of the float. The large increase in short positions may be attributed to bond-holders looking to hedge or partially hedge their bond positions with short equity positions. In late April, ATP issued 1.5 billion in senior notes. However the lion's share of short positions were put in place when the moratorium was first announced and during the summer months. That's when deep-water drillers faced the most headline risk as BP (NYSE:BP) had not yet plugged its leak. These event-driven short shares are not structural and will act as additional demand for ATP shares as the cloud lifts from deep-water drillers both in the equity and options markets.
In early October, the New York Times reported that General Electric's (NYSE:GE) Energy Financial Services entity considered an outright purchase of ATP. Deal discussions reached an impasse over due diligence according to the Times, which likely stemmed from conditions attached to 2010 production well outcomes and the end of the deep-water drilling moratorium. GE Energy Financial Services recently considered funding the Titan project and continues to hold a 50% interest in the ATP Innovator rig.

Valuation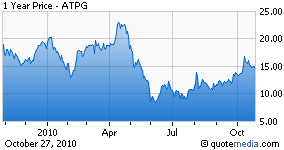 Estimates of the company's value are hard to pin down. JP Morgan, one of ATP's book-runners for a 2009 public equity offering, downgraded ATPG shares to "underweight." JP Morgan cited additional capital requirements exceeding $500 million for principal on overrides and net profit interests in its cash flow model, resulting in an $8-9 aberration in its $10 per share valuation estimate. Using JP Morgan figures, company shares are worth over $18 apiece.

But JP Morgan's figures do not account for the influx of $150 million upfront from Beal Bank Nevada's affiliate funding of Titan LLC, with a further cushion of $200 million in a credit facility. Since JP Morgan's latest report, the well at MC 941 A-1 has come online, with initial production likely to be above estimates. Our cash flow estimates show that the company is likely to be cash-flow positive by year end if exit production is above 32,000 barrels of equivalent oil.

Phase one of production at the Telemark hub is expected to yield just over 41 million barrels of equivalent, while phase two expectations are just over 31 million. Cheviot numbers are closer to a total of 45 million barrels. Using a conservative $75 per barrel oil price and a $4 mcfe price on natural gas through 2013, we anticipate cash flow in the interim years could comfortably pay the entirety of ATP's $1.5 billion in debt. Using our discounted cash flow model, fair value for ATP is in the $3.2-3.6 billion range including assumption of debt, placing shares within $30-40 apiece.

ATP shares represent a unique opportunity to take advantage of uncertainty surrounding deep-water drilling in the Gulf of Mexico now that the moratorium has been lifted. Once the investment community recognizes ATP's prospects over the next several years, shares should rise significantly and shares short will add fuel to the fire.

Disclosure: Long ATPG, Short ATPG puts