Introduction
AMD (NYSE:AMD) recently posted the results of its second quarter earnings and missed expectations while posting an unfavorable outlook. Investors were very displeased and sent shares down by more than 16% on Friday with an extreme volume figure of nearly 140 million shares. AMD has consistently beat analysts' expectations for over a year until it came in a penny short with in-line revenue. Earlier this year for the first quarter's results, they outperformed the outperform mark which sent shares higher following earnings for the first time in a year. With the outperform mark being the whisper number, AMD missed big.
If you look at my updated chart below, you can see how AMD's results went from consistently on or above the projection region to smack-dab in the middle of it. This round, the bar war set extremely high, and the pre-earnings rally to a new 52-week high of $4.80 was proof of that. While AMD missed on earnings in addition to posting a poor outlook for Q3, the results were still laudable.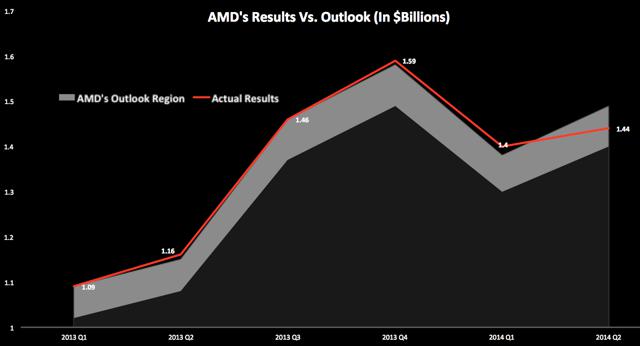 Author's note: My bullish standpoint on AMD comes from a long-term perspective that goes beyond tomorrow, next week, next earnings, and next year.
AMD didn't benefit from the PC sales like many were expecting
While I was wrong in thinking that AMD's earnings could be beat from the PC ramp seen in Q2, I still emphasized that AMD may not benefit on the same scale as Intel (NASDAQ:INTC) due to much to the sales being corporate driven. The sudden increase in corporate demand for PCs drove overall PC sales and this ramp just wasn't seen on the consumer side, where AMD is currently focused.
Due to the soft consumer segment, revenue from Computing Solutions (NYSE:CS) declined 20% year-over-year due to lower desktop sales. However, sequentially there was a 1% increase driven by higher notebook and embedded sales thanks to AMD's recent product launches. While this isn't great, and was far worse than what investors were expecting, it is still good. AMD showed stability in its PC sales and increased revenue sequentially for the first time in four quarters. Looking forward, AMD now expects to see the overall PC market to be down by 5-7%, which is up from its outlook of 7-10% that was given during the first quarter's earnings conference call.
Crypto-currency backfires on graphics revenue
While Graphics and Visual Solutions (GVS) revenues were up 5% sequentially, this increase was mostly driven by the semi-custom space that yielded record shipments for the second quarter. Offsetting these gains were the declines seen in the enthusiast desktop GPU space due to the calming of the crypto-currency scene that once sent GPU prices to nearly double their MSRPs.
As Lisa Su mentioned during the conference call, a large batch of used cards entered the market and interfered with its GPU sales during the second quarter and contributed to the 10% increase in inventory. Going forward, AMD sees GPU sales increasing for the second half of the year since this is typically the stronger half. In addition, AMD expects the prices of its R7 and R9 series graphics cards to stabilize with demand from miners now down. This will help them reach its goal and clear up inventory.
I am still firm on my long-term outlook
Last month I wrote a very long analysis on AMD's restructure plan, which isn't going to be complete until the end of 2015. AMD's high-growth markets are on track to generate 40% of its total revenue for 2014, with the final 50% goal being complete at the end of 2015. AMD's restructure plan under CEO Rory Read looks very promising and is nothing like we've ever seen before from the company. While I was wrong in seeing AMD as good investment for the near-term, I am still firm on my decision to wait out the long-term growth that I expect to see.
Conclusion
Although even I was disappointed with the results, the good news is that it wasn't dreadful. The poor outlook on the other hand is questionable. In fact, I think it's a little conservative. In the end, AMD is proving that it can turn its business around and last quarter was good demonstration of the stabilization that investors have been continuously asking for.
Disclosure: The author is long AMD. The author wrote this article themselves, and it expresses their own opinions. The author is not receiving compensation for it (other than from Seeking Alpha). The author has no business relationship with any company whose stock is mentioned in this article.