Schlumberger (NYSE: SLB) is involved in the oil and gas industry as a driller and also provides technological services to oil producers around the world. It leads the driller pack with a market cap of $153 billion. Its biggest competitor is Halliburton (NYSE: HAL) with its very own unique drilling technology. When Schlumberger introduced its 'reservoir mapping-while-drilling service' aimed at reducing the riskiness of dry wells, Halliburton released the CYPHER 2.0 aimed at reducing well costs.
The market performance of these competitors has been much better than other players like Exxon Mobil (NYSE:XOM) and ConocoPhillips (NYSE:COP).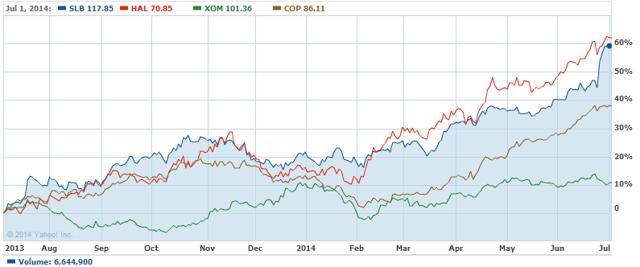 Click to enlarge
The chart above clearly shows that Schlumberger and Halliburton have given good returns to the investors during the last 52 weeks. Although Halliburton might have left Schlumberger behind in share price growth, it lags behind in dividend yield. Schlumberger has an attractive dividend yield of 1.36% while Halliburton only gives a dividend yield of 0.85%.
Possible Sanctions
Russia houses $8.2 trillion worth of barrels underground which cannot be extracted without hydraulic fracking. Russia does not have the advanced technology required to do this and also has very little experience, like many other countries, in shale extraction. Hence it has to rely heavily on U.S. companies like Exxon Mobil, Halliburton, and National Oilfield etc. The U.S. government is now considering sanctioning the sale of oilfield drilling gears and technology to Russia. This will be a significant setback for Russian production and exploration. At the same time the U.S. companies stated above will also get affected due to their major involvement in the development of shale reserves. Halliburton will be severely hit by these sanctions, if they go into effect, because it is not a diversified business and the Russian shale region is considered vital for its future growth. On the other hand Exxon will be able to reduce its losses due to its upstream and downstream operations.
As we know Schlumberger is based in Houston, Texas but the company was originally founded/started in France. This is the reason why it is not bound to follow sanctions or policies that the U.S. imposes based on its international relations. However, there is still some controversy regarding this matter as Michael Socarras, a Washington based attorney claims that companies like Schlumberger have to comply with U.S. sanctions as policies are applicable on all U.S. persons, which includes companies operating in the U.S.
Europe is not seeking sanctions as aggressively as the U.S., which means that Schlumberger will not face problems from its home turf of France. We believe that Schlumberger will have the opportunity to capture the business that the U.S. companies will be forced to abandon. If this happens, it will drastically improve the long-term growth figures of the company by not only increasing cash flows but also improving shareholders value.
Petrobras Tender
Petrobras (NYSE:PBR), a Brazil-based oil and gas producer, is offering drilling service contracts worth $2 billion. Halliburton, Baker Hughes, and Schlumberger will be taking part in the bidding process.
In the recent past, Halliburton and Baker Hughes reduced their staff in the deep water region to inline its services with lower expected demand from Petrobras, which was trying to control its costs. However, the company still wants to improve suppliers' margins by increasing the rig fleet. While this will surely provide an upside to Petrobras, it will also be beneficial to the associated driller. Currently there are no favorites as all three companies have an equal chance. The news had a minor effect on Schlumberger's share price but if the company manages to grab this contract it will generate considerable cash flows due to the deal's huge $2 billion payout.
Operation Update
Gazprom has stared drilling at the Dolginskoye field located in the Pechora Sea. The well will be drilled by Schlumberger and Weatherford as per Gazprom's news release. Surveying operations for the location of the well have started during the current ice free months. Drilling and testing of the well will be carried out by the GSP Saturn rig after it arrived at the site last month. This is good news for Schlumberger investors as a new project has finally taken off which will create revenue for the company as the drilling and testing phase continues.
Financials
The company is in a good position in terms of its financial strength. It has a debt to equity ratio of 0.28, or 28%, which shows that most of its financing is being done through equity. If Schlumberger decides not to increase its debt burden for any mega project in the future it can easily do so without impacting its balance sheet. The company's liquidity position is also strong as it posted a current ratio of 2.13 and a quick ratio of 1.58 during the most recent quarter.
Dividend per share has been growing on an annual basis, for the last 5 years, at a 5-year average rate of 18% per annum. Currently Schlumberger's dividend yield is 1.50% while Halliburton lags behind with a 0.90% dividend yield. Furthermore, the company's operating cash flow yield is 8.52% which indicates that the current dividend level is sustainable and there is also plenty of room available for growth. The reason for the company's financial strength may well be its growing revenue figures reflected in net income. Revenue grew by 8.5% and net income grew by 22.6% on a yearly basis.
Bottom Line
Schlumberger is looking very strong financially and operation wise. The company has a good network of operations all over the world which hedges against any regional conflicts. If the U.S. places sanctions over the sale of technology and gears for oil drilling to Russia, we expect Schlumberger's operations to remain unaffected. Even if it gets involved in the sanctions it will be better off than its competitor, Halliburton. Looking at the overall operations we are expecting good long-term growth from the company. Moreover, analyst have either upgraded or iterated target price to more than $150, an upside to current valuations.
Disclosure: The author has no positions in any stocks mentioned, and no plans to initiate any positions within the next 72 hours. The author wrote this article themselves, and it expresses their own opinions. The author is not receiving compensation for it (other than from Seeking Alpha). The author has no business relationship with any company whose stock is mentioned in this article.