I'm often asked to give a view of where I envision the stock market in 6 - 9 months or perhaps further out. I always hesitate to present those views because so many things can pop up and change a short term market outlook. Just look at the unfortunate and tragic events of this week. Instead I have maintained the secular bull theme as my long-term 'backdrop" throughout the market rally and this year added to my bullish theme by proclaiming that specific stock selection would be more important than ever.
In the last couple of weeks I have come across so many "cautionary" and downright negative articles for the Equity markets here on SA that I believed it necessary to bring them to light in a blog post on July 1st. "Preparing for the next bear," "Time to sell stocks," U.S. economy headed for recession," just to name a few. So, I thought it might be a good idea to balance out the scales and convey thoughts about some positive ideas and the Secular Bull market I believe we are currently experiencing.
Last week I indicated where the equity markets have been by reviewing the performance for the first 6 months of this year noting the shaky start to the year and the subsequent bounce to give us a 6% gain so far in 2014.
In summary, despite the poor 1st Q GDP report, the economic data points released recently have been quite strong and are forecasting improvement as we enter into the second half of this year.
The "concerns' regarding the economy and equity prices are still there and I will attempt to review some of them and offer my perspective.
Where we are:
The market has rallied 9% off the April low (1815), the S&P is following and maintaining the 20 day MA upward trendline. (Until the events on Thursday July 17th.) Currently the S&P sits approximately 2% above its 50 day MA and 7% above its 200 day MA.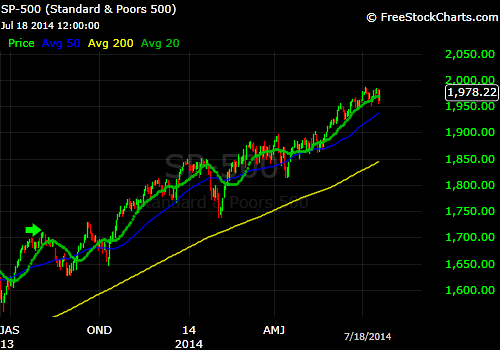 Where we are going -- In the short term:
A potential negative: We are entering into a weak seasonal pattern. Historically, the 3Q has produced the lowest returns during the year. Resistance around the psychological "S&P 2000" level and the old Nasdaq closing high of 4,696, raises the odds of at the very least, a sideways period ahead if not a dip to test the 200 day MA, that is approximately 7% from here. Generally speaking, the market could use a period of consolidation either with "time" or by "price."
Perhaps it will be offset in the near term by what I am viewing as a positive. Earnings estimates for 2Q, are projecting around a 7% year-over-year growth. Negative pre-announcements are running below levels from 1Q13 and 2Q13, and that bodes well as we entered into another earnings season this week.
On that note, while there is plenty of "noise" in the near term (The minutiae of Yellen's "stretched" testimony, etc) I would rather look at what is really happening -- earnings, and so far they did not disappoint and the bright spot is "financials."
(NYSE:WFC) (NYSE:C) (NYSE:JPM) (NYSE:GS) all beating estimates. And it appears they will be joining and adding more breadth to the rally. More importantly the notes from the earnings calls are highlighting the underlying strength in their business.
(NYSE:JNJ) a large cap pharma is posting double digit growth, with another earnings beat.
(NASDAQ:INTC) another upbeat quarter, as the stock has now broken out of a 10 year trading range. Other companies continued that trend as Bespoke just reported that 64% of companies have beat estimates to date, ahead of last quarter's numbers.
Dow transports at a new all-time high on Monday (7/14) -- indicating more breadth.
Dow 30 completed another "Dow Theory" buy signal with a new high on Wednesday (7/16).
The "potential" speed bumps that exist are from a "technical" perspective. Will the S&P follow suit to another all-time record or will we have a failed attempt at a new high? And the (RUT) still continues to lag and we may in fact test the "double bottom" pattern that I identified in June. At present, it is too early to suggest which way either or both of those indexes may break in the near term. However, it's surely something that bears are watching.
There are many levels between the 50 day moving average (1932) and the May 13th breakout point at 1902 that might serve as support if a consolidating period occurs; and I would suggest it would be appropriate to look into adding or initiating positions in fundamentally strong stocks if and when these levels come into play.
In summary, based on the balance of the current evidence, any renewed downside volatility should be viewed as opportunity, using the context of a secular bull market as the backdrop for investment decisions.
Where we are going -- In the intermediate term (6 months)
For the intermediate term, the technical market trend looks healthy. I will attempt to put forth what I'll call my "Base" scenario, my "bullish" case and the "What could go wrong" scenario.
Before I get to that, let's take a look at one of the "concerns" being voiced at present....
Valuations on stocks are too high.
Valuations are no longer cheap, but I suggest one doesn't use a simple valuation metric as a sole barometer. Some of the best market returns have been generated in periods of "overvaluation" whereas some of the worst returns have been generated in periods of "undervaluation." Although it should not be a sole decision driver, it is an important component to an overall strategy that considers multiple input variables. A few examples of what I am referring to;
Equity valuations, while pretty close to historic medians, are still cheap when compared to fixed income yields given the S&P 500's (1978) earnings yield of more than 6% based on forward earnings estimates.
Inflation rates (interest rates) influence equity valuations. Periods of low inflation often coincide with higher headline P/Es while periods of high inflation often coincide with lower headline P/Es. So it may be wise to look at inflation-adjusted P/E's to smooth this impact. That is accomplished by simply adding CPI to the current P/E. The far right column of the table below reflects the P/E + CPI ratio for the S&P 500 at the previous 11 bull market peaks.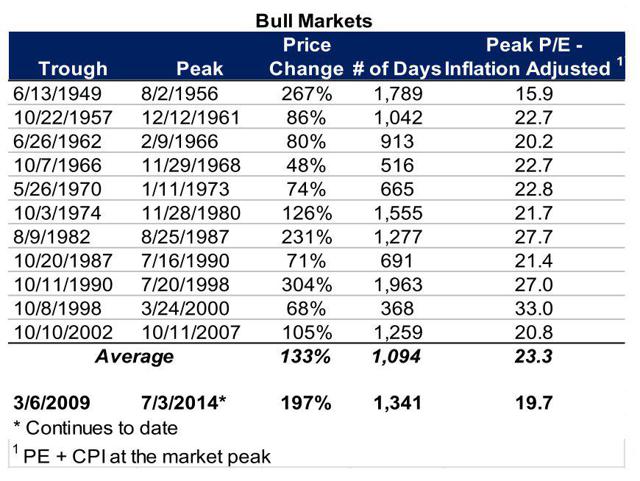 (Data from "Factset" research)
As you can see from the chart above, the current market remains well below the average of these 11 previous peaks. Absent any trigger to inflation fears (or inflation itself) the market multiple can expand. This is not my base scenario, but it does play into my bullish view for the longer term.
Hence my continued comments to the bears that we haven't seen the euphoria and the associated "peak" of PE ratios yet, and therefore while the market may be in the process of forming an intermediate top, in my view this is not "THE" top.
Another consideration:
The current economic backdrop shouldn't be dismissed when valuing equities. To that end, with the expected improvement in the economy, low inflation (I'm not buying the "bear" case on inflation just yet) and interest rates combined with few other attractive areas for investors to invest monies in the liquid public markets, stocks still stand out as an attractive investment.
The outlook to mid-2015:
I have highlighted the Thomson Reuters earnings reports extensively in my blog posts . They will be the primary source of the "earnings" component when forming my various market outlooks.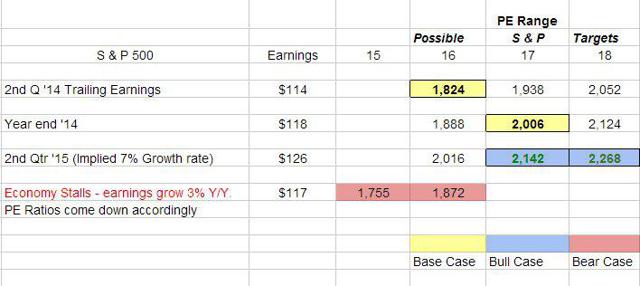 My Base case scenario as shown in the above spreadsheet, yields a range of S&P 1824 to S&P 2006 to year end '14. That assumes the economy and earnings progress as expected but mixed in are enough worries regarding issues (timing of the fed tightening cycle, choppy economic data; rising energy prices due to Iraq or other unknowns, such as we have witnessed this week.) which would keep the P/E multiple in check or perhaps a bit lower.
Alleviate a few of those worries, (I believe that may be the case) and the PE multiple stays at 17 and my projection as a baseline is about where we are on the S&P to a slightly higher level at S&P 2006.
The Bullish scenario, stays with the 7% earnings growth forecast to mid 2015, Corporate earnings staying on that path in the 2nd half of 2014 to give me an S&P range of 2142 to 2268. As I demonstrated in the earlier chart, a PE of 18 would still be well below the average of any "peak" in the S&P. Furthermore, let me remind all of Benjamin Graham's writings on PE ratios. He observed that the "average zero growth stock" sold at 8.5 times earnings, and that PE ratios increased at 2 times earnings growth. So if we use the "trailing" growth rate of 5%, it does imply a PE of 18 and that would not be outrageous. That holds true, except for the "naysayers" and the bears that are net short, because in their minds, all of what the market has accomplished and forecasted is a mirage.
Another positive view to add to that would be a "goldilocks" scenario for the economy-defined as decent growth (but absent big upside surprises especially in terms of wages) without a spike in bond yields (keeps borrowing costs down for home buyers, corporations, and other users of debt) in conjunction with a smooth upward progression of earnings.
In my view, this would feed into the mindset of investors with fear levels lower after five-plus years of equity gains, investors could be drawn into equities in a big way with competing assets offering paltry yields.
It may be at that time that an inflation-adjusted P/E allows room to be expanded as demonstrated in the "Bull markets" chart shown above.
What could go wrong - the Bear case.
Economic uptick faster than expected could cause the Fed to enact a more aggressive tightening policy. The negative impact on equities would be greater if wages surprise on the upside.
I shared my thoughts on the ramifications of the previous Fed tightening and its effects on Stocks on July 5th and after the initial knee jerk response what follows is not as bad as some wish to believe. Although some of the previous Fed tightening cycles: 1994, 1997, 1999, 2004 typically involved a "surprise factor" (the Fed was not as transparent in the past), we can probably expect stocks to react negatively in advance of whenever the Fed begins to tighten.
However, IF as I believe will take place, the Fed clearly telegraphs their intentions, and if the cycle is not late (chasing inflation), the reaction of stocks is likely to be nothing more than a normal pullback and in itself will not end the current bull market run.
Other concerns:
Economic cooling in the U.S. or China would put an extended complacent stock market at risk of a sharp pullback.
Geopolitics: Iraq, Ukraine/Russia… what is next? Any resurgence with the known global issues as well as any new developments like the events of this week with the downed airliner could cause a knee-jerk reaction in equities. Investors should be especially sensitive if any conflicts cause crude oil prices to soar.
I view a lot of the geopolitical issues I mention here as "noise," and in that context when the knee jerk over reactions occur with these events it usually turns out to be an opportunity, especially when placed in the backdrop of a positive data and earnings scenario during a bull market.
For regular readers of my blog, it will come as no surprise to hear me once again say that I believe that we are in fact in a secular bull market. I have maintained this theme throughout, that equity prices will be higher down the road than they are today.
All of the reasons for my stance can be found here in my blog from both a technical and fundamental perspective. A quick summary is in order.
Fundamentally - Key "demand drivers" are currently in place
Technology advances I.E Robotics, 3D printing, cloud-based information systems are examples that bring huge cost cutting and other efficiencies to corporations.
Technically - Every time the DJIA or the S & P has broken above the topside of a Multi-year Trading Range, as I reiterated again this past March, we have embarked on a new secular bull market. I simply have suggested that this time is no different.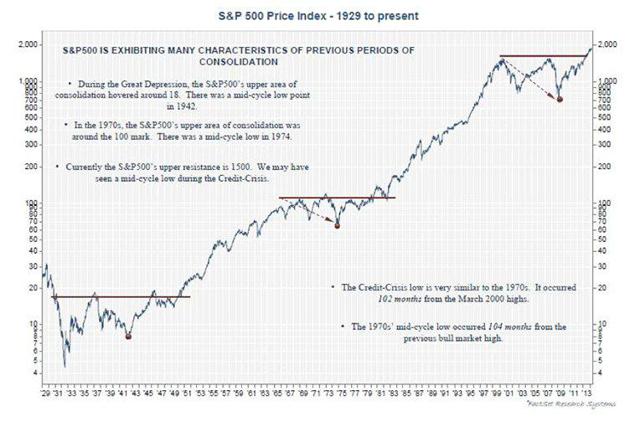 Source: "FactSet" research
Based on historical evidence, stocks typically enter a very long period of expansion after emerging from a period of negative 10 year returns. On average, these periods last approximately 15 years and deliver over that course above average annual returns. Since we have recently emerged from just such a period, it is not unreasonable to assume the equity market could be poised to return outsized gains for quite some time.
Will we get to higher levels without speed bumps, corrections or missteps along the way? Of course not. Nor am I suggesting that one go 'all in' here. What I am suggesting, stay the course, select stocks that have good fundamentals, have beaten earnings, raised guidance and/or dividends, all within the context of this secular bull story.
Advance Auto parts - AAP, Cameron Int'l. - CAM, Copa Holdings - CPA, F5 Networks - FFIV, Gilead - GILD, Las Vegas Sands - LVS, Lazard Group - LAZ and Micron - MU represent a handful of examples that I have highlighted with articles here on SA. Other names can be gleaned from my list of equities that I highlighted back in December '13 as candidates to outperform the major averages. Mid-Year results of those selections along with names that I added during this year are available for review.
So, despite what some may call excessive valuation in the equity market, I maintain that while that could cause corrections either by "time" or "price,'' history shows that they do NOT change the underlying trend of the market from Bull to Bear.
Instead, recessions and their onset are the cause of those changes and I suggest the evidence presented by the recent data points on PMI, ISM, et al, strongly states that there is no evidence of that on the immediate horizon. A few of the recent highlights.
Empire manufacturing index Bottomed at 4.48 in February and rose to a two-year high of 19.3 in June.
Philadelphia Fed manufacturing index Surged to a surprisingly strong 17.8 in June, its highest reading since October 2013, up sharply from its February trough reading of a negative 6.3.
Richmond Fed manufacturing index Reported a sharp gain to 7 in May, up from a negative 6 in February, although it has since slipped to 3 in June.
Kansas City Fed manufacturing index Rose to 10 in May, up from 4 in February, although it fell to 6 in June.
Milwaukee Purchasing Manager Index Bounced from 48.6 in February to 63.5 in May, before easing back to 60.6 in June.
Chicago Purchasing Manager Index Leapt from 55.9 in March to 65.5 in May - its highest reading since October 2013 - before sliding back down to 62.6 in June.
Dallas Fed manufacturing index Soared to 11.4 in June, up from 0.3 in February.
(Data compiled from Institute of Supply Management and the various regional manufacturing reports.)
I'll conclude with a quote from Ned Davis, of Ned Davis Research from the '90's:
"While nobody was right year in and year out, there were a number of advisors and investors, who did, in fact, make money year in and year out. I decided I would follow their advice."
I have been fortunate to follow that quote and subsequently follow those that have had their market story correct to assist in formulating my opinions and strategy in making investment decisions.
Best of Luck to all !!
Disclosure: The author is long AAP, CAM, CPA, JPM, GS, FFIV, GILD, LAZ, LVS. The author wrote this article themselves, and it expresses their own opinions. The author is not receiving compensation for it (other than from Seeking Alpha). The author has no business relationship with any company whose stock is mentioned in this article.
Additional disclosure: I am long numerous equity positions - all of which can be seen here on my Instablog."It is my intention to present an introduction to these securities and state my intent and position. It should be used as a 'Starting Point' to conduct your own Due Diligence before making any investment decision.