Just a few months ago, shares of Qihoo 360 (NYSE:QIHU) were stuck in a downward trend. After hitting a 52-week high ($124.42) in early March, shares slid more than 30% in the weeks thereafter.
Nothing significantly changed within the Company to warrant such a sell-off as growth and momentum stocks across the board dropped due to a mini market correction. The chart below shows Qihoo's fall from grace during the spring sell-off, as well as its newfound momentum heading into the summer.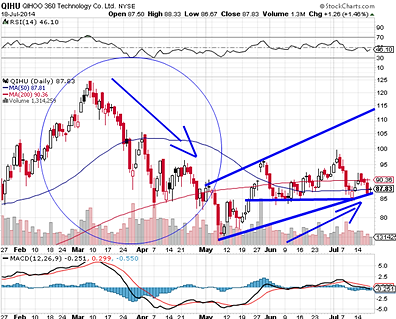 As you can see in the chart, over the past couple of months, shares have started to rebound nicely and have broken out of that downward trend. It seems that investors are finally starting to notice the huge potential that is in Qihoo.
One of the main drivers behind Qihoo's fall besides the mini correction in March, was that a number of firms and analysts cut their price targets on the Company. The table below shows you which firms reduced their price targets and what those new revised price targets are now.
| | | |
| --- | --- | --- |
| | Recommendation | Revised Price Targets |
| Maxim | BUY | $100.00 |
| BNP Paribas | BUY | $100.00 |
| Matrix | BUY | $100.00 |
| Nomura | BUY | $113.00 |
Analyst's Views On Qihoo 360
In a note to clients, Maxim analyst Echo He lowered her price target on Qihoo, even though she expected the Company to beat Q1 earnings last May. Here is what He had to say:
"In light of possible faster-than-expected growth, we are raising our 2014, 2015, and 2016 non-GAAP EPS estimates by 3%, 3%, and 4%, to $2.32, $3.50, and $5.00, respectively. Our new $100 price target represents 29x our 2015 P/E."
I'm sure you are just as perplexed as I was when I first read this. Here we have growth estimates being raised year-over-year as well as an indication that Qihoo was likely to beat Q1 estimates (which it easily did). Adding all of it up, somehow this contributes to a lower price target? What gives?
Breaking it all down, He believes that investors are less willing to pay up for high growth rates today than they have been in the past. As a result, He lowered her price target on Qihoo from $130 to $100 based on 29 times 2015 earnings ($3.50 X 29 =$101.5). The $30 price target reduction is due to a lower market multiple being assigned.
I disagree with He and here's why. No matter where you look in the market, there are investors willing to pay up for growth when a company consistently delivers results. Look no further than Vipshop Holdings (NYSE:VIPS), which is one of my favorite picks right now. Shares are up more than 3,500% and look poised to keep chugging along. Certainly there are plenty of growth investors out there and Vipshop is living proof of this. This is one of the reasons why I'm not buying He's reasoning right now.
Another thing that stood out to me in the research report, is that He believes Qihoo will deliver just $3.50 in EPS in 2015. Meanwhile, based on current rates and trends, Qihoo looks like it will deliver EPS in the $3.90-$4.00 range. That's almost 15% above He's estimates!
On top of that, analysts expect the Company to grow earnings between 40%-50% annually over the next couple of years. Certainly this type of growth should be rewarded and not punished. This is why I believe Qihoo is currently undervalued and presents investors with a terrific buying opportunity for gains of at least 65% over the next year or so.
Since the year is already half way over, investors need to start looking at 2015 estimates instead of 2014 estimates. In 2015, Qihoo should be doing close to $2B in revenue with revenue growth coming in over 50%.
As of right now, Qihoo is trading at 22 times 2015 earnings. This is right around the market average for stocks across the board. However, most companies are growing revenues between 10%-30% and not 45%-95% like Qihoo is managing to do. It's not rocket science that Qihoo should be trading at a higher multiple than the market average. So what kind of multiple should be applied?
| | | | | | | | |
| --- | --- | --- | --- | --- | --- | --- | --- |
| | QIHU | BIDU | VIPS | TWTR | AMZN | TSLA | FB |
| Trailing P/E | 79.34 | 38.1 | 158.5 | N/A | 559.5 | N/A | 88.7 |
| 15' FWD P/E | 22.3 | 25.6 | 41.7 | 142.5 | 117.5 | 71.6 | 37.1 |
| 14' Rev. Growth | 93.4% | 51.8% | 104.0% | 91.1% | 22.0% | 51.0% | 50.7% |
| 15' Rev. Growth | 45.4% | 38.3% | 56.0% | 61.5% | 20.2% | 43.3% | 31.9% |
The chart above gives you a great idea of how Qihoo stacks up against other momentum and growth players in the market. As you can see, Qihoo is trading rather cheaply when compared against other high growth players.
Adding up 2015 estimates, these companies (excluding Qihoo) are going for an average of 73 times 2015 estimates. That is three times more than what Qihoo is currently going for! If Qihoo traded at those levels, investors would be paying more than $285 a share. At today's levels, that would be an increase of more than 225%.
I believe shares should be going for around 35-40 times 2015 estimates, which would put shares in the $138-$157 range. This averages out to around $147 a share. Based on yesterday's closing price, shares would appreciate by more than 65%. So how achievable is this target? Very! Here are a couple more reasons why.

So what's fueling Qihoo's strong growth? Two words; search engine. In August of 2012, Qihoo, which is well known for its anti-virus software among many other things, entered into the Chinese search engine space.
In just a very short amount of time, Qihoo was able to tap into its hundreds of million of users to become the second most popular search engine in China.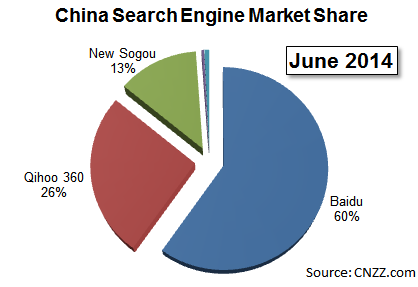 As of today, Qihoo has around 26% of China's market share with Baidu (NASDAQ:BIDU) having around 60%. Before Qihoo came around, Baidu was enjoying its dominating performance with a market share of more than 80%. Certainly Qihoo has shaken things up in China, as the Company expects to have at least 30% of the market by the end of the year.
Revenue, Expenses & Net Income
On June 2, 2014 analysts at Nomura Securities lowered their price targets on Qihoo 360 from $125 to $113, citing "surging expenses" and "lacking catalysts" as the reasons the firm cut 2014 and 2015 estimates. So with that, I put together an infographic of Qihoo's revenues, expenses as well as net income over the past two years.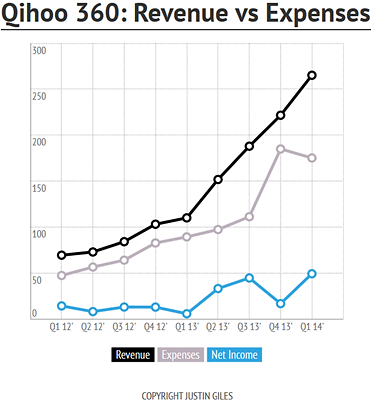 As we can see, revenues as well as net income are at the highest levels they have even been. The only downfall, is that expenses continue to grow too. But like the old saying goes, "you gotta spend money in order to make money." Companies such as Amazon (NASDAQ:AMZN) and Samsung (OTC:SSNLF) know this and have been on a spending spree (marketing, research and development etc.), over the last couple of years.
While it's true that Qihoo has been ramping up expenses over the last little bit, they are also benefiting from record revenue growth with each passing quarter. Based on future projections and expectations, revenues will continue to outpace expenses and net income looks like it will continue to rise as well.
Conclusion
Have you ever wondered how good an analyst was at his or her job? Over the years of investing, I've seen some great analysts and some bad ones as well. Knowing who you can trust in the market is a big deal for investors.
While I don't mean to pick on Maxim analyst Echo He, there is a lot to learn from her investment picks. The table below shows some of her calls and how shares have traded since.
| | | | | | |
| --- | --- | --- | --- | --- | --- |
| Symbol | Date | Recommendation | Price Then | Ending Price | Return |
| AERL | March 23, 2012 | BUY | $6.02 | $3.96 | -34% |
| SINA | Feb. 20, 2013 | SELL | $56.35 | $76.34 | -35% |
| SINA | Aug. 8, 2013 | BUY | $76.34 | $46.75 | -38% |
| GALE | Jan. 8, 2014 | BUY | $6.24 | $2.71 | -56% |
| BIDU | June 25, 2013 | SELL | $89.89 | $148.75 | -65% |
| ARIA | Sept. 30, 2013 | BUY | $18.40 | $5.20 | -71% |
While He has made some great calls on companies like Dangdang (NYSE:DANG) and Youku (NYSE:YOKU), her overall track record isn't the most kindly to look upon as you can see from the table above. So what does this all mean? Simply put, He tends to be late to the party.
After cutting her price target on Qihoo to $100 from $130, my buy signals started chomping at the bit. Of course this wasn't the only reason why I like Qihoo, but it certainly was the icing on the cake.
In conclusion, I believe shares have more than 65% in additional value over the next 12 months based on 35-40 times 2015 estimates. Is this expensive? No, not really. With revenue growth looking to grow at a blistering pace over the next couple of years, 35-40 times next year's earnings looks pretty fair to me. Don't forget either, that at this time next year, Qihoo will be trading at just 16 times 2016 estimates.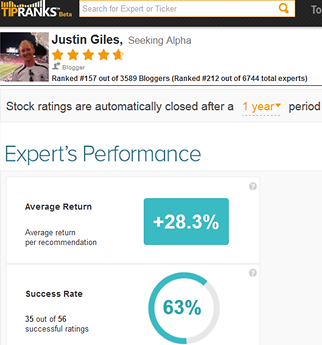 As always, I'm providing you with my track record and other particular stocks that I recommend. The link provided will show you all of my picks, how they have fared, and where I think they will be going in the near future. I think you will find my track record to be very impressive and useful.
Disclaimer: Link
Disclosure: The author is long VIPS, QIHU. The author wrote this article themselves, and it expresses their own opinions. The author is not receiving compensation for it (other than from Seeking Alpha). The author has no business relationship with any company whose stock is mentioned in this article.