Are tough times ahead for the tobacco industry given that Reynolds American (NYSE:RAI) just received a blow to its face with $23 billion of punitive damages levied upon the company by a Florida jury?
Bloomberg reported on the recent verdict on July 20, 2014 utilizing the attention-grabbing news headline "Reynolds Ordered to Pay $23 Billion to Smoker's Widow":
A Reynolds American Inc. unit was ordered by a Florida jury to pay a Pensacola woman $23 billion in punitive damages for her husband's death from lung cancer, her lawyer said.

Since a Florida Supreme Court decision in 2006, individual plaintiffs in the state have been awarded large verdicts, with most of those being reduced on appeal.

The jury yesterday also awarded Cynthia Robinson $16 million in compensatory damages for the 1996 death of her husband, Michael Johnson, who was 36, her lawyer, Willie Gary, said in a phone interview.

Robinson originally sued R.J. Reynolds as part of a class action case against tobacco companies. The original $145 billion verdict was overturned by the state's top court, which also decertified the class and opened the door to individuals to sue the companies. The court endorsed many jury findings in the case, including that the companies were negligent, conspired to hide information about the dangers of smoking and sold defective products.
Well, on first glance, the verdict appears to be extreme and completely over the top. Sensationalist news about the verdict could surely make for some short-term selling pressure, not only regarding Reynolds American, but also with respect to other tobacco companies including industry leaders Philip Morris (NYSE:PM) and Altria Group (NYSE:MO).
While the court ruling is really unlikely to stand and Reynolds American will fight its teeth out in order to avoid any payment at all, emotional investors who don't really stand behind their investment thesis in tobacco companies, could trigger an interesting purchase opportunity.
Generally, as I have written in past articles, Philip Morris is my favorite of all the large tobacco companies (see here my investment thesis from February 2014), not only because of its dividend history, but also because of the strength of its product portfolio and outstanding shareholder remuneration record.
Let's be clear here: Tobacco companies continue to face an erosion of their top line due to higher public awareness of the drawbacks of smoking, but growth opportunities do exist in emerging countries or in the segment of alternative nicotine delivery systems.
Investors who believe Philip Morris, or Altria for that matter, will continue to deliver meaningful free cash flow to back an ever increasing stream of dividends, should eye tobacco stocks in the coming trading days in order to take advantage of purchase opportunities related to the recent Reynolds American ruling.
Chart situation
Both shares of Philip Morris and Altria had a solid run since the beginning of February, but have started a short-term consolidation in June as stocks were chased by yield-hungry investors into oversold territory.
The consolidation so far has been healthy and also offers investors a better initial cash flow yield.
Philip Morris can now be bought with a dividend yield of 4.40% while the yield could increase even more if Philip Morris' shares do indeed consolidate in the short-term.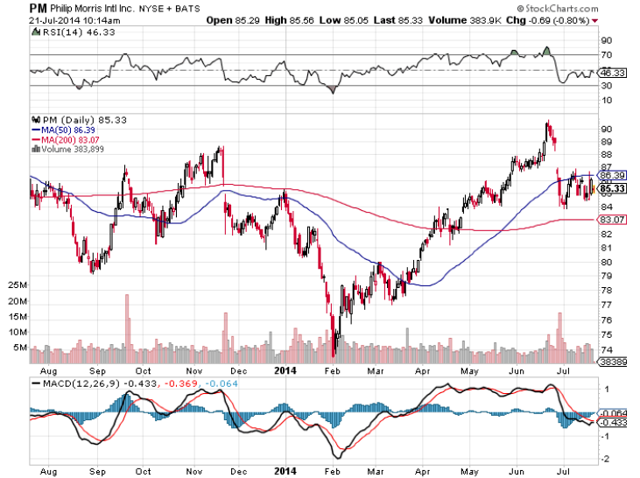 Altria has not traded much different than Philip Morris. Altria has rebounded strongly since February when it traded just around $33.
Similar to Philip Morris, Altria also has a credible dividend record and currently offers investors a respectable dividend yield of 4.60%, and that's despite the increase in share price over the last five months.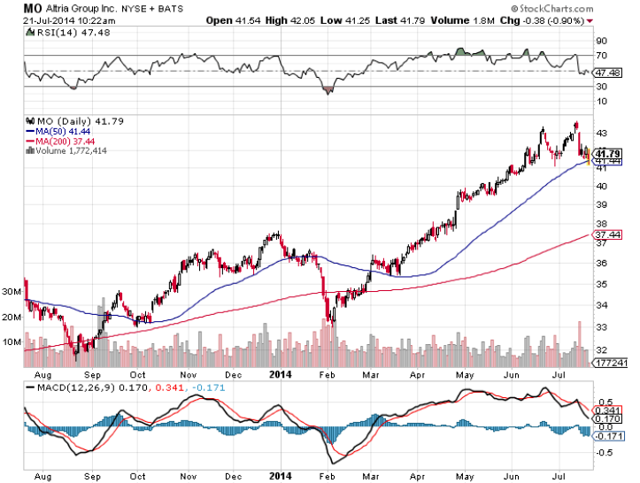 Bottom Line
Investors who seek high dividend yields could find good hunting opportunities in the next couple of trading days in the tobacco sector should the Reynolds American ruling inject some weakness into the sector.
Philip Morris and Altria offer solid dividend yields, have credible remuneration records and high-value product portfolios. Strong Buy on Philip Morris and Altria on any trading weakness.
Disclosure: The author is long PM. The author wrote this article themselves, and it expresses their own opinions. The author is not receiving compensation for it (other than from Seeking Alpha). The author has no business relationship with any company whose stock is mentioned in this article.