With some of the major names in the technology sector set to report their quarterly results this week, I wanted to take a closer look at the upcoming earnings for one of those companies and share my thoughts on what needs to happen in order for Qualcomm (NASDAQ:QCOM) to meet and/or surpass analysts' expectations.
Recent Trend Behavior
On Monday, shares of QCOM, which currently possess a market cap of $134.47 billion, a forward P/E ratio of 13.91, and a dividend yield of 2.11% ($1.68), settled at a price of $79.67/share. Based on a closing price of $79.67/share, shares of QCOM are trading 0.07% above their 20-day simple moving average, 0.11% above their 50-day simple moving average, and 6.40% above their 200-day simple moving average.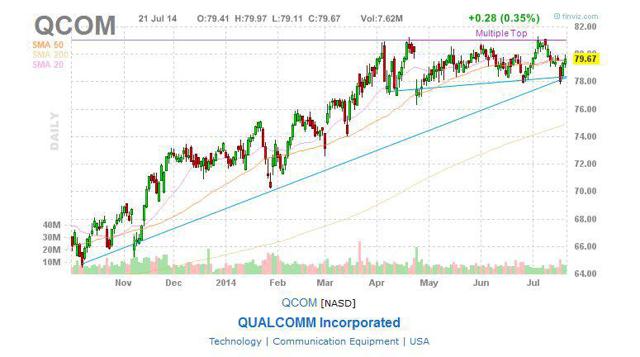 Click to enlarge
These numbers indicate a short-term and mid-to-long term uptrend for the stock, which generally translates into a buying mode for most near-term traders and many long-term investors. If the company can demonstrate a stronger-than-expected earnings performance when it announces FQ3 results on July 23, there's a very good chance the company's trend behavior will continue to move in a very positive upward direction through the second half of 2014.
Upcoming Earnings Outlook
When it comes to the company's upcoming FQ3 earnings, there are a number of things potential investors should consider. For instance, analysts are currently calling for QCOM to earn $1.22/share in terms of EPS (which is $0.09/share lower than what the company had reported during FQ2 2014, and $0.19/share higher than what the company had reported during the year-ago period) and $6.52 billion in terms of revenue when its latest earnings are released on July 23.
In order to meet and/or exceed its quarterly EPS estimates, I'd like to see a 6%-to-10% increase in the company's FQ3 MSM chip shipments (as compared to FQ2's MSM chip shipments of 188 million), a 3%-to-5% increase in FQ3 operating income (as compared to FQ2's operating income of 1.99 billion), a 1%-to-2% increase total reported device sales (as compared to FQ2's total reported device sales of $56.5 billion), and lastly, a 2.5%-to-4% increase in the company's revenues (as compared to FQ2's revenues of $6.24 billion).
Qualcomm's Acquisition Spree Should Fuel Long-Term Growth
When it comes to finding a solid value-driven play, I happen to think a company's growth-by-acquisition strategy is one of the first catalysts investors need to consider. In the case of Qualcomm, the company's most recent acquisitions allow for it to expand on its existing technologies such as the Snapdragon processor as well as its power amplifier IP.
Black Sand (announced 6/25/14): All signs suggest Qualcomm is buying the company to strengthen its power amplifier IP and/or engineering talent, as it encroaches on the turf of established vendors such as Skyworks (NASDAQ:SWKS), TriQuint (TQNT), RF Micro (RFMD), and Avago (NASDAQ:AVGO) with system-level solutions. Qualcomm which is estimated to have 64% of the 2013 baseband processor market, made a dramatic entry into the amplifier market last year by announcing an RF front end solution (amplifiers included) that promised superior 3G/4G multi-band support and (via technologies such as envelope tracking) power efficiency.

CSR's Isreali Operations (announced 7/1/14): The $45 million dollar purchase of CSR's (NASDAQ:CSRE) Isreali operations provides Qualcomm with imaging IP and engineering talent. The company states the deal will help it "continue successfully developing cameras so that smartphones will provide the same quality as a digital camera." Although Qualcomm doesn't compete in the image sensor market, it has integrated a decent amount of image-processing IP into its Snapdragon processors and the flagship Snapdragon 805 can handle 55MP images with the help of dual image signal processors (ISPs).

Wilocity (announced 7/2/14): Although no price was stated, it believed that Qualcomm is paying around $300 million for Israel's Wilocity which is a top developer of chips/firmware for the nascent WiGig (802.11ad) standard, which (using 60GHz. spectrum) can deliver speeds of up to 7Gbps to devices within 10m of each other, and thus act as a USB/HDMI replacement. Qualcomm's Atheros unit has been working with Wilocity since 2011 to develop tri-band Wi-Fi/WiGig offerings for the PC market. Going forward, Qualcomm plans to develop mobile/networking tri-band platforms, and offer a reference design that pairs one with its Snapdragon 810 processor (next-gen flagship, due in commercial hardware in 1H15).
Conclusion
For those of you who may be considering a long-term position in Qualcomm, I'd actually look to keep a closer eye on the company's growth-by-acquisition strategy over the next 6-12 months since any sustainable uptrend in this particular segment could positively impact the company's growth well into the second-half of FY2015.
In terms of the company's upcoming quarter, steady increases of at least 6% in terms of the company's FQ3 MSM chip shipments as well as a steady increase of at least 2% in terms of its revenues could help Qualcomm meet or even surpass analysts' expectations when it announces earnings on July 23.
Disclosure: The author is long QCOM. The author wrote this article themselves, and it expresses their own opinions. The author is not receiving compensation for it (other than from Seeking Alpha). The author has no business relationship with any company whose stock is mentioned in this article.