Shares of E. I. du Pont de Nemours and Co (NYSE:DD) are down close to 6% from a 52-week high reached in early June. The primary reason why shares have moved lower was DuPont's move to reduce earnings guidance for the second quarter. While the second-quarter results may come in weaker than expected, I believe the drop in DuPont shares is a buying opportunity, as the company is engaged in a restructuring which could lead to significant upside for DuPont shares from current levels.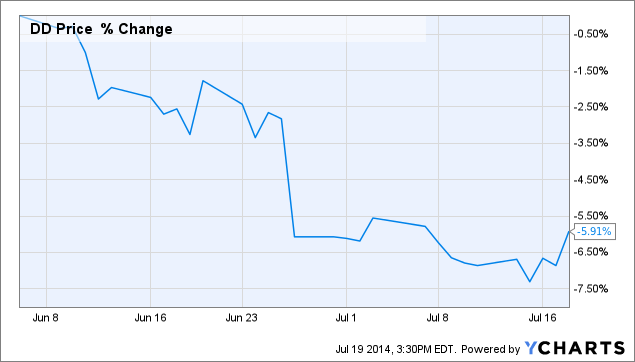 DD data by YCharts
Nelson Peltz Actively Engaged in Discussion With DuPont
Noted activist investor and founder of Trian Fund Management LP, Nelson Peltz took a stake in DuPont last year. Peltz has been pushing the company to simplify its business. While DuPont has made a number of moves over the past two years, including selling its car paint unit to Carlyle for $4.9 billion and announcing plans to split into two companies, Peltz remains unsatisfied and is likely forcing for a more comprehensive breakup of DuPont. During a recent interview at the Delivering Alpha conference, Peltz said that he has been having constructive discussions with DuPont and expects to hear something, either positive or negative, by the end of the summer. In a recent segment on CNBC, Jim Cramer noted that investors have done well by following Nelson Peltz, and I think this time will be no different.
Reasonable Valuation
As shown by the chart below, based on a number of metrics, DuPont is trading at a reasonable valuation. This is important to note, given the fact that many companies are trading at historically high valuations relative to historic norms. I believe DuPont's current valuation suggests that given the correct decisions by management, value can be unlocked by changing the structure of the company. Also, if the company does not follow Peltz's plan for a more aggressive breakup, I believe the current valuation means the downside is limited.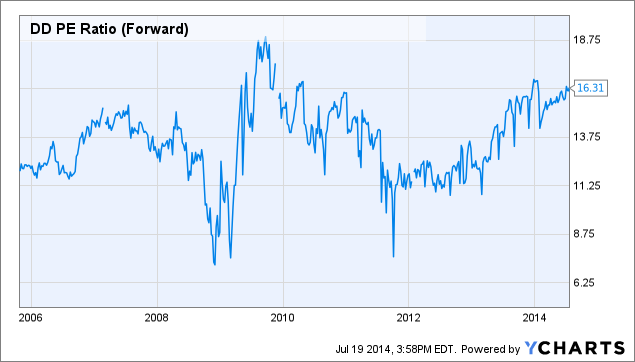 DD PE Ratio (Forward) data by YCharts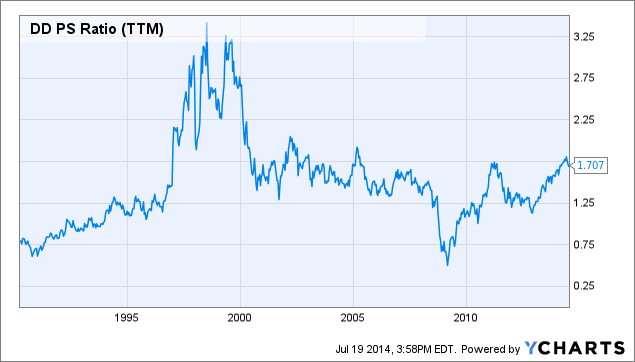 DD PS Ratio (TTM) data by YCharts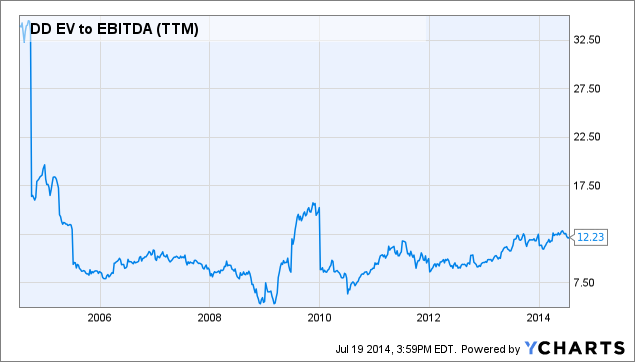 DD EV to EBITDA (TTM) data by YCharts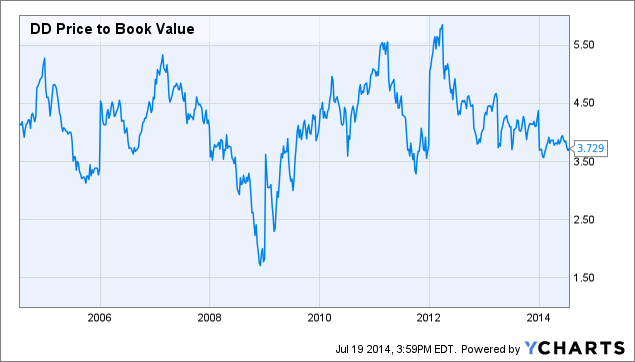 DD Price to Book Value data by YCharts
$5 Billion Buyback
At the beginning of 2014, DuPont announced a $5 billion share buyback program, with $2 billion earmarked for 2014. Given DuPont's market cap of $60 billion, the $5 billion buyback is very significant and will reduce the share count by more than 8%, based on DuPont's current stock price. The buyback could become even more powerful if the company decides to spin-off more of its business units and, as Peltz said, "simplify" its business. Even if further restructuring plans are not announced, I expect DuPont's buyback to help support the stock price.
Conclusion
DuPont shares recently moved lower because the company lowered its earnings guidance for the second quarter. I believe this is a buying opportunity because, in my view, the DuPont story is more about potential restructuring than quarter-to-quarter results. After all, one of the main reasons to breakup the company is to improve operational efficiency. Given the potential upside from Peltz's discussions with the company, DuPont's reasonable valuation, and the large share buyback, I believe it is time to buy DuPont.
Disclosure: The author has no positions in any stocks mentioned, but may initiate a long position in DD over the next 72 hours. The author wrote this article themselves, and it expresses their own opinions. The author is not receiving compensation for it (other than from Seeking Alpha). The author has no business relationship with any company whose stock is mentioned in this article.