Editor's note: Originally published on 8 July, 2014
The legendary George Soros is an authority on successful investing. Over a 48-year career, the 83-year old Hungarian icon has amassed a net worth north of $26 billion dollars. This figure becomes all the more impressive when you realize that Soros didn't even start his firm (Soros Fund Management) until 1970 at the age of 40.
Soros is best known as "The Man Who Broke the Bank of England," a title he picked up for an extremely bold and contrarian trade he took on the British pound. On a personal level, Soros is loved by many (and hated by probably an equal number of people) for his liberal political causes, on which he spends fortunes to support. Whether you love Soros or hate him, you absolutely MUST respect the man for his tremendous skill in navigating a wide assortment of market environments over a multi-decade career as a macro investor.
Why bring up Soros today? His trading philosophies are especially applicable for today's market environment. In particular, I want to introduce you to Soros' theory of "Reflexity." Don't worry, we're not going to get too deep in a theoretical discussion. Instead, I want to uncover the contrarian roots of this philosophy and tell you how I plan to use Soros' theories in my trading for the second half of this year.
False Trends, Contrarian Trading and Today's Market
Soros' concept of reflexivity basically assumes that investors as a group act together to push markets significantly away from equilibrium. In other words, group actions can cause markets to trade much higher than they theoretically "should" trade, and also to fall much lower than fundamentals justify. Taken to an extreme, this concept explains how investors' herd mentality can actually change the fundamentals of a market because of the capital that flows into or out of a particular area.
One of the key things that Soros looks at with this theory is the existence of false trends. These trends occur when investors move stocks well beyond where they "should" be trading because of the herd mentality. There can be many reasons for this (massive speculation over Internet stocks, tremendous optimism for real estate values, or even universal confidence in the Federal Reserve). The trends are "false" because they push the market well above where it "should" be trading. But they are still trends because until reality comes crashing in, investors can make money as stocks move higher.
Soros has been extremely successful in his career in part because of his ability to ride these false trends. There are certain times when you KNOW that a trend does not make sense, but you still have to get on board because it is the best way to make money for the time being.
But for false trends, it is vitally important to understand when these trends are in danger of reversing (and they will reverse at some point). This reversal is where contrarian investors make huge amounts of money - betting against the herd and booking profits as panicked (and wrong-minded) investors reverse their decisions and exit the false trend.
Looking at the last several years of trading, it is clear that the markets have been experiencing a sort of "false trend" as blue-chip stocks continue to reach new highs. The trend makes sense when you realize the underlying forces at work. The Fed has pushed interest rates low and promised to keep them low for an extended period of time. This makes it easier for blue-chip companies to borrow money cheaply and buy back shares (boosting stock prices). Low rates have also compelled conservative investors to move out of bonds and into blue-chip stocks because bonds simply don't offer enough income to make them worthwhile.
Today, key components of the Dow (the bluest of blue-chip indices) are trading at peak historical valuations. This means that investors are paying near record prices compared to the earnings that these stocks produce. Take a look at the valuations of the Dow components below.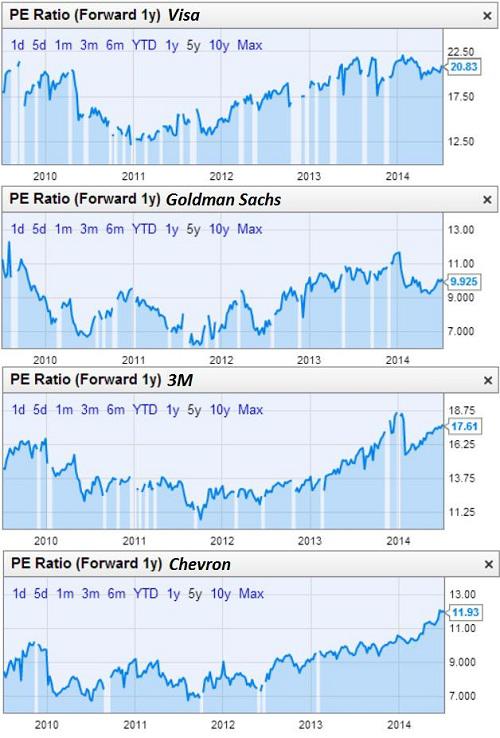 Now just because these key stocks are trading at high valuations does NOT mean that the market is going to head lower right away. It could take several weeks or even several months for investors to wake up and realize that they are paying too much for these stocks.
But the fact that key companies are trading at peak valuations should be a wake-up call to us as contrarian investors to pay attention to catalysts that have the potential to turn the markets back toward a more "normal" state of equilibrium. Soros' theory of reflexivity is alive and well right now, as investors continue to pile into stocks, sending them higher and reinforcing their own false trend along the way.
But what happens when the music stops? How will most investors react to a transition in the environment? More importantly how will YOU manage a shift in trend and keep your wealth intact?
Catalysts, Strategies and Preserving Wealth
The primary difference between successful and losing investors is NOT who makes more money during good times. Just about anybody can pick stocks that will rise in a bull market. No, the real difference is determined by which investors protect their assets when false trends end and fear sets in.
Looking toward the second half of this year, I see the Fed as a huge potential catalyst to turn this false trend around. Just as the Fed's sanguine "all will be ok" statements have lulled investors into a state of complacency, a shift in policy could jar conventional investors awake and send them running for the hills.
In particular, we now know that the Fed is essentially split on how to handle interest rates moving forward. Some Fed members think that rates should remain low for an "extended" period of time (Ahem - Yellen), a strategy which puts us at risk for inflation. Other members think that rates should be allowed to rise to fight off inflation - and this puts the economy at risk of stalling out. Either way, there is risk moving forward.
Once volatility returns to the market, stocks will likely start to move sharply lower. At this point, those investors who had a battle plan will do exceedingly well. In fact, you could make more money out of a short-term bear market than you could in a half-decade of bull market action. The key is knowing how to protect your assets and how to capitalize on lower prices.
My Pullback Profiteer trading service thrives on bearish market environments. Already, we have made a killing on a mini-crash in social media stocks which took on water earlier this year. Today, we're stalking some key areas like home improvement companies, companies that manage trading exchanges and utility stocks - all of which are particularly vulnerable to falling sharply.
There will be other sectors that will wind up in our crosshairs in the weeks and months to come. Consumer staples stocks - and traditional retail companies look very vulnerable just to name a couple.
With so much risk in the markets today, you owe it to yourself to understand how to trade in a bear market. Whether you're looking to make some select profits to help offset any potential losses in your "buy and hold" portfolio, or you're looking to make a killing as stocks plummet, you need to know how to put these scenarios to work for you - and you need to use the right timing to capture maximum profits.
...In the meantime, there is still potential profit in riding the market's false trend. Just make sure you're nimble enough to exit stage left when the music stops playing.
Disclosure: No positions