Introduction
Whether or not you think the next bear market is right around the corner, it is inexorably on the way. It has been over five years since the official end of the Great Recession, and many people think that the US markets are due for a downturn sooner rather than later.
In my opinion, this is a good time to get more defensive with my investments, and Wal-Mart (NYSE:WMT) is my #1 long stock pick for a bear market.
In this article, I will look back at the last two major bear markets and show the performance of Wal-Mart. I will also show how the stock has performed in bull markets. Finally, I will end with a recommendation and price target.
The 2001-2002 Bear Market
From March 1, 2001 through December 31, 2002, the S&P 500 (NYSEARCA:SPY) dropped 27.1%. WMT, meanwhile, gained 5.9% in that time.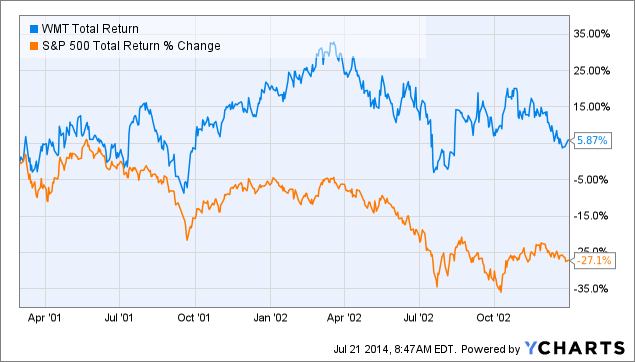 WMT Total Return Price data by YCharts
After the Dot-com Bubble Burst
From January 1, 2003 through December 2, 2007, the S&P 500 gained 78.2%. WMT, meanwhile, lost 1.7% in that time.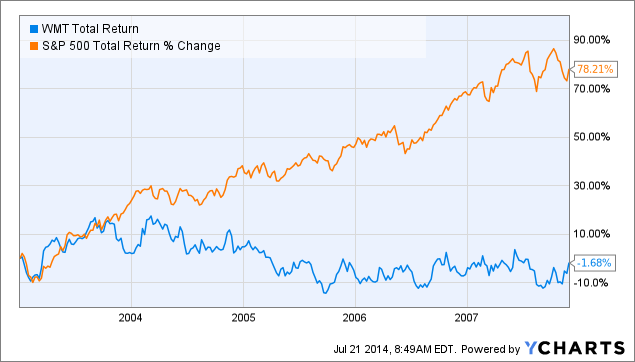 WMT Total Return Price data by YCharts
The Great Recession
From December 3, 2007 through May 29, 2009, the S&P 500 dropped 35.2%. WMT, meanwhile, gained 7.4% in that time.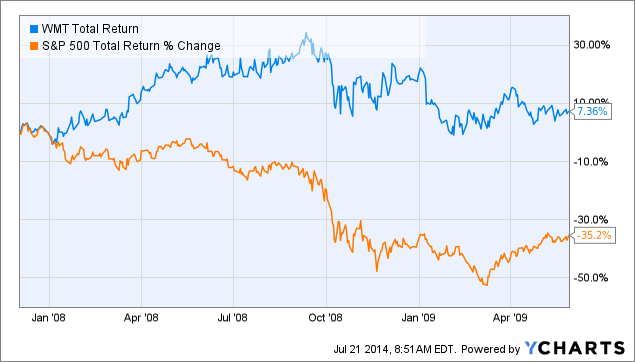 WMT Total Return Price data by YCharts
In fact, during the Great Recession, Wal-Mart had the distinction of being the best performer of all of the current Dow Jones Industrial Average (NYSEARCA:DIA) stocks: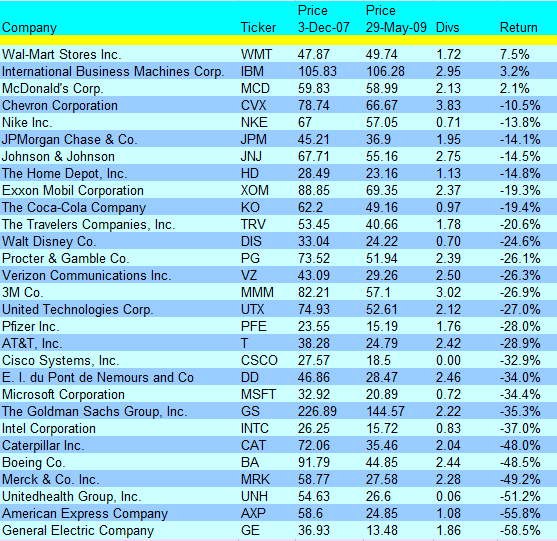 (Where's Visa? Visa was not a publicly traded company during this time period.)
After the Great Recession
And finally, the graph below shows from May 30, 2009 through close of July 20, 2014. In that time, the S&P 500 gained 133.8% and WMT gained 72.1%.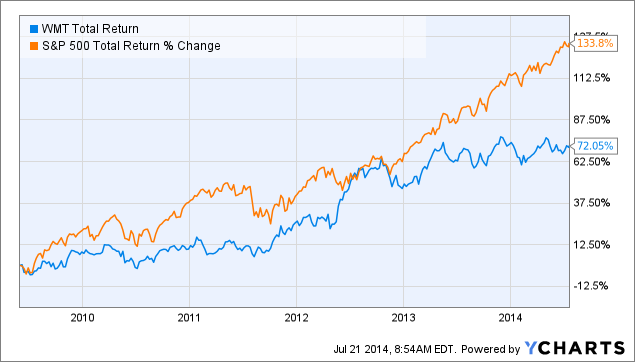 WMT Total Return Price data by YCharts
Overall
For the last 13+ years, through two bear markets and two bull markets, we can see that Wal-Mart and the S&P 500 returns have been very similar. Wal-Mart trails the S&P by a small factor.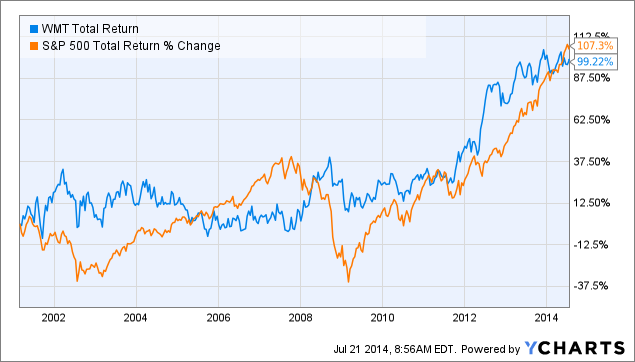 WMT Total Return Price data by YCharts
Have Earnings and Dividends kept up?
The graph below shows a snapshot of the EPS and dividends of the company during the total period that I am looking at.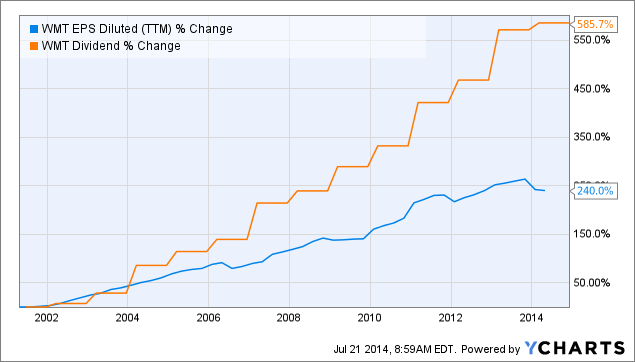 WMT EPS Diluted (TTM) data by YCharts
No matter what the economic conditions, Wal-Mart has been remarkably consistent with EPS and dividend growth.
Stock Valuation
One last graph! I like to look at the forward P/E of a company in order to help determine what to expect in its valuation going forward.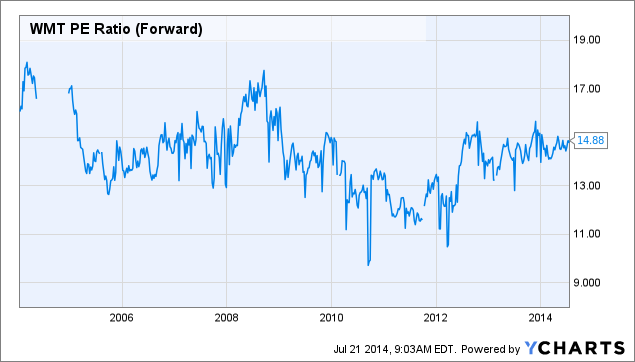 WMT PE Ratio (Forward) data by YCharts
Wal-Mart's forward P/E of 14.9 is about in line with historical values. It looks just a little high, and I will use a 14.5 multiplier for my target price (see below).
According to Yahoo Finance, analysts expect the next five years' EPS growth to be about 8.1% per year, on average. That compares to 9.2% EPS growth over the last five years.
Growth may slow very slightly, however, I am bullish on Wal-Mart's online and international growth prospects and am comfortable assigning a forward P/E ratio that corresponds to its past history.
Analysts' consensus EPS for next year's earnings - ending Jan 2016 - is for $5.63 per share. Multiplying that figure by 14.5 gives me my Jan 2015 target price of $81.64. When the two dividend payments of $0.48 are added into the target price, I am forecasting about 7% upside over the next 6 months.
Conclusion
In the short term, my forecast calls for a 7% total return on WMT over the next 6 months. But what is more interesting about the stock is its performance during bear and bull markets.
The graphs above clearly show that Wal-Mart is a king of stocks during bear markets. Not only did WMT outperform the S&P 500 during the times I showed, but the stock had positive returns during those horrendous downturns. While Wal-Mart stock had a poor performance from 2005-2008, I think it is generally safe to say that WMT can be expected to perform about 50%-70% as well as the S&P 500 during a bull market.
During these times, when the current bull market is looking rather long in the tooth, those investors looking for a solid bear market stock pick need look no further than Wal-Mart.
Disclosure: The author is long WMT. The author wrote this article themselves, and it expresses their own opinions. The author is not receiving compensation for it (other than from Seeking Alpha). The author has no business relationship with any company whose stock is mentioned in this article.