First Financial Northwest (NASDAQ:FFNW) Overview
First Financial Northwest is a small bank holding company in the Pacific Northwest - $167 MM market cap @ closing price of $10.93 on 7/18/2014. First Financial Northwest was converted from a mutual holding company to a stock holding company in October 2007. Business operations consist of single full-service banking office, First Savings Bank, located in Renton, Washington. The company's loan portfolio consists of single family residential loans (41%), commercial real estate loans (37%), and multi-family residential loans (20%). Funding comes from CDs (56%), checking & savings accounts (27%), and FHLB advances (17%).
Investment Thesis - Buy First Financial Northwest
First Financial Northwest is a classic Graham and Dodd investment opportunity - significantly under-valued with a strong margin of safety.
Investors get $1 of net assets for every 89 cents they invest - First Financial Northwest is currently trading at a price to book ratio of 0.89 (at market close on 7/18/2014). The company is taking advantage of this and is aggressively buying back shares. Share count was reduced by 14% over the last year. Buybacks below book value make an undervalued asset more undervalued - since the % reduction in share count is greater than the % reduction in book value.
Margin of safety is provided by a rock solid financial structure. First Financial Northwest has an 18.6% Tier 1 Capital Ratio (vs. 6% required for a well-capitalized bank) and nonperforming loans as a percentage of total loans equal to 0.37% (vs. average of 1.68% for U.S. banks between $100 MM and $300 MM market cap).
Banks that are buying back stock (and reducing shares outstanding) and that are priced below book value represent a small but attractive "niche" investment opportunity. A screen of all publicly traded U.S. banks with market cap above $20 MM yielded the following 11 stocks with these characteristics (out of 412 candidates) :

Source for screening banks with P/B < 1= Nasdaq.com, for share buyback data is Morningstar.com
Sell targets for different investment timelines are listed below. Returns are based on the closing price of $10.93 on 7/18/2014. Estimated returns include dividends.
Investors with a < 6-month timeline should sell above $11.7 for a 7.8% return
Investors with a 1-year timeline should sell above $12.5 for a 15.5% return
Investors with a 3-year timeline should sell above $14.7 for a 45% return
Investors with a 5-year timeline should sell between $18.9 and $22.5 for a 73.2% to 105.8% return
Risk-Based Valuation
The risk-based valuation for First Financial Northwest estimates a worst case, expected, and best case investment return over a 5-year time horizon.
Stock Price = (Book Value * Price to Book Value) … based on 5-year forward projections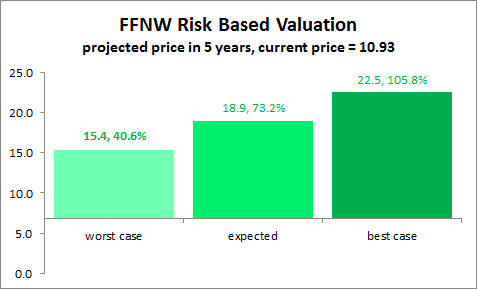 Source data for risk based valuation = Morningstar.com
The waterfall chart below shows the relative impact that projected earnings, dividends, buy-backs, and Price to Book have on First Financial Northwest's estimated valuation (expected case, 5-year forward view). Earnings have the greatest impact, driving 42.5% price appreciation. Dividends drive a 10.1% positive return, share buybacks increase return by 8.2%, and an increase in Price to Book increases return by 12.4% resulting in an 73.2% expected return.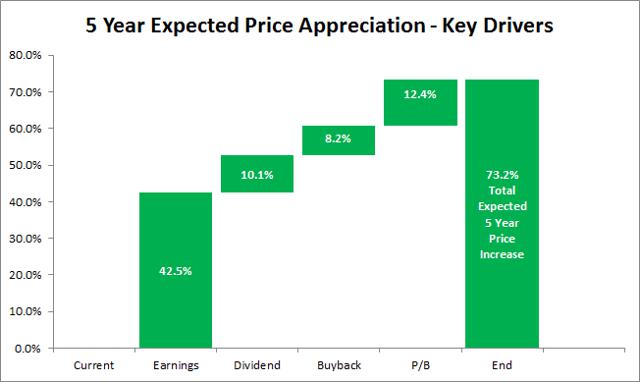 Source data for waterfall chart = Morningstar.com
Key assumptions for the Risk Based Valuation are listed below: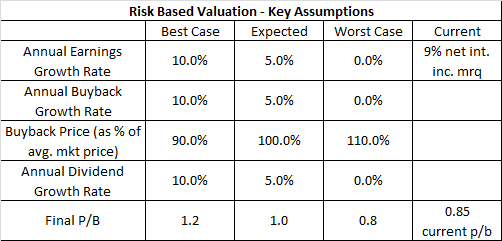 Source data for risk based valuation = Morningstar.com
Risks to the Investment Thesis
Loan Quality Deteriorates - An economic slowdown in Washington could lead to a large increase in loan write-offs. Slowdown in any of their key loan markets - single family, multi-family, or commercial real estate could have a negative impact on book value and on stock price.
Further loss of low cost funding sources - From the most recent 10-Q, "Statement savings increased by $1.8 million during the first quarter of 2014 offset by decreases of $1.8 million, $4.2 million, $8.3 million and $12.4 million in noninterest-bearing, NOW, money market accounts and certificates of deposit, respectively. The decrease in certificates of deposit and money market accounts was primarily the result of our strategy to utilize our excess liquidity, mainly cash, to reduce higher-cost deposits by competing less aggressively on deposit interest rates. We believe customers who were more interest rate sensitive elected to withdraw their funds to invest in higher yielding investment products, which contributed to the decline in our deposit balances. Included in the certificates of deposit balance at March 31, 2014 was $10.8 million in public funds."
Disclosure: The author has no positions in any stocks mentioned, and no plans to initiate any positions within the next 72 hours. The author wrote this article themselves, and it expresses their own opinions. The author is not receiving compensation for it (other than from Seeking Alpha). The author has no business relationship with any company whose stock is mentioned in this article.