This past weekend my oldest daughter and I flew to Houston to meet with the CEO of Weingarten Realty Investors (NYSE:WRI) and also to speak with a stock picking club known as the Houston Investors Association. It's great to have my daughter working with me part-time and she has actually turned into a great contributor at The Street (take a look at her first article HERE). In addition to setting up airline reservations she is also good at finding cheap hotels.
We arrived at the Hampton Inn property of her choice, and when we checked in, I noticed that the 120 room hotel was owned by Chatham Lodging Trust (NYSE:CLDT). I told my daughter that I had written an article (pro version) on Chatham back in February when shares were trading at $20.63 (with a 4.07% dividend yield). I was not a buyer then and I summed up my research (in February) as follows:
I would love having Chatham Lodging in my investment portfolio. I can't call Chatham a "sleep well at night" REIT yet; however, there may be a comfortable place for this Hotel REIT in my SALSA portfolio. My TARGET BUY price is $18.00 with a dividend yield starting at 4.75%.
We were only in Houston for two days and one night; however, I found the Hampton Inn (owned by Chatham) to be well run and well managed. The customer service was excellent, and I found the treadmill and the business office to be adequate for my frequent travel needs. As my daughter and I drove back to the airport, I explained that "it may time to check into Chatham."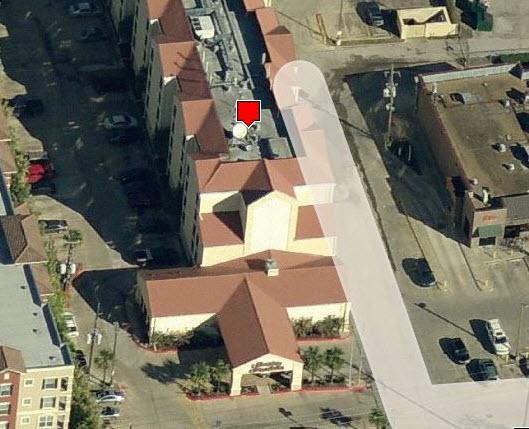 Chatham Lodging: Creating Differentiated Results
In just four years (IPO was April 2010) Chatham has grown in assets from around $222 million to more than $6734 million (as of Q1-13). The Palm Beach-based REIT listed shares on April 2010, and since that time the company has successfully acquired more than 29 hotels.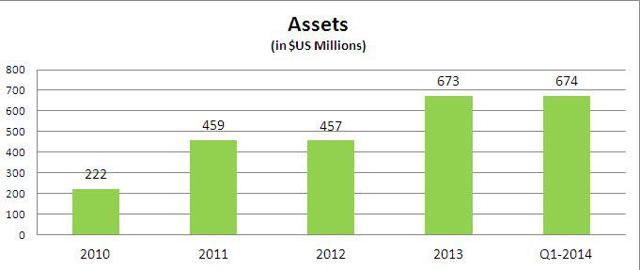 Chatham invests in many of the premium brands located in the Top 25 MSA (approximately 87% of hotel EBITDA from top 25 MSAs). In addition, Chatham has increased its Enterprise Value from $150 million (2010) to $1.2 Billion.
Chatham, with a market cap of around $565 million is much smaller than the peer group:

However, what Chatham makes up in (smaller) size is in higher-quality. As evidenced by the snapshot below, Chatham positions its portfolio in high growth technology, medical services, and oil & gas markets. The company prefers coastal markets: 54% of portfolio on West Coast, 26% in Northeast, and 9% in Texas.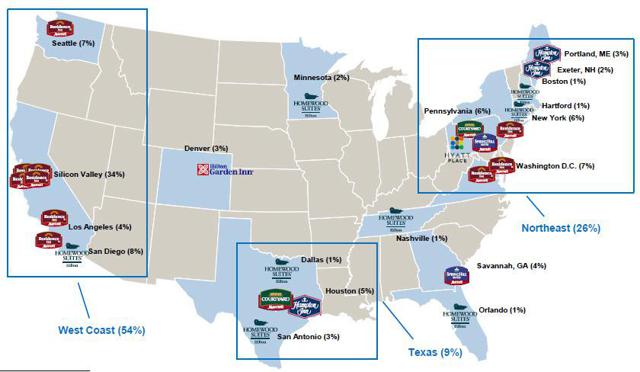 Chatham pursues a unique strategy of focusing on premium brand select service hotels such as Residence Inn, Homewood Suites, Hyatt Place, Courtyard and Hampton Inn. Chatham concentrates on upscale Extended Stay properties that generate a 10% to 15% occupancy premium.
By focusing on these "premium brand select" hotels, Chatham earns higher RevPAR and market share than other select service hotels. That means higher margins and lower cost and attractive cash flow that is not dependent on group business models. Here is a snapshot of Chatham's premium brand select service hotels compared with Full Service.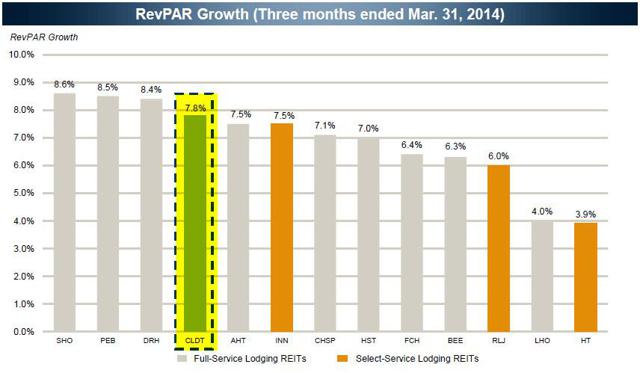 Chatham's operating margins expanded significantly, and that's why the company's uniquely positioned operating model is also the primary reason that Chatham has leading EBITDA margins. The increase in the latest quarter is attributable not only to the differentiated investment strategy but also to the acquired hotels where margins increased 220 basis points to 44.5%.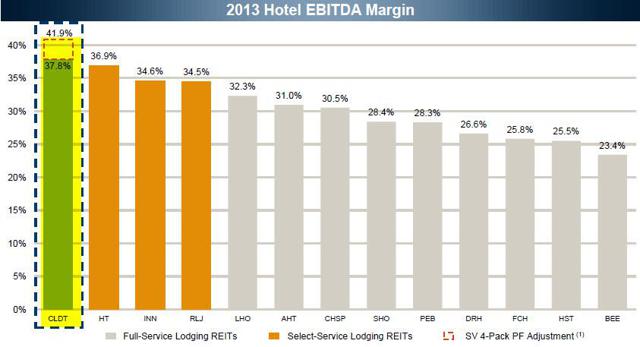 Leading REIT analyst, Jeff Donnelly (Senior Analysts with Wells Fargo Securities), stated that "based on Tripadvisor's Excellent to Terrible experience scale, we calculated a weighted average ranking by company and found Chatham Lodging Trust, Pebblebrook Hotel Trust, Hersha Hospitality Trust, LaSalle Hotel Properties, and Strategic Hotels & Resorts as the top five among the lodging REITs analyzed" (source: Chatham Investor Presentation).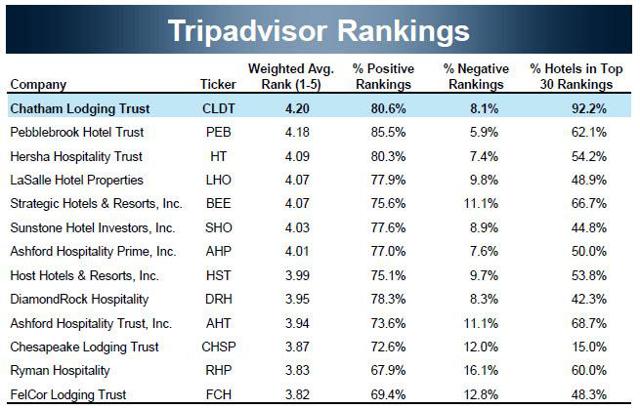 Here is a snapshot below that validates the "positive experience" results referenced by Donnelly:

Chatham Lodging: Balance Sheet Getting Stronger
At Q1-14 Chatham's net debt was approximately $272 million comprised of debt of $270 million offset by $6 million available in cash. During the quarter the company refinanced the $32.2 million 6% mortgage on the Residence Inn Anaheim Garden Grove with a new 10 year $34 million 4.7% mortgage creating interest savings of about 0.4 million on an annualized basis.
The average interest rate on all Chatham debt now sits at 4.33% down from 5% about a year ago. From a year ago, the company has managed to reduce the average rate on its fixed rate debt about 120 basis points to 4.8%, and the average maturity on the fixed rate debt now is out to 2023. All of the company's debt is secured.

At quarter end, Chatham's leverage ratio was 37% basically on the ratio of net debt to investment in hotels at cost. The company's total debt to total capitalization is 34.27%, in line (or slightly below) with the peer average.

Also during the first quarter (results) Chatham announced it had reached an agreement to acquire 47 or 51 Innkeepers' hotels in a joint venture with Northstar Realty Finance (NYSE:NRF), a premier publicly-traded diversified commercial real estate investment trust and asset management company with $11 billion of commercial real estate assets under management.
Additionally, in the second part of the transaction, Chatham acquired outright four Residence Inns in the heart of Silicon Valley for its own balance sheet.
In 2011, Chatham opportunistically leveraged its balance sheet to acquire five hotels out of the Innkeeper bankruptcy for $195 million and invested $37 million into a new JV that acquired 64 of the Innkeepers' hotels out of bankruptcy for a little more than $1 billion. Given the timing on the deal, Chatham's CEO, Jeffrey Fisher, believes the new JV (with Northstar) is a solid bet:
Upon closing of the sale, the Cerberus JV in the second quarter, the investment will be a home run for Chatham and its shareholders as we expect we will have received total distributions of approximately $114 million in less than three years on our initial $37 million investment. I think I like that. That represents a gain on the investment of $77 million for approximately $3 a share for us.
Effectively Chatham was able to roll over the $77 million gain into the basis of its investments in the new joint venture, the Northstar, and in four Silicon Valley hotels because the transactions are being structured as entity purchases.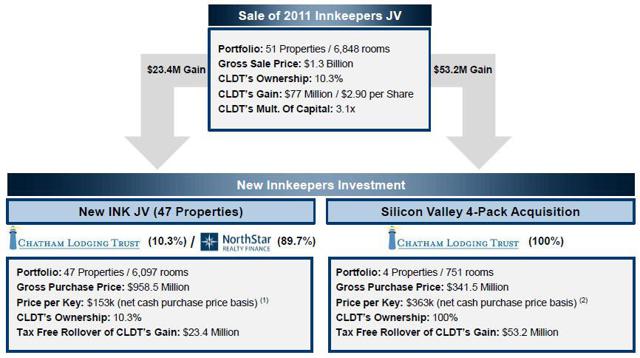 The four Silicon Valley hotels (751 rooms) are all upscale extended stay brands with new 20 year franchise agreements. The hotels are located in one of the fastest growing employment markets where there is low risk of new supply. All of the hotels are Residence Inns.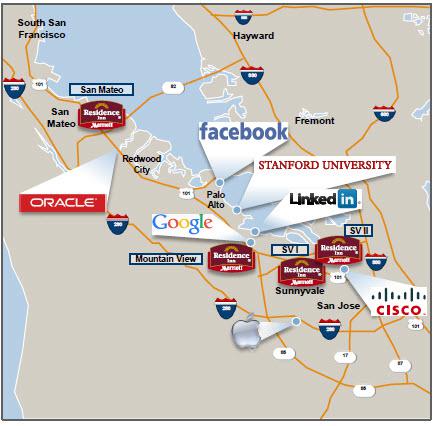 Chatham Lodging: Clear Trends of Predictability
During the first quarter, Chatham's RevPAR jumped 7.8% delivering strong growth. Compare Chatham's 2013 RevPAR with the select and full service brands: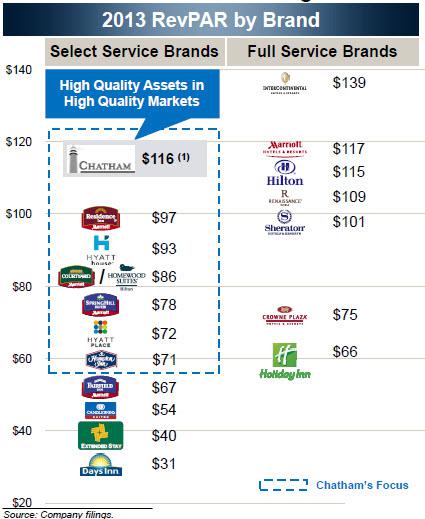 Chatham's margins continue to expand with hotel EBITDA margins advancing 70 basis points to 34.9% (in Q1-14). Here is a snapshot of Chatham's 2013 EBITDA Margin compared with the peer group: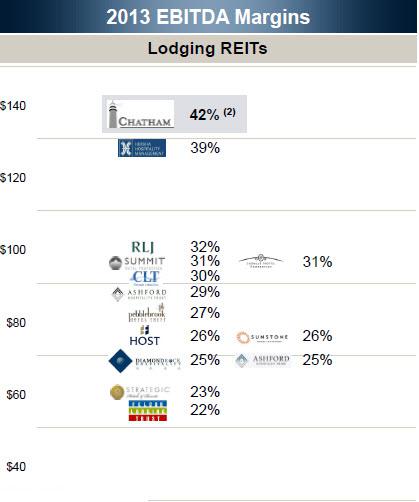 Because of solid margin performance Chatham was able to significantly expand FFO of 66% to $7.4 million and FFO per share rising almost 10% to $0.28 per share. As evidenced by the snapshot below, it's evident that Chatham is hitting all cylinders - averaging 29% CAGR (from 2011-2013).

Comparing the same metric (3-year average FFO growth) Chatham is outperforming most other peers:

For lodging, occupancy is an important metric to consider because when a property has high occupancy, it creates the opportunity to increase room rates (or ADR) which drives profit flow-through / EBITDA growth (rate increases are primarily profit). Chatham had 79.5% occupancy as of December 31, 2013.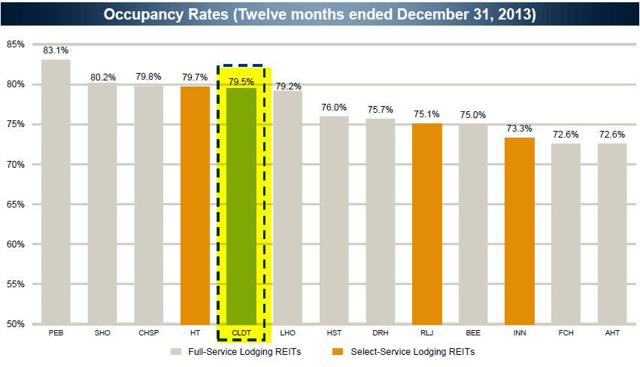 A few weeks ago, I wrote an article on REITs that pay monthly and Chatham is on that list. The company increased its monthly dividend to $.08 per share in January and the annual dividend payout for 2014 is $.93. As evidenced by the FAST Graph below, Chatham has started to forge a pattern for paying and increasing dividends.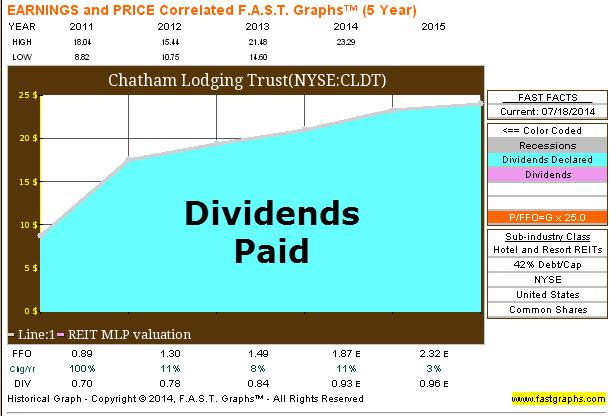 Because Chatham was formed when the Great Recession had ended, the company was not hurt by weakened economics. However, other REITs, like Ashford Hospitality (NYSE:AHT), were forced to cut dividends.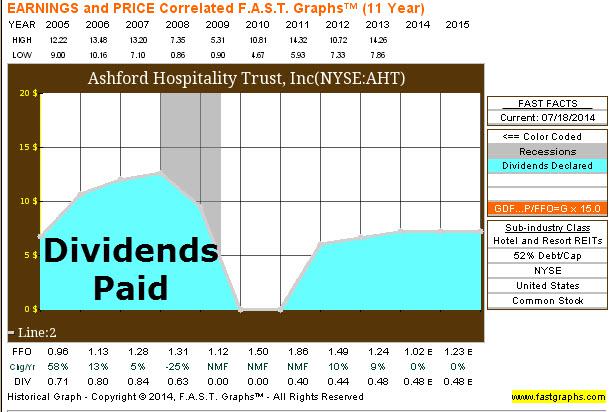 Here's a better look at Chatham's FFO growth from 2011 through 2014 (estimated):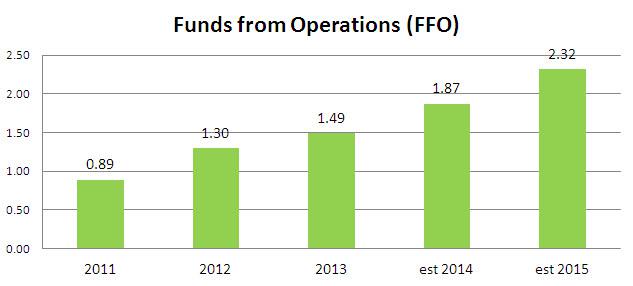 Here's a snapshot of Chatham's dividend history:

Over the last three years, Chatham has increased its annual dividend by an average of 11.1%.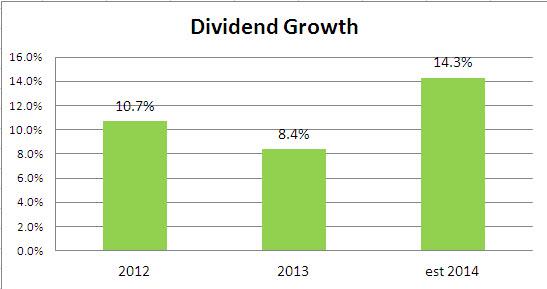 Chatham's strong free cash flows deliver not only predictable income but also reliably sound payout ratios.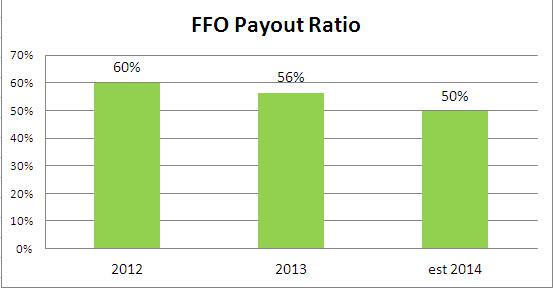 I have not yet had the opportunity to meet with Chatham's management team; however, I can already tell that we will get along great. Here's what the CEO said on the Q4-13 earnings call:
We know the dividends make up the primary component of REIT returns over time and our goal is to continue to build a successful company that produces strong cash flow that will provide such dividends to our shareholders.
Chatham pays the highest dividend yield (4.49%) of the peer group:

In addition, Chatham is one of the cheapest Lodging REITs (based on P/FFO) on the peer group findings (below):

As I consider my entry price with Chatham today, I must reflect on the earnings history with no share price (black line) included.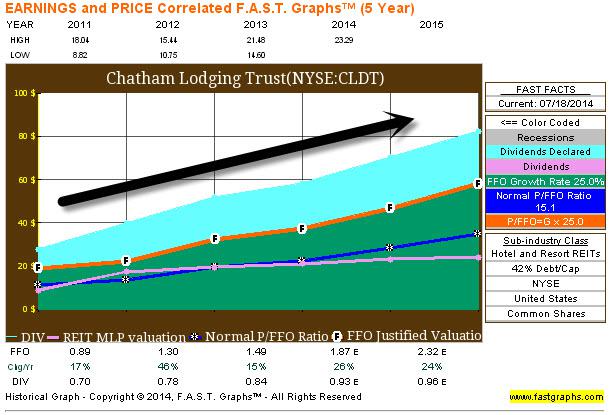 In a perfect world, I would like to own Chatham at $18.00, but that's not reality.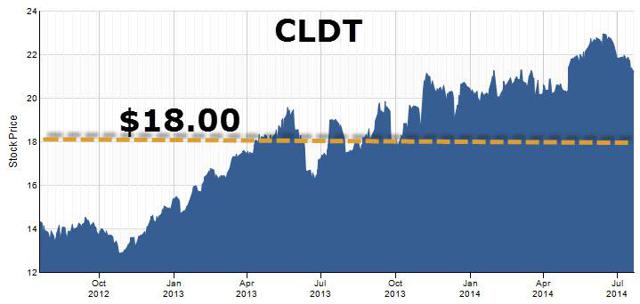 I will settle for $20.00 as my "margin of safety."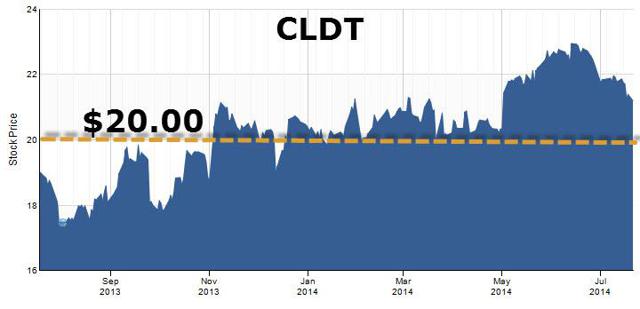 Over the last 30 days, Chatham's share price has fallen around 7% to a close of $21.40. It may be time to check into Chatham.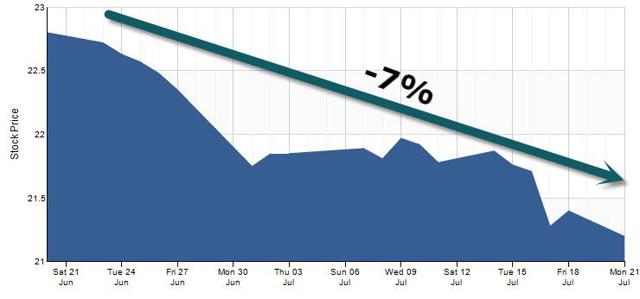 Besides, I need a Lodging REIT to add to my portfolio. As you know (if you subscribe to my newsletter), I have an over-weight position in a number of Triple Net REITs - that enjoy long-term contractual leases. I recently added Extra Space Storage (NYSE:EXR), a self storage REIT that has a robust portfolio of over 1,000 properties supported by month-to-month leases. However, I would like to add the "daily pay" model to my REIT portfolio and Chatham may just be the key… at $20.00 a share, I'll check into Chatham (that's my sleep well at night price - pun intended).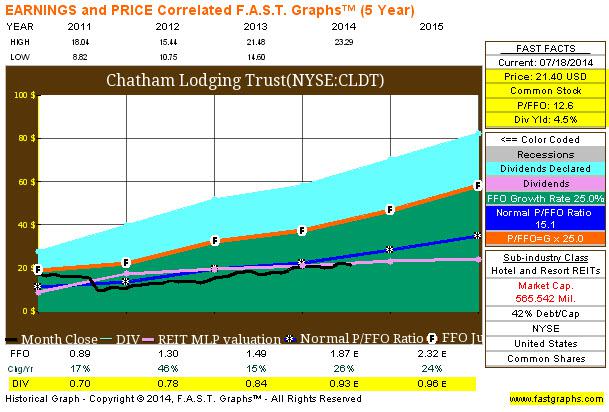 Brad Thomas is the Editor of The Intelligent REIT Investor (aka iREIT Investor). To subscribe to Brad's newsletter, click HERE.
Sources: SNL Financial, FAST Graphs, and Chatham Investor Presentation.
REITs mentioned: (NYSE:PEB), (NYSE:SHO), (NYSE:CHSP), (NYSE:HT), (NYSE:LHO), (NYSE:HST), (NYSE:DRH), (NYSE:RLJ), (NYSE:BEE), (NYSE:INN), and (NYSE:FCH).
Disclaimer: This article is intended to provide information to interested parties. As I have no knowledge of individual investor circumstances, goals, and/or portfolio concentration or diversification, readers are expected to complete their own due diligence before purchasing any stocks mentioned or recommended.
Disclosure: The author is long O, DLR, VTR, HTA, STAG, UMH, CSG, GPT, ARCP, ROIC, HCN, OHI, LXP, KIM, WPC, DOC, UDF, EXR. The author wrote this article themselves, and it expresses their own opinions. The author is not receiving compensation for it (other than from Seeking Alpha). The author has no business relationship with any company whose stock is mentioned in this article.