IPOs are red hot this year, which turns out to be great timing for General Electric (NYSE:GE), which is looking to IPO its consumer finance unit later this month.
According to IPO investment firm Renaissance Capital, there have been 231 filed IPOs this year, of which 156 have priced. This is on track to beat the previous high set in 2000 of 406.
GE's consumer finance unit is currently the largest provider of private label credit cards in the United States, primarily through in-store credit card programs including retailers like Wal-Mart (NYSE:WMT), J.C. Penney (NYSE:JCP), Lowe's (NYSE:LOW), Ethan Allen (NYSE:ETH) and Amazon.com (NASDAQ:AMZN). Upon going public, the company will be renamed Synchrony Financial ("Synchrony").
Why Now?
GE has been working to reallocate its portfolio away from consumer finance for several years and over the past several years has racked up an impressive string of energy and industrial acquisitions, including the most recent Alstom deal in France.
The goal is to reorganize the company to the point where greater than 70% of its earnings will be derived from the industrial side of the business. Last Spring GE's CEO, Jeff Immelt, was noted as saying he is looking to reduce GE Capital's assets to between $300-$350 billion by the end of 2014. The Synchrony IPO will help GE to meet that goal along with the runoff of assets. The IPO will also free up capital for more industrial acquisitions and to potentially increase stock repurchases.
Synchrony Financial Is In Good Company
Of the 156 IPOs that have been priced this year, 17 were within the financial services sector raising a total of $7.0 billion. When Synchrony prices, it could turn out to be the biggest IPO this year.
Analysts are estimating the value of the business at about $20 billion and GE is assumed to be selling anywhere between 15-20% of it. That would place proceeds in the $3-$4 billion range. This would eclipse Ally Financials' offering which raised nearly $2.6 billion, the largest so far this year. GE is planning to dispose of its remaining shares of the business through a tax-free stock exchange with its current shareholders later in the year.
A Bet On the Continued Recovery
Betting on the IPO is tantamount to betting that the latent US recovery will be shifting into high gear.
In the short term, the stock will probably see a nice IPO jump given strong demand for all types of offerings this year and the desire for investors to deploy capital to investments that will offer higher returns given historically and prolonged low interest rates. The average first day stock price jump this year has been 15% for IPOs with the average total return YTD of 12.8%.
According to SEC filings, approximately 68% of Synchrony's revenue is derived from their retail credit card programs, 16% from their payment solutions platform, which offers deferred interest, no interest and reduced interest credit programs and 16% for what it calls care credit programs that offer financing for elective healthcare procedures or services.
Many retailers have struggled to increase revenue in a sideways economy as many consumers are still constrained by significant debt, are weary of taking on new debt or are worried about future job prospects. In addition, although many markets have seen home prices stabilize and increase many are still underwater from the housing bubble.
Additional Sale Of Appliance Business
GE also recently announced it was working with Goldman Sachs to find a buyer for the company's appliance division, an area that has been the hallmark of the business for over a hundred years.
This area of the market is no longer the best fit for GE as the entry of appliance manufacturers from Asia has created an environment of intense competition. Since 2011, GE has ranked third in the U.S. appliance market after Whirlpool and Electrolux. In 2013, the unit generated $8 billion in sales.
CEO Jeffrey Immelt has indicated the company's management is focusing on areas of the business with more global appeal.
Effects On GE's Stock
For the most part, GE's shares have been trending upwards since the announcement of the IPO in March of this year closing at $26.46 on Friday.
Last week GE announced that total revenue rose 3% to $36.2 billion, an increase from $35.1 billion in the same period last year, and net income rose 13% to $3.5 billion.
Analyst commentary is revolving around the de-risking that the IPO will provide to GE's business and are projecting price targets from between $27/share to $32/share with a mean estimate of $29.2.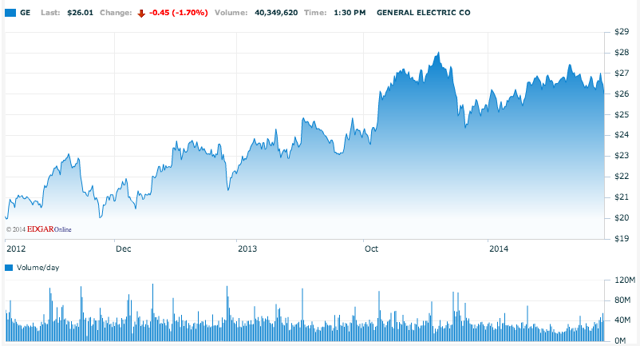 Source: Nasdaq.com
We remain very positive on GE and the impending spinoff of Synchrony in the second half of 2014.
We invite readers wishing to join the discussion on GE to click the +Follow button above the title of this article, and those looking for the latest updates to click +Get real-time alerts.
Disclosure: The author has no positions in any stocks mentioned, and no plans to initiate any positions within the next 72 hours. The author wrote this article themselves, and it expresses their own opinions. The author is not receiving compensation for it (other than from Seeking Alpha). The author has no business relationship with any company whose stock is mentioned in this article.