The recent crisis in Ukraine/Russia has made it quite obvious that Europe must reduce its dependency on Russian gas, and U.S. gas imports through liquefied natural gas [LNG] seems to be the best alternative. Russia supplies around 30% of Europe's gas consumption, with Northern and Central European countries being heavily exposed to Russian gas. Europe's dependency on Russian gas is worrisome and the country's recent military intervention in Ukraine is bolstering the case for easing restrictions on exports of the U.S.'s booming natural gas production.
Moreover, the LNG industry has very good growth prospects over the long term, especially from Asian countries. Therefore, companies that operate LNG vessels enjoy solid demand for their services, allowing them to pay high dividends to shareholders. Previously, I've suggested GasLog (NYSE:GLOG), Golar LNG Limited (NASDAQ:GLNG) and Teekay LNG Partners (NYSE:TGP) as good ways to play this theme. Another alternative may be Dynagas LNG Partners (NASDAQ:DLNG), a smaller operator of LNG vessels.
Dynagas LNG Partners is a growth-oriented limited partnership focused on owning and operating high specification and versatile LNG carriers that are employed on multi-year contracts with international energy companies, providing it with the benefits of stable cash flows and high utilization rates. Its sponsor is Dynagas Holding Ltd and its manager is Dynagas Ltd. Dynagas LNG Partners' strategy is to grow its fleet and continue to employ its vessels on multi-year time charters with international energy companies. The partnership was formed on May 30, 2013 and a few months later performed its IPO on the NASDAQ at $18 per common unit. The partnership is organized in the Republic of the Marshall Islands but based in Greece. Currently, Dynagas has a market capitalization of about $370 million.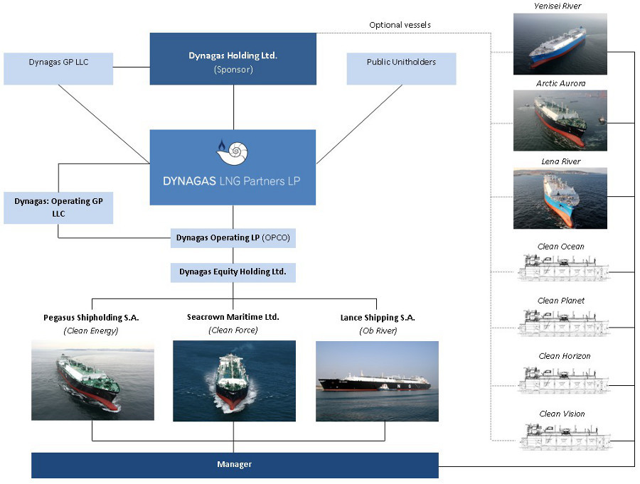 Click to enlarge
Source: Dynagas
Dynagas's current fleet consists of only three LNG carriers. This is a negative factor compared to larger competitors like GasLog or Golar, because it makes the partnership too much reliant on a small number of assets to generate revenues and cash flows. If one or more vessels are unable to operate, Dynagas's operating and financial performance will certainly be negatively affected and may lead to more volatile revenues and earnings. Another negative factor is also the small number of customers given that Dynagas has only two customers, namely BG Group (OTCQX:BRGYY) and Gazprom (OTCPK:OGZPY). In 2013, BG Group was the largest customer with two vessels contracted, being responsible for about 61% of Dynagas's revenues. Gazprom was responsible for the remaining revenue stream and contracted fleet.
On the other hand, Dynagas's current fleet is relatively young given that its average age is approximately seven years, which means it should not have many off-hire days for repairing over the next few years. One major competitive advantage of Dynagas's fleet compared to its peers is the capacity of two of its vessels to operate in the Northern Sea Route.
The Clean Force and the Ob River carriers have been assigned with Lloyds Register Ice Class notation 1A FS, or Ice Class, designation for hull and machinery and are fully winterized, which means that they are designed to call at ice-bound and harsh environment terminals and to withstand temperatures up to minus 30 degrees Celsius. There are only five carriers in the world with this designation, including Dynagas carriers. Moreover, Dynagas is the only company in the world that is currently transitioning in the Northern Sea Route with LNG carriers. This is a competitive advantage because it provides greater flexibility in the trading routes to its customers.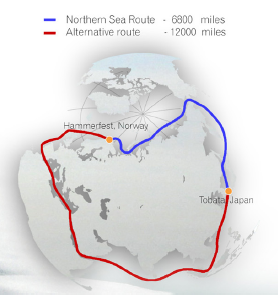 Source: Dynagas
In addition to the current fleet owned by Dynagas, it has purchase options on 7 LNG carriers from Dynagas Holding Ltd. These 7 LNG carriers are already employed on charters averaging 5 years in duration. Recently, the partnership announced an agreement to purchase the Arctic Aurora LNG carrier from its sponsor Dynagas Holding Ltd for an aggregate price of $235 million. This vessel was built in 2013 and is currently operating under a time charter with Statoil (NYSE:STO) until 2018. The operation is expected to close in the next few days and should be funded from new equity issuance and a portion of the borrowings under a new $340 million credit facility.
Like its closest peers, one of the main attractiveness of its business model, is its fixed-rate long-term contracts with customers providing a stable operating environment over the long term. The partnership defines charters of two years or more as multi-year. The long-term contract life business model provides very good cash flow stability for the partnership, leading to predictable and sustainable distributions to unitholders. In April, the partnership entered into a new 13-year time-charter agreement with Gazprom for the Clean Force carrier, which is currently employed to BG Group. The current charter will end in July 2015, at which time the new Gazprom contract will take effect. This new contract increases Dynagas's average contract duration from around 3 years to 7 years, providing good visibility for the partnerships' results over the next few years.
Regarding its financial performance, Dynagas has experienced strong growth over the past few years. In the past year, its revenues increased by 10% to more than $85 million and its EBITDA stood close to $70 million, reaching a very high profitability level given its EBITDA margin of 80%. Going forward and according to analysts' estimates, Dynagas should continue to post strong growth achieving close to $250 million in revenues by 2016. Its EBITDA is expected to be $196 million by 2016, meaning that its EBITDA margin will remain very close to 80% in the medium term.
This good outlook enables Dynagas to distribute a significant amount of cash to unitholders, with good growth prospects as well. Dynagas's current distribution per unit is $0.365 or an annualized distribution of $1.46. At its current unit price, Dynagas's dividend yield is close to 6%. Compared to its closest peers, this yield is quite attractive being only lower than for Teekay LNG Partners.
Generally speaking, the best way to analyze the partnership's distribution sustainability is to consider distributable cash flow [DCF] instead of traditional metrics like EBITDA or net profit. DCF is defined as net income adjusted for several items including depreciation and amortization, estimated maintenance capital expenditures and vessel writedowns, beyond others. Distributable cash flow is a quantitative standard used in the publicly-traded partnership investment community to assist in evaluating a partnership's ability to make quarterly cash distributions. In the first quarter of 2014, Dynagas DCF was $12.4 million and its cash distributions were only $10.95 million, representing a distribution coverage of 1.13x. This means the distribution is safe and therefore Dynagas is a compelling income investment, both for its high yield but also for its growth outlook in the LNG industry.
Disclosure: The author is long BRGYY. The author wrote this article themselves, and it expresses their own opinions. The author is not receiving compensation for it (other than from Seeking Alpha). The author has no business relationship with any company whose stock is mentioned in this article.