What a classic. A promising secular growth story gives birth to a difficult industry. Good and bad managed companies drive extreme competition. The "arms race" is inevitable and bust-follows-boom-follows-bust for the memory makers globally, again and again. It is boom times now. And as often before, human nature (or animal spirits) takes over. And sure, this time really is different…
Indeed some changes have occurred such as industry consolidation and reduced leverage and capex. And the secular demand story is still valid I guess. So what is wrong? Why can't I just let go and enjoy like everyone else? A Rorschach (or inkblot) test asks a subject for his thoughts in relation to a set of pictures. What matters are the subject's impressions, not the picture itself.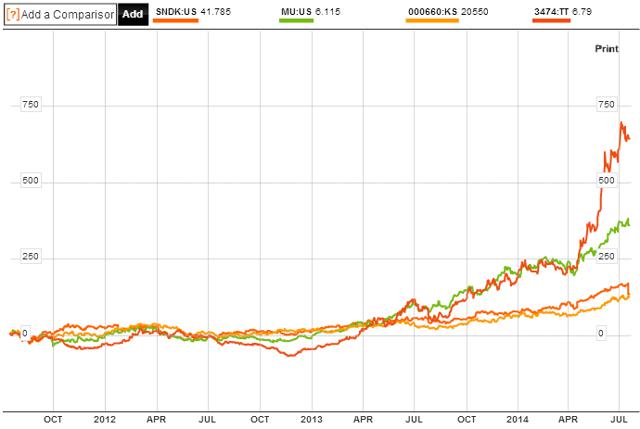 For a wide majority of investors the above chart perhaps is sign of the improved fundamentals in the sector but more importantly it also portrays the new era for memory makers. I must suffer some kind of condition because for me the same picture is a sign of extreme love towards the Hynix, Micron, Inotera, Nanya Tech and Sandisks of this world. An unconditional and blind love that sprouted from the ashes of below-cash-cost-prices for chips only 2 years ago, from extreme losses and wicked leverage.
Consolidation and supply discipline
1.- Firstly, consolidation has taken place indeed. In fact it's probably over! There only remains c. 5% "independent" DRAM production globally (Nanya Tech) with 3 other names controlling 95% (Samsung, Hynix and Micron). The latest iteration in the long consolidation sequence took place in July 2013 when Micron officially took over Elpida (and Rexchip). This relates to DRAM only though, as NAND (aka flash memory) has been very much an oligopoly for years. Therefore consolidation should be more than priced in already. It is one of the more popular comments when anyone wonders about the names, but this can't be a catalyst anymore!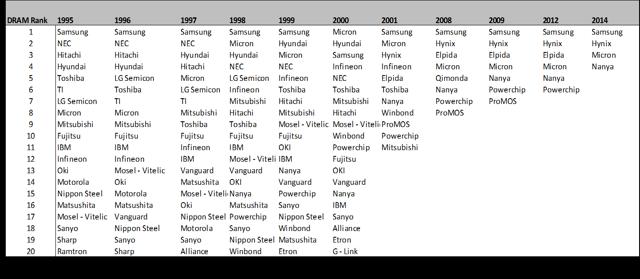 2.- Secondly, history doesn't support well the notion that discipline would develop and lead to better and more stable margins vs. DRAM history (terrible history). Within the same memory industry, NAND players would be a close example of an oligopoly not cooperating much. Instead what we have seen in NAND is a rather mad race to grow capacity wafers and a madder race to grow chip volumes. Meanwhile ASP/bit (average selling price/bit) keeps collapsing year after year. Producers think it isn't too bad though as shrinking geometries (i.e. from 40nm to 30nm to 20nm…) allow more memory per chip and hence costs/bit are cut; in the end the check book will surely balance. Of course there is some very strong demand behind it all, demand for more Gb for less money that is; revenue wise demand is just ok. To me the whole thing doesn't look like the NAND oligopoly behaved conservatively. And interestingly we are talking pretty much about the same companies as in DRAM! So I am not sure that a very strong investment case can be built for these guys going forward on the back of them suddenly changing their ways.
3.- Lastly, one other factor worth considering is the industry cost structure, where the dynamics of supply (in)discipline would really play out. Looking at historic P&Ls it is rather apparent that absolute costs remain rather stable from one year to the next, be it Costs of Goods Sold (COGS) or General and Admin. R&D has more leeway but still it is not something that companies should be too stingy about as this is where competitiveness/survival lies ultimately. For a regular manufacturer there is a typical fix cost load of Depreciation and repair (60% of costs). On a fully loaded basis G&A and R&D would also have to be considered (c. 20% of costs additional). Overall fixed costs amount roughly to 56% of sales (80% x 70%) assuming a very healthy (and rarely sustained…) gross margin of 30%. The remaining costs would be largely variable including raw wafers and processing materials, utilities, testing, packaging, etc. (manufacturing personnel 1-2% only). Thus in theory 65% capacity utilization would be the minimum a zero leverage producer would aim for just to cover fixed costs. If ASPs were to pull back say 15% then the minimum capacity utilization needed would be 79%. And with a bit of debt/interest costs the minimum level readily climbs to 90-95%.
In real life though all moving parts tend to move at the same time and in the same direction and this explains the volatile margins. Perhaps for the first time ever, today all players are pretty much at the leading geometry edge, with just a few months lead for the leader. This creates a very flat "cost curve". Typically when demand for memory softens (because demand for devices weakens) prices pull back a bit and begin to squeeze margins. Hence all memory producers see their minimum production threshold rise. Next they all race at the same time to try to secure some shipments just in case, and they offer a bit (excuse the pun) of a discount on top. Meanwhile they cannot stop investment and R&D multi-year projects or else risk survival. Plus the ramping up of the current leading edge adds lots of volume and makes the old lines obsolete. Lastly, borrowing needs/costs don't get any easier during difficult times, often the last nail in the coffin.

Capex and R&D
Low capex is probably over too. Somewhat tied to the consolidation point above, the second most frequent comment in favour of the memory names/sector is that capex intensity (capex/sales) is low, at long last. The notion goes that because of such consolidation and increased rationality, capex is under control. However it might be relevant to note three points just in case this is not by design, really:
1.- The low capital intensity of the last few years owes much to the financial difficulties that several memory makers were facing. In fact it is not apparent that the stronger names cut capex much or for too long (see next table). As a side point, capex intensity should be looked at in total (DRAM + NAND) in my opinion given device convergence. Increasingly, both DRAM and NAND are present in all devices.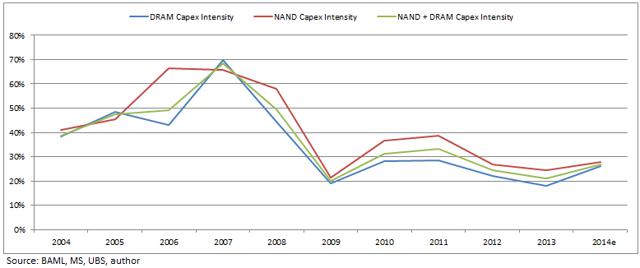 2.- The latest geometry migrations (20nm and more recently 16nm for NAND for example, which was being invested in during 2012/13) were apparently cheaper iterations. The whole thing is certainly beyond my limited understanding of semiconductor physics. But I take the industry players word for it when they say "…very cost effective, with a little bit of transition going to 20nm because of the high-K metal gate, but with minimal increase going to 16nm." (Chuck Dennison, Senior Director Process Integration at Micron). However today they are all saying that the next step will be very challenging and expensive: 3D NAND and 10nm for DRAM (new processes such as Extreme Ultra Violet and 450mm wafers required eventually, etc.).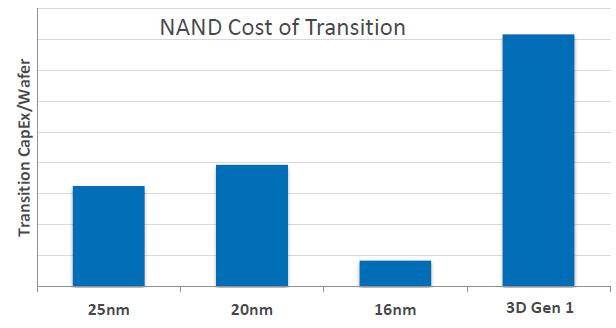 3.- The proof must be in the pudding then. And indeed it is plain for all to see capex picking up again. As soon as leverage allowed it and with the current fat industry margins many are guiding for strong capex growth. Check out the table for Micron +150% total capex, Sandisk/Toshiba +80%, Hynix +40%...Nanya Tech recently more than doubled their 2014 capex from their initial plan, Inotera also increased it to 3x the 2013 level!
The arms race forward continues unabated it seems. A profitable oligopoly would call for some slowing down of the tech road map so that maximum returns can be realised on the current sunk investment. That doesn't seem likely today though; the prisoner's dilemma is alive and well and cooperation loses out. And quite honestly, I am not sure share prices would like it either if for example Mr. Durcan (CEO at Micron) announced they would slow down 3D NAND investment in search of a better profitability today.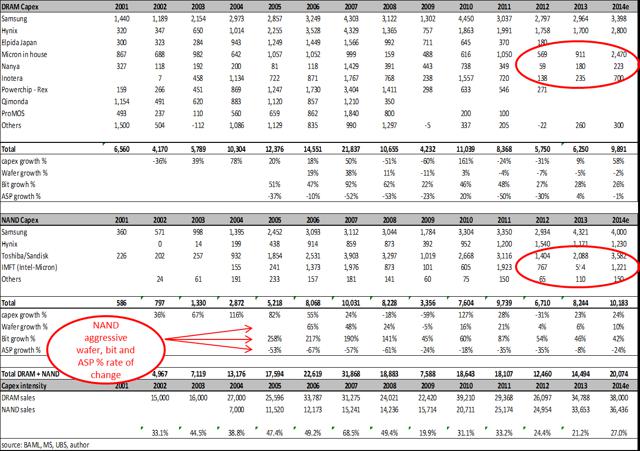 Deleveraging
I am afraid but this one is over too, as leverage can only go down to zero I guess. Deleveraging is a good thing but unfortunately it can no longer be a catalyst for investment in memory companies.
Again the very strong margins of the last 18 months have contributed juicy profits which have helped with de-leveraging. But much of the heavy lifting was taking place already in a much more painful fashion, such as in capital increases, related party receivables and covenant forgiveness by creditors for example. Nanya Tech is one of the wildest examples of it. This is to point out that bad leverage decisions (related to capex and R&D) were made by several management teams (still largely in place) that led to extremely painful resolutions. I truly hope that even as capex picks up again leverage will be kept in check.


Tax Loss Carryforwards
This is one that isn't over yet. I kept it in the back of my mind, as the icing for the cake of profits since the days of memory prices below cash costs (late 2011). It can be comforting sometimes to know there is one last (and unlikely) friend companies can count on, even at their darkest hour: the tax man!
For the next few years many memory companies are likely to pay next to zero taxes, and this is a nice support to EPS indeed. As per their own Annual Reports, Micron has c. $4bn left, Hynix c. $800MM and Inotera c. $2.3bn for example (re Nanya Tech I still need to understand the implications of their upcoming capital reduction…). Companies have allowances against part/much of those, as if they didn't deem it likely that they would generate enough profits to use this. However if they did they could be paying 0% tax for the next 5-10 years (Hynix almost over though…).
End Demand
Ultimately this is where much of the investment case for memory lies given the highly sensitive margins. And this is also where optimist forecasts rage. But forecasts are so difficult, especially about the future (Niels Bohr) that I try to avoid them as much as possible. Instead I think it is better to gauge what could make sense and what doesn't.
For example I think it is only fair to note that memory demand has seen very strong times recently. The new mobility era of smartphone and tablet computing (plus the related back-end server) has meant hundreds of millions of new devices sold every year.
It is easy to see how significant the new devices (namely Smartphones + Tablets) have been for the memory industry. Without their revolution which started in 2005 (iPhone in 2007) there would have been no revenue growth whatsoever.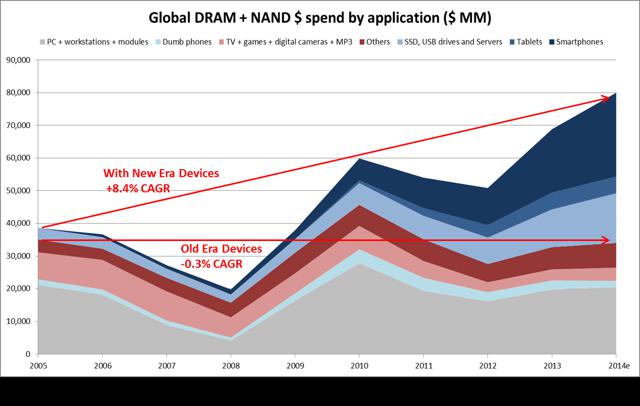 Since then annual sales of smartphones have climbed to c. 1bn+ units/year. Tablets were born in 2010 with iPad, and shipments have reached c. 220MM units/year. This has been revolutionary but today the question for memory investors is threefold: 1) how many incremental devices will be sold so that demand for memory keeps up with chip supply; 2) how much of the devices ASP will be spent on memory; and 3) is there some other device revolution coming that would prolong strong demand growth for memory.
1.- On how many more devices, there still seems to be potential for sales. If dumb phone sales are replaced by smartphones we are talking easily about c. 500MM units/year. Much of this would come from Emerging Markets though, where the key pricing point seems to be c. $100/handset and the proportion of high end devices would be much lower. For quick perspective, if we were to assume 1GB of DRAM and 16GB of NAND per phone which would be impressive for low end, 500MM additional units would add $4bn and $6bn respectively, or 12.5% to total memory revenues (only).
Meanwhile in the West we are facing saturation already and sales growth could easily turn negative until we reset (for example, 75% of sales could be replacement as with other more mature products from cars to TVs…). Even tablets are slowing down and IDC just revised their 2014 growth projection to +12% from +20% before or +51% in 2013 (link). At the same time competition is heating up and recently even Samsung Electronics (whose sales of handsets account for c. 25% of global units and c. 65% of the company's profits) missed Q214 EPS expectations and warned about low end manufacturers' threat. Low end phones often boast impressive features while focusing of the key selling points (screen, camera, etc…).
2.- Connected with the above, the problem with competition from lower end brands is that price of devices matters much (meanwhile telco operators are subsidizing less). This takes us to BOM (bill of materials) where device manufacturers will have to prioritize between different components. And quite honestly very rarely have we seen Apple, Samsung, HTC, Lenovo etc. flagging memory as one on their main selling points.
Quite the opposite, memory tends to be charged for on the side as a commodity. Instead every brand flags display size and resolution, camera capabilities, design & weight (casing material) user interface, or perhaps within the realm of tech they mention battery life and processor clock-speed. I just get the feeling that no brand would be willing to spend more on memory and sacrifice any of the rest in their fight against $100 handsets. Memory feels like a buyers, not sellers a market to me (perhaps that partly explains the lack of supply discipline).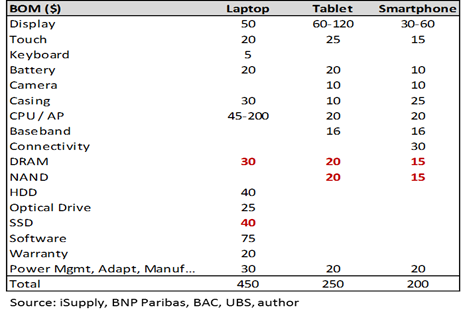 3.- Lastly, strong demand growth for memory could continue if some new kind of device became as popular as smartphones (and required as much memory per device). However such kind of forecast would certainly be a challenge to defend as part of a conservative investment case at this stage (wearables for example do not seem to fit the bill). Meanwhile smartphones are cannibalising MP3s, cameras, dumbphones, etc…! I guess we will know about this one if and when we see it.
Valuation and Catalysts
So there seems to be a few fundamental points that are taken for granted often, while there could be reasons to think otherwise. However the true significance of it all and its true worth depends on what could be baked into share prices at the moment (i.e. how much "potential energy for a move do they contain") and what could be the triggers.
Looking at Micron, Hynix, Inotera and Nanya Tech for example as pure memory representatives, and their potential for future sales and gross margins, R&D expenses, Taxes, Capex and Debt levels, a lot seems to be in the price. Or said differently, there is little/no margin for error. In fact their business model is so sensitive that it is easy to get -50% plus downside in a DFC sensitivity analysis by not forecasting flat & record high margins into the future, even while keeping tax rates at current 0% (Hynix's will rise first…); or by bumping R&D, G&A and capex to more normal levels vs. their history and their peers (Inotera & Nanya). Some have recently been helped by M&A (Micron $1.4bn non cash gain on Elpida acquisition in 2013) or by -50% Depreciation reduction on the back of term extension (Inotera). One would also wonder about Nanya related party payables… And let's not be fooled by backwards based ROEs, where the "Equity" was so depressed. What should be a sustainable ROE for this "new Era"? By the looks of it consensus thinks 25-30% stable ROEs are reasonable and hence high PBVs are in order. Most sellside analysts recommend to buy the names but they don't expect a huge upside. Indeed they forecast muted sales and EPS growth going forward.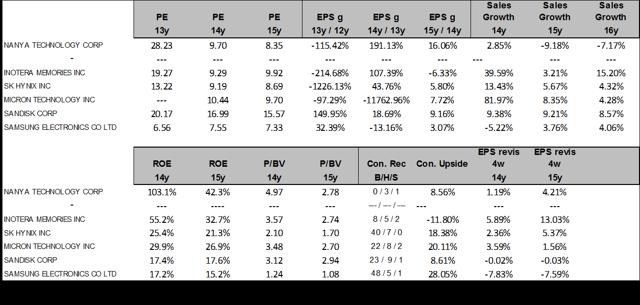 In terms of catalysts the case so far has been mostly industry and sentiment specific, certainly on the run up and I think it will also be on the way down. Re industry fundamentals the good has largely happened already and it is in the price (memory prices up, consolidation, deleveraging, etc). Next, an increase in inventories and weaker guidance by device/component makers would easily stir doubts among current supporters of memory. Obviously weaker pricing will be lethal. Capex is rising and that's not great either. Plus execution is a huge challenge for all with every new geometry node of course! And let's not forget that the chain is as strong as its weakest link…so watch out for Nanya Tech.
On the sentiment side of things, first a mere exhaustion of buyers should arrest the ascent. This could be under way. Sentiment is so favorable already…where is the marginal buyer? Next thing, some marginal sellers show up and perhaps the tide begins to turn. There are high profile investors, renowned for their careful analysis of facts, that served as a solid foundation for the buy case (Mr. Einhorn with Micron comes to mind). His would be a high profile loss for the buy case. Additionally, a general market selloff would likely spark profit taking on these winners. I do not dare to go into the macro mechanisms for that (end of QE, geopolitics, mid term elections year, Sept/Oct market seasonality…) as that's more statistics than anything else (albeit intuitive!).
Overall it seems to me upside is VERY limited and DOWNSIDE is HUGE. And everyone seems to love memory names. The negative "potential energy" is there and the market turns in a dime. I would be ready to take the odds against these guys, certainly on a relative basis. But also I should be ready to SHORT. I think good Memory-s are over.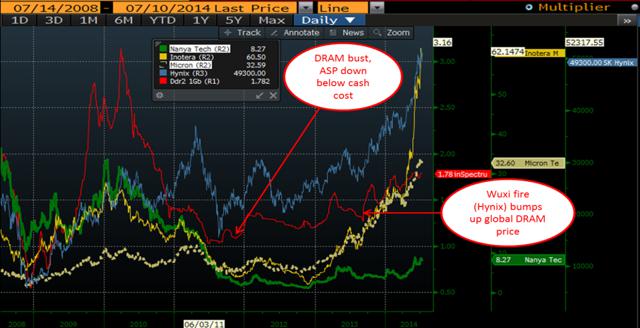 Disclosure: The author has no positions in any stocks mentioned, and no plans to initiate any positions within the next 72 hours. The author wrote this article themselves, and it expresses their own opinions. The author is not receiving compensation for it (other than from Seeking Alpha). The author has no business relationship with any company whose stock is mentioned in this article.
Editor's Note: This article discusses one or more securities that do not trade on a major U.S. exchange. Please be aware of the risks associated with these stocks.