The last of the major investment banks to report quarterly earnings, Morgan Stanley (NYSE:MS) reported results last Thursday and we believe its second quarter quality results and outlook far exceeded the disaster results of its main rivals.
Bank of America, (NYSE:BAC) J.P. Morgan Chase (NYSE:JPM) and Citigroup (NYSE:C) all realized declining second quarter profits and huge recent or upcoming fines, legal issues and outrageous legal fees to the major Wall Street's law firms.
Morgan Stanley beat Wall Street analyst expectations by more than doubling its performance versus the same period in 2013.
This stellar accomplishment is due mainly to the investment banking divisions and strength in its wealth management.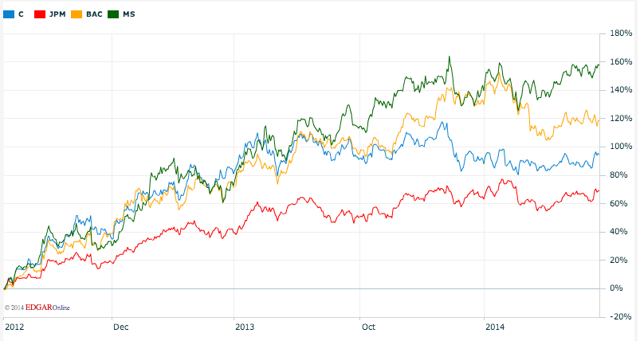 Click to enlarge
(Nasdaq.com)
Increases in Q2 Revenues, Net Income, EPS, Payout
Morgan Stanley reported that its second quarter revenue reached $8.6 billion, an increase of over 1 percent compared to the same quarter in 2013. This beat the market expectations by over $400. Moreover, net income for the second quarter was stated at $1.86 billion, an increase of 131 percent versus the $803 million in net income for the same period in 2013. This performance results in 94 cents earnings per share, up 129 percent over 2013. Excluding a debit value adjustment and a tax benefit, Morgan Stanley will pay 60 cents per share, an increase of 46 percent versus the prior year period, and analysts estimate that this may eventually exceed 55 cents per stock share.
"Our quarterly results demonstrated solid performance, despite a muted operating environment," James Gorman, Morgan Stanley chairman and CEO, said after the report. "We are seeing momentum across our businesses, with particular strength in investment banking, equity sales & trading and wealth management - where profit margins hit 21% for the first time since the founding of the joint venture and assets entrusted to us by clients reached $2 trillion," he added, pointing to Morgan Stanley's purchase of Smith Barney.
Highly Lucrative Wealth Management, Slightly Less in Institutional Securities Division and Commodities
Revenue from wealth management came in at $3.7 billion for the second quarter, an increase from $3.5 billion. Morgan Stanley stated that client assets currently exceed $2 trillion and that cash flow from fees topped $12.5 billion.
In addition, the bank's investment management division saw increased revenue of $692 million, an increase from $673 from 2013. However, lower revenue realized by the bank's institutional securities division slightly offset the higher revenue from the other two segments. The institutional securities division had $4.2 billion in revenue, a decrease from $4.4 billion last year. The commodities trading segment and the fixed income division negatively affected the entire institutional division when revenue declined by $200 million over the second quarter. The drop came from lower profits in foreign exchange trading due to lower volatility.
Stock in Morgan Stanley rose late last week after the solid earnings statement. During one trading session, shares reached more than a 2 percent gain. Currently, Morgan Stanley stock is up 1.08 percent based on the report and up 4.7 percent for 2014.
We continue to remain very positive on Morgan Stanley in the second half of 2014.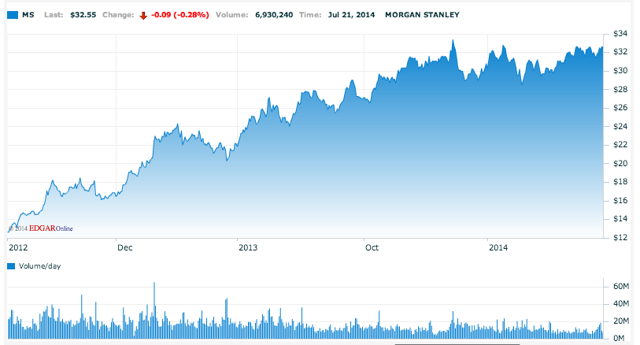 Click to enlarge
(Nasdaq.com)
We invite readers wishing to join the discussion on Morgan Stanley and other mega banks to click the +Follow button above the title of this article, and those looking for the latest updates to click +Get real-time alerts.
Disclosure: The author has no positions in any stocks mentioned, and no plans to initiate any positions within the next 72 hours. The author wrote this article themselves, and it expresses their own opinions. The author is not receiving compensation for it (other than from Seeking Alpha). The author has no business relationship with any company whose stock is mentioned in this article.