China Ming Yang Wind Power Group Limited (NYSE:MY) is the largest non-state owned wind turbine manufacturer in China. The Guangdong-based company focuses on designing, manufacturing, selling and servicing wind turbines. It has established customer relationships with leading Chinese state-owned and local power producers.
Wind power technology is cost efficient and mature compared to other renewable energy technologies. According to Global Wind Energy Council, wind power is one of the fastest growing renewable energy technologies in the world.
As one Chinese proverb suggests, a picture is worth a thousand words. Let us see one graph as shown below.
click to enlarge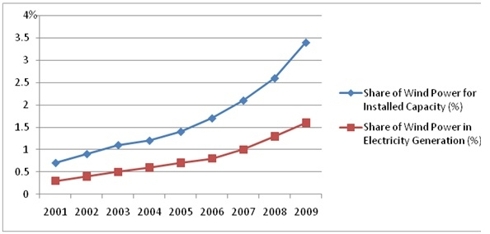 The graph sets forth the growth of wind power compared to total global electricity generation according to BTM-Consult Aps –April, 2010.
BTM estimates that global installed cumulative capacity will increase at a CAGR of 22.8% between 2009 and 2014, reaching 447,689MW by the end of 2014.
Wind power development started in China in the late 1980s, but did not begin to grow significantly until 2005. Total installed wind capacity increased from 406MW in 2001 to 25,853MW in 2009, representing a CAGR of 68.1%. China had advanced to the first and second positions in the world in terms of new and cumulative installed capacity by the end of 2009. The most abundant wind resources along coastal areas and offshore are found in Jiangsu, Shandong, Zhejiang, Fujian and Guangdong, where Ming Yang is located.
According to a list compiled by the global accounting firm Ernst & Young in September 2010, China overtook the U.S. to lead a quarterly index of the most attractive countries for renewable energy projects for the first time. China also topped Ernst & Young's attractiveness index for investments in wind power.
Ming Yang was consistently losing money over the past two years. However, in the past two quarters, the company has made a strong turn around and has generated great earnings. In the meantime, its domestic market share has increased to become among the five largest domestic-branded wind turbine manufacturers in China by the end of 2009, according to BTM.
In 2008, the company reported its total revenue as $124.7 million. The revenue then increased significantly to $1.17 billion in 2009. In the first half of 2010, Ming Yang continues to grow with the same momentum as the past year. As of June 30, 2010, its total revenue reached $2.31 billion, which doubled the total earnings in 2009. Compared to the first half of 2009, it has increased 285.43%. The management of the company stated the fast growth is mainly due to the sale of the wind turbines. The sales volume significantly increased from 78 sets to 310 sets.
Although the average selling price of wind turbines dropped from RMB 5,365 per watt in the first half of 2009 to RMB 4,098 per watt in the same period of 2010,
The increase in sales of wind turbines successfully offsets the negative impact of price drop.
If we only look at the trailing P/E ratio, MY is definitely expensive.
| | | | |
| --- | --- | --- | --- |
| | 2009 | First Half of 2009 | First Half of 2010 |
| Basic EPS | -0.33 | -0.124 | 0.44 |
| Diluted EPS | -0.33 | -0.124 | 0.44 |
From comparison of the basic EPS and diluted EPS, the trailing 12-month PE is 44X. This valuation sounds alarming.
Do we stop here? The answer is no and let us take a second look.
Of course, there is something one has to be especially aware of. China Ming Yang was losing money during 2006 to 2009. The company just turned a loss into a gain in the first half of 2010, achieving earnings of $0.44 per share.
According to SEC filings and other Chinese media, Ming Yang's second half is very positive because of government support, economies of scale, and strong market penetration.
Mr. Chen, vice president of China Ming Yang Wind Power Group, was interviewed by Reuters at the China Alternative Energy Conference this September and indicated that the revenue guidance was at least RMB 10 billion (US$ 1.52 billion). According to the SEC Filings, MY had earned RMB 2.3 billion (US$ 0.34 billion) in revenue during the six months ended June 30, 2010. The revenue in the guidance has tripled the revenues recorded in the first half of 2010 and showed confidence in management.
The latest report issued by Industrial Securities indicated that many owners of civil construction projects at the downstream will begin to work in the fourth quarter of any calendar year. Such seasonal factor will make the fourth quarter the best season for the delivery of wind turbines for MY and other wind turbine manufactures.
If we assume that Ming Yang can achieve the same EPS as first half of 2009 in Q3 and Q4, its total 2010 EPS will be 0.88.
Considering Wednesday's closing price of $10.22, its forward P/E is around 12X compared to the industrial average of 24X.
For a growth stock like MY, we can also apply the PEG ratio because it explicitly puts a value on the expected growth in company earnings. Compared to its competitors, MY now has a very attractive valuation as shown below.
| | | |
| --- | --- | --- |
| Company | Ticker | PEG |
| China Ming Yang Wind Power Group | MY | 0.3 |
| A-Power Energy Generation Syste | (NASDAQ:APWR) | 0.6 |
| China Wind Systems, Inc. | (NYSEARCA:CWS) | 0.4 |
| Xinjiang Goldwind Sci & Tech Co., Ltd | 002202.SZ | 0.7 |
With technological leadership and improved competitiveness through research and development initiatives, China Ming Yang Power Group aims to compete effectively in China's wind power equipment industry and offers a fantastic investment opportunity.
Disclosure: Long MY