The shares of EOG Resources EOG have rallied this year and are currently trading close to its 52-week high of $118.89. Does this mean that investors should cash out on their investments? To find out, let's dig deeper.
EOG Resources is one of the leading independent energy companies of the U.S, with total estimated net proved reserves of 2.1 billion barrels of oil equivalents. The company's growth has been driven by the shale revolution.
Focus on Oil
What sets EOG Resources apart from other energy companies is that firstly, unlike some of its peers such as Devon Energy DVN and Chesapeake Energy CHK, whose growth has been driven by the shale gas boom, EOG Resources has largely focused on shale oil. As a result, EOG Resources has been immune from the downward trend in the gas industry coming from the glut in prices which nearly drove Chesapeake to bankruptcy and forced the transformation of Devon Energy.
Diverse Portfolio
Secondly, there aren't a lot of shale-oil focused energy companies out there whose reserve portfolio is as diversified as EOG Resources. Most of the companies in this sector are mainly producing oil from a one or two shale plays. For instance, Continental Resources CLR, another unconventional oil producer, is a Bakken-focused company. Chesapeake's acreage is spread across Eagle Ford, Marcellus and Utica but it's not an oil-focused company.
EOG Resources, on the other hand, has significant operations in three big shale plays that have driven America's energy boom. The company is the biggest producer and leaseholder at Eagle Ford, one of the leading players at the Bakken/Three Forks formation and has growing positions at the Permian Basin.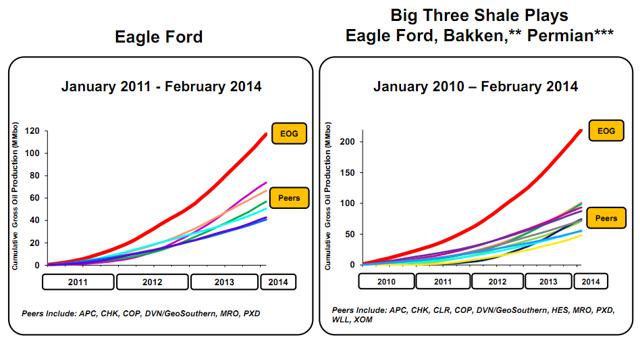 Source: EOG Presentation [Pdf]
Self-Sourcing Fracking Sand
Most of the shale oil producers buy fracking sand from other companies. The sand is then used in the extraction of tight oil from shale rock. EOG Resources, on the other hand, has been self-sourcing its sand at lower rates since 2008, thanks to its mines and processing plants in Texas and Wisconsin. This helps EOG Resources in fulfilling its sand needs at a lower cost.
Last year, EOG resources used 141 sand unit trains, comprising of 100 cars per train, for well completion operations mainly in Eagle Ford.
Crude-By-Rail
Moreover, EOG Resources also owns crude-by-rail infrastructure, which includes loading and unloading facilities. This has given EOG Resources a competitive advantage over others who have to rely on other middlemen to transport their output.
The rail assets have given EOG Resources access to the most favorable markets, such as the Gulf Coast where crude is priced at a premium over Light Louisiana Sweet index.
Moreover, the rail infrastructure gives EOG Resources better control over its transportation costs.
Production Growth
Currently, EOG Resources is focusing on exploiting its existing North American acreage to increase its crude oil and liquids production. With increasing focus on its liquid rich acreage in Eagle Ford, Bakken and Permian Basin, EOG Resources has increased its liquid as well as total output.
In its previous quarterly results, the company's revenues from sale of oil, condensates, NGLs and natural gas increased by 35% year-over-year to $3.2 billion, driven by 42% increase in oil and condensate production from Eagle Ford, Bakken and Permian Basin. The company's output from North America was 68% liquid, as opposed to 59% in the same period last year.
EOG Resources has forecast that it will continue increasing its liquids production "both in total and as a percentage of total company production" throughout 2014. For the current year, EOG Resources has predicted 29% increase in crude oil output. This would translate into average growth rate of 40% per year since 2011.
EOG Resources has more than 15 years of oil drilling inventory at its disposal. The company currently has 520 net wells at Eagle Ford, 86 net wells at Bakken and 137 net wells at other locations such as Permian Basin and DJ Basin. As a result, the company expects that its liquids output will continue to grow at above average, double-digit growth rate through 2017.
Natural Gas Positions
Besides oil, EOG Resources also holds significant natural gas positions in some of the leading natural gas plays. The company owns 298,000 net acres in Barnett, 195,000 net acres in Frio/Vicksburg, 143,000 net acres at Haynesville and 127,000 net acres at Horn River, among others. These assets will allow the company to tap into the natural gas markets once the gas prices recover.
Buy, Sell, Or Hold?
So far this year, EOG Resources' shares have risen by 38.7%, closing at $116 on Friday. The company has outperformed its peers as represented in the U.S. Oil & Gas Exploration & Production ETF (IEO) which has risen by 16.6% in the same period.
Despite the rally, at these price levels, EOG Resources appears reasonably valued. In terms of enterprise value to EBITDA, the company's shares are priced in-line with the industry's average considering the ratios of EOG Resources' competitors at Eagle Ford, Bakken and the Permian Basin.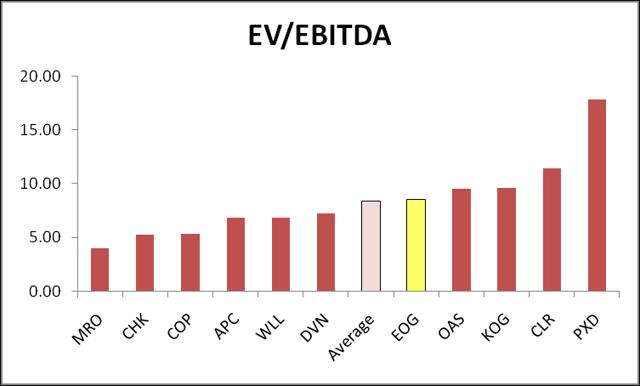 In other words, although the EOG Resources' stock is not expensive, it's not a bargain either. I would rate EOG Resources as a 'hold' and a buy on the dips.
Bottom Line
EOG Resources is an unconventional oil focused exploration and production company with significant operations in three of the most prolific shale plays. Moreover, the company's ability to self-source its fracking sand and transport its crude using its own infrastructure has given it an advantage over its peers. The company is eyeing double-digit growth in liquid-focused production which will fuel its growth in the coming years. Therefore, I believe EOG Resources' shares will likely continue going higher, setting new 52-week highs.
Disclosure: The author has no positions in any stocks mentioned, and no plans to initiate any positions within the next 72 hours. The author wrote this article themselves, and it expresses their own opinions. The author is not receiving compensation for it (other than from Seeking Alpha). The author has no business relationship with any company whose stock is mentioned in this article.