Although a very small company by Wall Street standards, Bovie Medical Corporation (NYSEMKT:BVX) has been developing very promising new medical device technologies that could have major impacts on some important areas in the healthcare industry, such as surgery and wound care.
As part of recent personnel changes, Bovie has succeeded in enticing individuals who held executive positions in some of the world's leading medical device companies to join a company with a market capitalization of only $65 million.
Meanwhile, statements by Bovie regarding "discussions," "negotiations," "contracts," "due diligence," etc. that have been issued periodically over the past half dozen years - with no obvious results - are now showing evidence of finally bearing fruit.
In addition to product sales through its own channels, Bovie is signaling that it expects to sell some of the new products emerging from its pipeline through agreements with important players in the medical devices industry.
Many of Bovie's new products could be of interest to multiple companies in the medical devices arena. This opens the possibility that a very public, important deal between Bovie and a major player in the area could act as a catalyst for other companies to follow suit.
In the course of this article, we will examine these issues in detail and discuss related topics, as needed, to shed more light on the key issues.
This article is the fourth in the author's current series on Bovie Medical.
Discussions, Negotiations, Contracts, Due Diligence…
Bovie Medical Corporation has been in "discussions," "negotiations," and "due diligence" with at least one "major multi-national medical device company" (and probably several such companies) since at least 2008, as documented in this author's first Seeking Alpha article on Bovie.
Bovie has a history of being tight-lipped when it comes to the details of its product R&D and pipeline and its relationships with other companies. A possible motive for this is to avoid tipping off the competition ahead of new product launches. Whatever the reasons may be, we can infer at least some significant details of Bovie's activities through careful, detailed examination of what information has been released regarding the company.
A Bovie news release on March 29, 2012 covering the company's 2011 annual results and Q4 results included the following paragraph:
In other developments, the company announced today that it has signed several interim and related product development agreements with a major multi-national medical device company in anticipation of a final developmental and manufacturing agreement expected to be completed in the second quarter this year.
On July 10th, Bovie issued a press release describing progress in J-Plasma clinical testing. The press release also stated that:
In unrelated news, the company reported that its previously announced anticipated developmental and manufacturing agreement with a large multi-national medical device company remains in the due-diligence and negotiation stage.
A detailed review of past statements by Bovie concerning "discussions," "negotiations," "agreements," "due diligence," etc. shows it is often unclear as to which statements are meant to update situations mentioned in previous statements, which are indications of new events, etc. Although this does make sense in the context of minimizing the value of such information to competitors, it also has an obfuscating effect on any shareholders attempting to closely track the company's progress.
Bovie has not only signaled that new agreements are expected, but also that some will be quite important in their impact on the company and will involve larger players in the medical devices industry. As time has gone on, Bovie press releases have hinted at both an expansion in the number of interested companies and in the depth of their interest.
The November 14, 2013 press release on Bovie's Q3 2013 results included an update on company progress. On the subject of discussions and agreements with other companies and similar topics, the press release had this to say:
Management's preliminary estimates for 2014 include improved sales, based in part upon gains in the Company's OEM business and increases in revenues from the Company's J-Plasma® technology. The Company is currently actively negotiating three OEM opportunities, with one of the proposed transactions in the contract preparation stage with payments to Bovie already having been made for pre-contract technology work. Management also believes that its core business in the physician office market should experience improvement next year…

The Company is currently exploring funding opportunities to enable it to maximize the market opportunities for J-Plasma® in various surgical specialties.
Bovie's 2013 10K/A (amended annual report for 2013), filed on May 8, 2014, includes the following statement on page 4:
We are pursuing a dual strategy that involves the continued development and growth of our core medical device business and the accelerated launch of our J-Plasma® product.

Bovie Medical today offers a full line of office, surgery center and hospital-based electrosurgical generators and accessories with state-of-the-art models, the most complete offering of any U.S. manufactured electrosurgical generator product. We will build upon this leadership position by continuing to provide superior products under the well-known and highly-respected Bovie brands. New product introductions, enhancements and innovations are important elements of our strategy and will be supported by investments in research & development. In addition, we expect to continue to add product lines through our distributor network as part of our strategy to drive both organic and acquisition growth and to add value to our distribution partners. At the same time, we will work to leverage our significant know-how and the relationships already in place with some of the biggest companies in the medical technology field to become the OEM provider of choice to other industry participants in order to further increase our market share.
Although there are a number of very interesting points made within this statement, the most pertinent for the purposes of this discussion is Bovie's disclosure that it has "relationships already in place with some of the biggest companies in the medical technology field."
Something Big Happened in 2011
Something big happened at Bovie Medical in 2011. In accordance with its modus operandi, Bovie kept quiet, giving only the minimum of indication to the shareholders. The March 29, 2012 Bovie press release on 2011 annual results (discussed earlier in this article) said that Bovie "has signed several interim and related product development agreements with a major multi-national medical device company." This may refer to the R&D funding support we are about to discuss.
According to the Income Statement on page 19 of Bovie's 2013 10K/A (amended annual report), the company spent $2.1 million in 2009 and $1.9 million in 2010 on R&D. Annual R&D expenditures were $1.2, $1.3, and $1.3 million for the next three years (2011-2013). This sudden and dramatic drop in R&D spending seems very odd for a company focused on developing breakthrough new medical technologies and bringing them quickly into the market to avoid possible erosion of technological leadership over time. The company had positive net income in 2011 and 2012, and positive cash flow of $1.1 million in 2011, so financial pressures do not seem to be responsible for the drop in internal spending on R&D.
To deepen the mystery, the section in the 2013 10 K/A on page F-10 entitled "Research and Development Costs for Others" states the following:
For research and development activities that are partially or completely funded by other parties, and when the obligation is incurred solely to perform contractual services, expenses are charged to cost of sales and all revenues resulting from such activities are shown as sales. We have expended $1.3 million, $1.3 million, and $1.2 million for the years ended 2013, 2012, and 2011 respectively.
This is quite odd; R&D expenditures funded by others are equal (to two significant figures, at least) to Bovie's own internal R&D expenditures. Examination of Bovie's income statement shows that trends it exhibits over this time are indeed consistent with R&D-related revenue from other entities being credited to sales and expenses to cost of sales.
Combining this observation with Bovie's statements about relationships, product development agreements, and so forth with what Bovie has said about a "major multi-national medical device company" and other entities strongly suggests that Bovie reached some type of agreement with one or more larger companies in the field, in which those companies matched Bovie's R&D expenditures on a 1:1 basis, presumably for the purpose of hastening product development. This would make sense if the larger companies recognize the market potential of Bovie's medical technologies and intend to either use Bovie as a source of OEM products they then market and sell themselves or acquire the Bovie technologies of interest to them via licensing or purchase. (Note that a purchase could be either specific technologies or the entire company.)
Nor Did It Stop There…
An Investor Presentation dated July 2014 was recently posted on the Bovie Medical website. Page 14 of that presentation is shown below.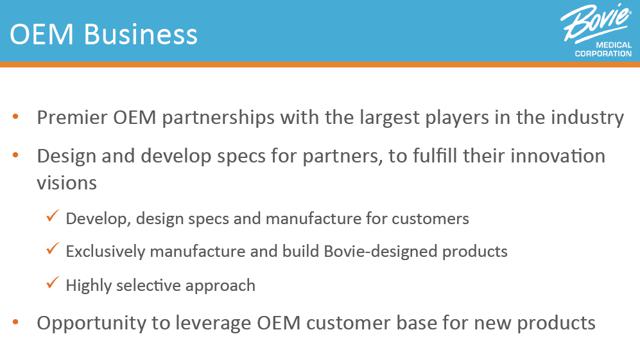 The presentation indicates that OEM agreements have now been reached with leading medical device companies. The reference to designing and developing products for partner companies could explain the outside financial support (to the tune of over $1 million annually for the past three years) of Bovie's R&D. Finally, the statement about leveraging Bovie's OEM customer base for new products strongly suggests Bovie plans to demonstrate (or more likely, has already been demonstrating) products in its pipeline, such as J-Plasma®, Seal-N-Cut vessel sealing, BOSS™ and SEER™, and other medical technologies to leading firms, with the intent of securing large contracts.
Interestingly, the same presentation also includes the slide below.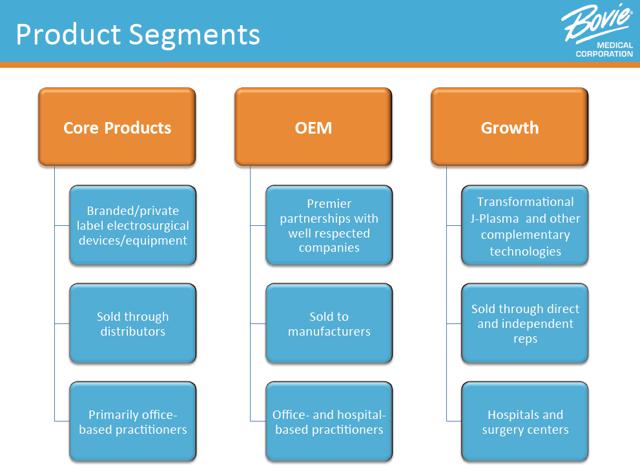 This slide is interesting because it connects the "Growth" product segment with a sales channel consisting of direct and independent sales reps, rather than large medical device firms. However, the "OEM" product segment, which is distinct from the "Core Products" segment, identifies "premier partnerships with well-respected companies" and indicates sales to manufacturers as the sales channel. A reasonable interpretation is that both the OEM and Growth product segments include new products in the Bovie product pipeline, in which case, some are slated to be sold by Bovie and others by major medical device companies referred to as "manufacturers" in this slide. This especially makes sense if some new Bovie products are to function as subsystems for integration into complete medical device systems prior to sale to customers. A possible example of this is incorporating J-Plasma and vessel sealing instruments into robotic surgery systems.
Bovie's connections with large medical device companies are apparently very strong, even if sometimes hard to recognize and untangle. These connections have not suddenly materialized, but instead, have been growing over the years, as indicated by company statements from the 2008-2009 time frame (discussed in the author's first Seeking Alpha article about Bovie Medical, and mentioned again in some subsequent later articles) about "discussions," "negotiations," and other activities.
To provide some additional context to Bovie's current situation and to assist in analyzing which companies could be interested in a major deal with Bovie (one that might have a big impact on the share price), it is helpful to review some past occurrences in the company's history.
Early Connections: Technologies and Employees
Over time, Bovie Medical has made connections with large medical device companies and is continuing to expand these links.
For some years, Bovie manufactured electrosurgical generators on an OEM basis for Medtronic (NYSE:MDT). Bovie's 10Q (Quarterly Report) for Q3 2011 describes this agreement (and its termination) as follows:
We currently already have a longstanding OEM contract manufacturing agreement with Medtronic for advanced electrosurgical generators. We have given Medtronic notice that the agreement will terminate at December 31, 2011, with final deliveries occurring in 2012.
Bovie's termination of the Medtronic OEM agreement occurred not long after a lawsuit was filed by Medtronic and Salient Surgical, Inc. (subsequently purchased by Medtronic), alleging patent infringement on the part of Bovie against a patent owned by Medtronic and licensed to Salient Surgical. Although such a dispute does not at all seem positive from a corporate relationship standpoint, there are reasons why this dispute demonstrates Medtronic has an incentive to make a deal with Bovie at some point in the foreseeable future, as will be discussed later in this article.
Interestingly, at its core, the Bovie-Medtronic-Salient legal squabble was not actually over electrosurgical generators. Rather, it had to do with the BOSS™ (Bipolar Orthopedic Surgical Sealer) and SEER™ (Saline Enhanced Electrosurgical Resection), a smaller version of the BOSS™ that includes both regular and laparoscopic versions.
The genesis of the BOSS™ and SEER™ technologies was with Boston Scientific Corporation (NYSE:BSX), with Boston initially concluding an agreement with Bovie in 2007, in which Bovie was to develop and manufacture certain products for Boston. This was superseded in 2008 by an agreement between Bovie and Boston Scientific that transferred technology, patents, and assets from Boston to Bovie.
In addition to the intellectual property (IP) transfer from Boston Scientific to Bovie Medical, Mr. Robert (Bob) Rioux, technical leader of Boston's tissue resection program, joined Bovie as vice president for R&D (also described in some statements as VP of Advanced Resection Technologies). The next year, 2009, saw Mr. David Uffer, a six-year Boston veteran, also join Bovie as vice president for Advanced Technologies.
Before his departure in April 2011, Mr. Rioux's time at Bovie was spent focusing on electrosurgical device development and commercialization, new business opportunities, and strengthening Bovie's IP portfolio. It is worth noting that Mr. Rioux's 2011 departure coincided with an outside company beginning to fund Bovie's R&D to the tune of over $1 million per year. Could Mr. Rioux's mission at Bovie have been to sufficiently advance its technology to consummate a product development arrangement with a larger firm?
Mr. Uffer has also departed Bovie, and is now the director of Business Development & Licensing at Covidien (NYSE:COV). This is interesting, particularly given the other links Bovie has been developing with Covidien.
Another individual who formed a long-standing link between Bovie and Covidien is Mr. Randy Rossi. The president of the Patient Care Division of Kendall/Tyco (the Tyco Healthcare division became Covidien in June 2007), he departed in 2004 and promptly joined the Bovie Medical Board of Directors, remaining there until March 2009, a point by which Bovie had important agreements with at least one large medical devices company (Boston Scientific, from whom the BOSS and SEER technology had been acquired), and quite possibly multiple such companies. When Mr. Rossi left Kendall, the company specialized in wound care, urology, and incontinent care, achieving annual revenues in excess of $500M. As we will discuss later, wound care is a natural application for Bovie's J-Plasma and represents a very large market space.
Returning to the Bovie Medical-Medtronic-Salient Surgical litigation, legal action began in 2010, and all obligations of the parties to each other as a result of the settlement will conclude in February 2015. Key elements are as follows.
Bovie announced FDA clearance for the BOSS on March 19, 2010. Bovie's press release stated in part:
The BOSS™ delivers RF energy simultaneously with saline to perform coagulation of soft tissue and bone resulting in reduced blood loss while minimizing charring and sticking of tissue. Saline enhanced surgeries reduce operating time while improving post-operative outcomes leading to shortened recovery time.

The BOSS™ will primarily be targeted to orthopedic surgeons performing hip and knee arthroplasty; a market comprised of approximately 1.1 million procedures performed annually in the United States. These orthopedic procedures represent large and growing markets due to a more active and aging population. Additional markets for the BOSS™ include spine, endoscopic, abdominal and thoracic surgeries. The worldwide market is expected to exceed $500 million in 2010.

Andrew Makrides, president of Bovie, stated, "Receiving FDA clearance to market the BOSS™ is a significant milestone in Bovie's development of disposable high margin proprietary products for fast growing markets."
A little over two months later, in early June, Medtronic and Salient Surgical, Inc. (subsequently purchased by Medtronic) sued Bovie, alleging SEER infringed US Patent 7,364,579, owned by Medtronic and licensed to Salient Surgical. In the suit, Medtronic and Salient Surgical sought "a judgment that the patent-in-suit is valid, enforceable and infringed; a permanent injunction barring Bovie from infringing; and unspecified damages." The two parties reached a settlement as follows:
The settlement calls for Bovie to immediately exit the monopolar and bipolar saline-enhanced RF device business (including Bovie's SEER™ and BOSS™) worldwide, and to acknowledge the validity and enforceability of Medtronic's patent in the U.S. and Europe, through February 2015. In exchange, Medtronic will make a one-time payment to Bovie of $750,000. Terms also include a provision for a possible OEM contract manufacturing relationship between Bovie and Salient. The Company already has a longstanding OEM contract manufacturing agreement with Medtronic for advanced electrosurgical generators.
Bovie's settlement with Medtronic and Salient Surgical is actually fairly remarkable. A careful reading of the text shows it doesn't state that Bovie's patents infringe Medtronic's patent, only that Medtronic's patent is valid. Rather than Bovie paying damages to Medtronic, Medtronic paid Bovie. One possible interpretation of this is that Medtronic realized that patent infringement was not clear, winning a court case was not a foregone conclusion, and Bovie represented a very real competitive threat to Medtronic. Under these circumstances, it would make sense for Medtronic to settle with Bovie, including making a payment to encourage acceptance of the settlement.
All of this begs the question: If SEER and BOSS are so valuable ($500M annual market), why would Boston Scientific license them to Bovie Medical in the first place? Here are three possible answers, none of which preclude each other (e.g., they could all be correct):
(1) The required R&D and development costs were uncertain and potentially large, and in the 2007-2008 time frame, Boston did not want to commit itself to developing this new product line. In 2006, Boston managed to get into a bidding war with Johnson & Johnson (NYSE:JNJ) over Guidant. In the end, Boston beat out JNJ with an offer worth $27.2 billion. However, this turned out to be a Pyrrhic victory; Fortune Magazine characterized it as "the second-worst deal ever," and on July 27, 2006, Boston posted a Q2 loss of $4.26 billion, following which it spent many years recovering from its overpayment for Guidant.
(2) Boston Scientific did not initially recognize the true extent of the market potential for SEER and BOSS, leading Boston to license technology it might otherwise have kept completely internal.
(3) Boston recognized that despite Bovie Medical's small size, Bovie's technical expertise in electrosurgical devices gave it an ability to successfully develop SEER and BOSS, and to do so within a time frame and budget that few other companies could hope to match. (If this last possibility is correct, Boston Scientific could also have made plans to bring Bovie into the Boston fold once the SEER and BOSS were complete.)
Recent Management and Sales Changes Further Strengthen Links to Big Players
Beginning in late 2013, Bovie Medical has undergone a transformation within its management and sales teams. A major theme has been adding people to the Bovie team who have previous high-level experience at large medical device companies, particularly companies that would naturally fall onto a shortlist of the best prospects for consummating important deals with Bovie.
One way for small companies to develop relationships with large firms in their field - particularly with the top executives and other key decision makers at the large firms - is for the small companies to bring on board team members who previously worked at or with the large firms in high-level positions. As these team members normally have long-standing personal relationships with the key executives and decision makers at the targeted firms, they can quickly get information about the small companies (e.g., important new products under development) in front of the right people and ensure that it is carefully examined, rather than only cursorily glanced over.
Small companies that lack such relationships with large firms usually have to begin with someone far down the management chain and gradually work their way up the chain through a series of people who act as gatekeepers. To have a reasonable shot at success, along the way, the small company must acquire supporters within a large firm who understand the small company's product or technology and are willing to act as informal advocates for the small company in the large firm's internal communications about the small company.
Bovie Medical has been very successful over the past year in attracting management and sales personnel with connections to large firms that are natural candidates for doing deals with Bovie. As a result, of the two types of small companies described above, Bovie falls into the first group rather than second (even were we to discard the evidence in Bovie's R&D spending and pronouncements on OEM contracts that indicate multiple important agreements are already in place). This can be seen on page 21 of Bovie's recent (July 2014) Investor Presentation previously referenced in this article.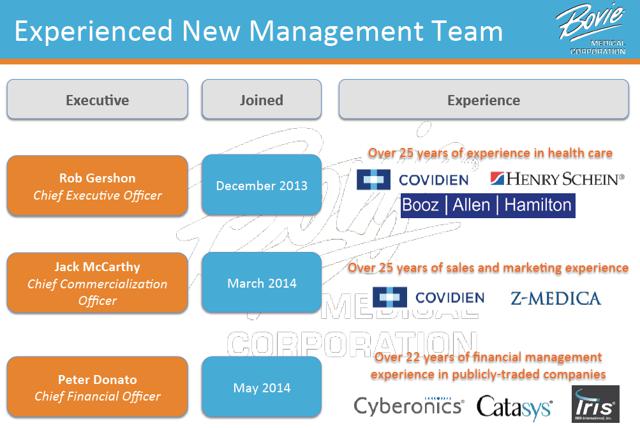 Another addition has been Mr. Ian Sheffield, who joined Bovie's Board of Directors. Mr. Sheffield spent a number of years in marketing at Medtronic, before moving into the arena of private equity funds and hedge funds, where he has specialized in healthcare companies.
During Bovie Medical's Q1 2014 earnings call, Mr. Gershon had the following to say concerning the sales team:
Fourth, the sales organization, in the critical sales positions I am pleased to report that as of today we have four direct sales reps, three of whom are or will be in place this quarter and one who will join officially in the summer. They're all very experienced averaging 15 years in the operating room sales at a distinguished group of companies including Covidien, Ethicon, and Intuitive.
(Note that Ethicon is a subsidiary of Johnson & Johnson, while Intuitive refers to Intuitive Surgical (NASDAQ:ISRG).)
Bovie's Product Pipeline: Stuffed!
Bovie's pipeline is literally stuffed with new products, a great many of which are either complete or in an advanced stage of development. In the sections that follow, we will examine these products, commenting on performance, possible interested parties, and market potential, as appropriate.
BOSS and SEER
As discussed earlier, BOSS™ (Bipolar Orthopedic Surgical Sealer) and SEER™ (Saline Enhanced Electrosurgical Resection) originated with Boston Scientific, were licensed to Bovie Medical, and became the subject of a lawsuit against Bovie by Medtronic and Salient Surgical.
The Bovie-Medtronic non-compete agreement expires in February 2015, just over half a year from now, at which point Bovie will be free to sell BOSS and SEER worldwide, with no restrictions related to Medtronic. Presumably, Bovie can begin preparations right now to enter the market in February 2015 if it so chooses, just as long as actual market entry does not occur until that time. The agreement expiration date appears to be driven by the patent expiration date; US Patent 7,364,579 is a continuation-in-part of US Patent 6,063,081, which was filed on February 22, 1995 and will expire exactly 20 years after the filing, including all subject continuations-in-part that derive from it.
If Medtronic perceives the BOSS and SEER technologies could still act as a serious commercial threat to similar Medtronic product lines, then Medtronic has an incentive to either strike a deal (e.g., an OEM contract manufacturing agreement) with Bovie - exclusivity being preferable - or to simply buy the company outright, given Bovie's small market capitalization, existing product line and associated sales, and pipeline of new medical device technologies. (In fact, the Bovie-Medtronic-Salient settlement does indicate Medtronic may choose to consummate an agreement with Bovie for BOSS and SEER OEM production.)
Likewise, if Boston Scientific decides BOSS and SEER still have a lot of value as competitors to Medtronic products and is impressed with the technology and product advances made by Bovie during its R&D effort, then Boston Scientific will have a motive to seek a deal with Bovie, such as an OEM manufacturing agreement or even a buyout, for much the same reasons as Medtronic.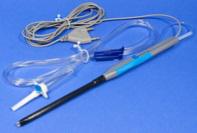 Seal-N-Cut (Vessel Sealing)
Bovie's April 1, 2013 press release on the company's financial results for 2012 included an update on the development of new products, focused mainly on J-Plasma. Buried within that section was this statement:
As previously reported in March 2011, the Company anticipates a developmental and manufacturing agreement with a large medical device company. Due to modified specifications yet to be finalized, discussions continue to be ongoing.
Despite the location of this statement, the medical technology this referred to was NOT J-Plasma, a fact confirmed by a call by this author to Bovie Investor Relations. In a May 15, 2013 Bovie press release covering 2013 Q1 results and J-Plasma progress, the following is found:
Currently, the Company is involved in discussions with several companies relating to possible design, development and manufacturing projects that could result in one or more OEM agreements.
Again, this was confirmed as not referring to J-Plasma.
Page 8 of the 2012 Bovie 10-K (Annual Report) includes the following comment on Seal-N-Cut:
Although we have experienced significant delays in the development of this product for market due to modifications and improvements related to the product design, we anticipate that we will re-submit our application for 510k approval during 2013.
Notice the similarities between "delays in development… due to modifications and improvements related to the product design" and the wording of the April 1, 2013 press release, which stated in part that "due to modified specifications yet to be finalized, discussions continue to be ongoing."
The Seal-N-Cut vessel sealing technology had been one of the subjects of a series of legal actions between Steve Livneh (formerly a key Bovie employee and member of the company's Board of Directors) and Bovie. As the Seal-N-Cut vessel sealing product addresses a $1 billion market and has substantial technical advantages over existing products, it is an important item in the Bovie product pipeline.
On November 21, 2013, Bovie Medical entered into a Settlement Agreement and Mutual General Release with Steve Livneh and two companies under his control that had also been parties to the litigation. Bovie's 2013 K/A (amended Annual Report) has this to say about the settlement:
We granted Livneh an exclusive, transferable, irrevocable license to make, have made, use, market, and sell the Seal-N-Cut device in the People's Republic of China ("PRC") and a non-exclusive, transferable, and irrevocable license to make, have made, use, market, and sell Seal-N-Cut anywhere other than PRC. We and Livneh each agreed to pay the other a royalty equal to 3% on their Net Sales (as defined in the Settlement agreement) of Seal-N-Cut. Upon execution of the Settlement Agreement, we transferred to Livneh (i) three (3) Seal-N-Cut hand pieces, (ii) two final assembly test fixtures not utilized by the Company, (iii) a PK generator and footswitch, (iv) miscellaneous parts and materials, (v) various documents relating to Seal-N-Cut, and (vi) our rights to certain Seal-N-Cut molds.
The next paragraph, however, is the real stunner:
The parties also exchanged mutual general releases and discontinued the Litigation. The Settlement Agreement also provides that in the event of any dispute between the parties concerning the Settlement Agreement, no party would be entitled to recover lost profits, lost sales, business interruption damages, lost business opportunity damages, lost tax credits, lost benefit-of-the-bargain damages, consequential damages, incidental damages, special damages, punitive damages, or exemplary damages. Amounts related to this settlement were accrued and expensed in 2013, and amounted to approximately $500,000.
If this author understands the legal implications of the Settlement Agreement correctly, both parties have agreed that practically any and all possible disputes over future actions related to Seal-N-Cut are not subject to legal recovery of costs, damages, etc. In effect, this means, for example, that Bovie could sell the Seal-N-Cut in China (where Mr. Livneh is supposed to have exclusive rights) and/or sell the Seal-N-Cut elsewhere and fail to pay Mr. Livneh the agreed upon 3% royalty, and Mr. Livneh would have no legal recourse to do anything about it.
While it is true that Mr. Livneh could do something similar, such as failing to pay royalties on sales in China or selling the Seal-N-Cut outside of China, in practice, this would be much more difficult for him to carry out. Bovie has numerous advantages, such as substantial pre-existing manufacturing infrastructure, more extensive knowledge (and most likely documentation) of the Seal-N-Cut manufacturing process, presumably data on Seal-N-Cut operation that Mr. Livneh may or may not have, a draft Seal-N-Cut FDA 510(k) application, and highly probable involvement in discussions (at minimum, a signed agreement being a very real possibility) with a large medical devices firm interested in partnering with Bovie to bring the Seal-N-Cut to market.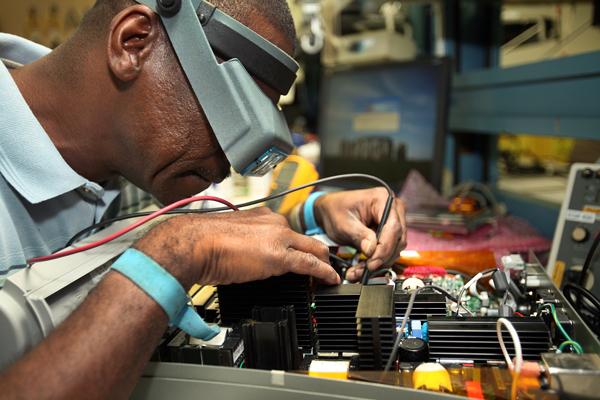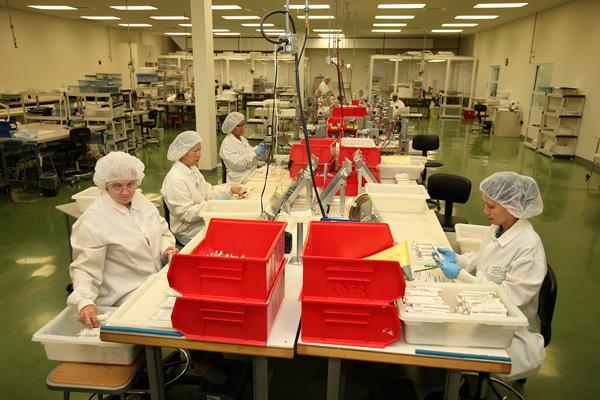 Modular Ergonomic Grip
The Modular Ergonomic Grip (MEG) is an instrument for laparoscopic surgery intended to improve ease of use in comparison to existing devices, while accepting a broad range of inserts for surgical use. Features include an ergonomic handle, support for both left- and right-handed operators, a modular design, an electrically insulated handle to increase instrument life, and an ability to accept inserts across a size range from 2mm to 12mm.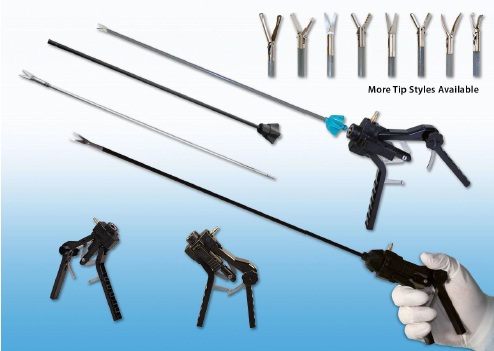 The MEG was one of the technologies caught up in the Bovie-Livneh litigation. Bovie's ownership is now settled.
Dermatology/Plastic Surgery (Including Anti-Wrinkle Treatments)
Bovie Medical has been working on several types of devices for dermatology and plastic surgery.
Bovie's RF Skin Resurfacing technology tightens and promotes younger-looking skin. Among other effects, the resurfacing technology is able to target the underlying collagen tissue and cause it to transform its structure and contract, without damaging the surface of the skin in the process, the surface being protected by a coolant during device operation. The picture below depicts one possible embodiment of the RF Skin Resurfacing device, and comes from one of Bovie's patent applications.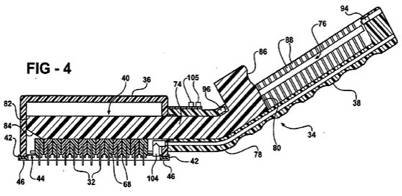 Until very recently, the standard method for skin resurfacing (e.g., for the reduction of wrinkles and other signs of aging) was a laser-based ablative method that literally involved burning off the surface of the skin, and required up to a month of recuperation. Recently, plasma-based skin resurfacing methods based on nitrogen plasmas have started to make an appearance. Although nitrogen plasma is only 50%-60% as effective as laser ablation, the associated discomfort and recovery time are both improved. As J-Plasma uses helium and typically operates around body temperature, there is a strong possibility that J-Plasma can be an effective method for skin resurfacing, while producing far fewer side effects than existing methods. Notice the mention of dermatology and plastic surgery in this excerpt from page 7 of the company's 2013 10-K/A:
Our main focus is to drive awareness and adoption of J-Plasma® initially amongst surgeons in the gynecological, dermatological and plastic surgery specialties, and then introduce the product to surgeons in other specialties including general surgery, colorectal surgery, oncology, urology and ENT.
As described in Bovie's 2013 10-K/A, the company has been developing a line of high-frequency dessicators for dermatology. On page 7, the following description can be found:
Derm 101 & Derm 102

The Derm 101 and Derm 102 are slated to be released in the beginning of the second quarter of 2014 and will be introduced at the American Academy of Dermatology in late March 2014. These products are 10 watt high frequency desiccators for use in family practice, aesthetics and dermatology settings. They will compete with established high frequency desiccators that go up to 40 watts in power, but will be offered at a new price point. The Derm 101 is priced for affordability by family practice doctors. The Derm 101 uses the same dermatology type tips and accessories as the larger units and should expand our market for both the units and the disposable stream. The 10 watt maximum output is capable of accomplishing 95% of all dermatology procedures currently performed with the higher power units. The Derm 101 and 102 have a universal power supply, meaning it can be plugged in virtually anywhere in the world, and meet or exceed the latest stringent international standards.
Markets for cosmetic improvement are very large. For example, annual worldwide sales of Botox exceed $1.8 billion and are rising steadily. As another example, Revlon (NYSE:REV) has annual sales of $1.5 billion.
J-Plasma Used With Robotic Surgery
Bovie has repeatedly signaled that gynecology is a key early target for J-Plasma. According to Bovie's November 14, 2013 press release, Bovie will be developing a version of J-Plasma for use with surgical robots during 2014. The da Vinci system from Intuitive Surgical is the leading robotic surgery system, and gynecological procedures are one of the applications it is most often used for.
A recent study of outcomes for robotically assisted vs. standard laparoscopic hysterectomies in women found that, on average, the robotically assisted hysterectomies added approximately $2200 to the cost of the surgery, while providing only very marginal improvements in outcomes. This gives Intuitive Surgical, currently the only major player in the area of robotic surgery and effective owner of the robotic hysterectomy market, a strong incentive to introduce system design improvements that give a better price-performance ratio.
In March 2013, Bovie reported on J-Plasma progress, including a list of types of surgeries successfully performed as part of an early round of J-Plasma surgical procedures (the results from this early work are now beginning to show up at medical conferences and elsewhere). One of the types of surgeries listed was a robotic-assisted hysterectomy.
Bovie's initial foray into robotic surgery has not gone wholly unnoticed. In a January 24, 2014 article on disappointing guidance by Intuitive Surgical, market news site "The Fly On The Wall" listed Bovie as an Intuitive Surgical competitor, along with Stryker (NYSE:SYK) and Harvard Apparatus (NASDAQ:HART).
Stryker is particularly interesting. The company makes add-ons for Intuitive Surgical's da Vinci system, and late last year, paid $1.65 billion to acquire MAKO Surgical Corp., manufacturer of the RIO® Robotic Arm Interactive Orthopedic System used in hip replacements and knee resurfacing. For the nine months ended September 30, 2013, MAKO had sales of $75.8M and a net loss of $50.6M; these correspond to annual run rates of $101M and $67M, respectively. Stryker indicated the expected effect on its earnings, not including acquisition and integration costs, will be a dilution of 10 to 12 cents per share in the first year, neutral in the second, and positive in the third, with accelerating growth in the following years. The Bloomberg article on the buyout quotes Joanne Wuensch, an analyst at BMO Capital Markets in New York, as stating "We anticipate that the transaction will drive the other M&A medtech targets' stock prices higher, as the musical chairs move in consolidation has begun."
In addition to Intuitive Surgical, Bovie Medical could also be of interest to Stryker. J-Plasma and Seal-N-Cut could both make available add-ons for the RIO robotic surgery system, increasing its customer appeal and assisting Stryker in meeting its sales and profitability targets associated with the MAKO Surgical buyout.
Wound Care
Investigations at the Max Planck Institute have shown that treatment with an argon-based plasma speeds wound healing. Helium plasma is likely to produce better results than argon plasma for many of the reasons it performs better in other areas.
Johnson & Johnson and Covidien are both important players in the wound care area, and the wound care businesses of both could likely benefit by adding a J-Plasma-based wound care system to their product line-up. As mentioned earlier, Mr. Randy Rossi, who sat on the Bovie Medical Board of Directors from 2004 to 2009, had previously been the president of the Patient Care Division, Kendall/TYCO (now Covidien), which specialized in wound care, urology, and incontinent care, and had revenues in excess of $500 million.
Kalorama Information estimates the global market for wound care products will rise from $16.8 billion in 2012 to nearly $21 billion in 2015. Granted, as this figure includes many products (e.g., bandages) that J-Plasma has no bearing on, the actual wound care market for J-Plasma is only a fraction of this number. Nevertheless, the J-Plasma market size in this area is very large.
Hand-Sanitizing J-Plasma Technology
Bacterial contamination on the hands of medical staff is a major route for the spread of MRSA and other potentially life-threatening infections. Research has shown that effective cleansing of medical staff's hands is very hard to accomplish, and a combination of both effective cleansing methods and very high compliance rates is needed before the spread of infection is substantially reduced. By comparison, plasma-based hand sanitization is rapid and effective. The plasma gets into cracks that standard cleaning methods have trouble reaching. Brief time requirements promote medical staff hand sanitization compliance.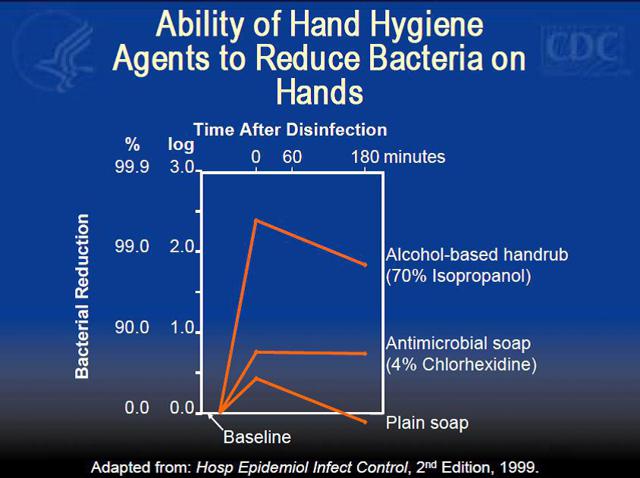 It should come as no surprise that Bovie has been working on a system for the practical application of plasma sanitization to medical staff's hands (e.g., US Patent Application 20130202496 "Cold Plasma Jet Hand Sanitizer" by Greg Konesky). The market potential for such a system is very large; there are 40,000 or more operating rooms in the US alone, so a $25K hand plasma sanitizer system would correspond to a $1 billion market. While it is true that this is an aggregate value rather than an annual one, the actual aggregate market is actually much larger; first, because it includes all kinds of medical facilities and not just operating rooms, and second, because the market is worldwide and not just within the US. Considering that plasma hand sanitizers will have some average lifespan before needing to be replaced, annual sales potential is very large (e.g., easily in the hundreds of millions of dollars). Such a product would likely be of interest to multiple large companies in the medical devices field.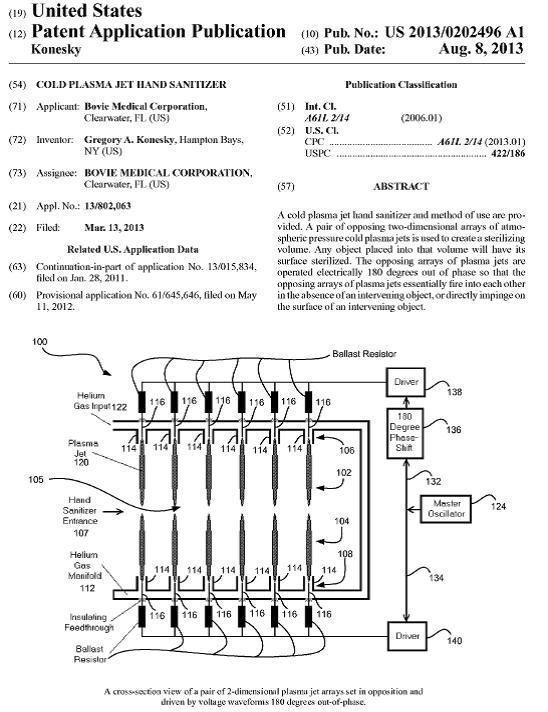 Other J-Plasma Applications
J-Plasma applications are not in any way confined to robotic surgery, wound care, hand sanitization, and dermatology/plastic surgery. J-Plasma can be used in non-robotic laparoscopic surgery, open surgery, etc. It can also be used for treatment of bacterial infections.
Possible Suitors
The lawsuit by Medtronic and Salient Surgical against Bovie Medical over BOSS™ and SEER™, and Medtronic's willingness to shell out $750K to reach a settlement with Bovie in which Bovie could become an OEM contract supplier suggest it views the BOSS and SEER as both very real competitive threats and possible product opportunities. Bovie also has connections with Medtronic through past OEM contract work and former Medtronic employee Ian Sheffield, who has recently appointed to its Board of Directors.
Boston Scientific was the original source of BOSS and SEER, having seemingly licensed it to Bovie with the intent that Bovie complete the technology development. Two key Boston Scientific employees then joined Bovie and worked on completing BOSS and SEER. Now that Boston Scientific is in a much stronger position - the Guidant disaster being mostly water under the bridge at this point - it would not be surprising for Boston to want to bring BOSS and SEER to market.
Boston Scientific might also find Bovie Medical interesting due to Bovie's Chinese connections. In addition to the company's main facility in Clearwater, FL, Bovie has manufacturing and R&D operations in Bulgaria and China (see page 7 of the 2013-10K/A). Boston had $200 million in cash at the end of Q1 2014, and identified one of two possible uses as mergers and acquisitions (the other being share buybacks), and has identified China as an area of particular interest. However, for a company with a $17 billion market capitalization and nearly $10 billion in debt, share-based acquisitions appear to make more sense than cash-based ones.
Covidien, which is currently in the process of being bought out by Medtronic, would have a natural interest in J-Plasma-based wound care and the Seal-N-Cut vessel sealer. Wound care is an important business for Covidien, and while the company already has a vessel sealing product, it has a natural incentive to avoid seeing a competitor bring Bovie's superior vessel sealing to market (e.g., one way to avoid this is for the company to sell the product itself, very possibly gaining market share in the process). It is interesting to note that quite a few of Bovie's key new hires (both in management and sales) have connections with Covidien.
Johnson & Johnson could find Bovie's wound care, vessel sealing, and skin care products a natural fit. Recent sales personnel additions have included at least one individual with experience at Ethicon (a JNJ subsidiary). Skin care could hold appeal for many other companies as well.
The use of J-Plasma with robotic surgery could be very interesting to both Intuitive Surgical and Stryker (in Stryker's case, due to its recent move into the field with the acquisition of MAKO Surgical). Depending upon future product development decisions, Intuitive and Stryker could target different types of surgeries or could end up as direct competitors in certain areas. If the former, Bovie could conceivably act as a supplier to both companies without creating excessive friction. Like JNJ, new Bovie sales staff have past experience at Intuitive.
Plasma-based hand sanitization could likely be incorporated into the product range of many companies in the medical devices field.
Mr. Gershon spent time at Henry Schein, Inc. (NASDAQ:HSIC), the world's largest distributor of healthcare products and services to office-based dental, medical, and animal health practitioners. These are areas in which Bovie expects to gain an increasing market share. A distribution agreement with Henry Schein is not at all out of the question.
Closing Thoughts
Mr. Russell Cleveland, the head of Bovie Medical's largest shareholder, RENN Capital, and author of Finding Midas, had this to say in RENN's annual report:
In January 2014 a new Chief Executive Officer joined Bovie to focus on rolling out the revolutionary new surgical system, J-Plasma. Robert Gershon, the new CEO, has had a long successful career in the medical field including running US Surgical, a billion dollar company. I am very optimistic about the potential here. I have always thought Bovie should sell at a minimum of $10 - $20 per share.
RENN and Mr. Cleveland have been Bovie shareholders for some years. In effect, he is stating that the company ought to have been valued at a minimum of $10-$20 back then. By implication, Mr. Cleveland presumably believes the company should be valued even higher now, due to the amount of progress made during that time on developing the company's products and its prospects for near-term (e.g., between now and the end of 2015) commercial success.
A final word of caution: Bovie Medical experienced a lot of volatility in its share price between 2006 and 2010. Its share price has been much steadier since then. Nevertheless, being a small company with a low market cap, anyone investing in Bovie should be mentally prepared for potentially large swings in the share price. Also, as a very small company compared to most publicly traded companies - and many companies in its sector - it has higher-than-average risk for a number of reasons. Exercise care.
Disclosure: The author is long BVX. The author wrote this article themselves, and it expresses their own opinions. The author is not receiving compensation for it. The author has no business relationship with any company whose stock is mentioned in this article.
Editor's Note: This article covers one or more stocks trading at less than $1 per share and/or with less than a $100 million market cap. Please be aware of the risks associated with these stocks.