Markets are green today after President Obama's remarks yesterday were far more dovish than many were expecting. The hope is that cooler heads will prevail and that the US and Western Europe will slow down on the economic sanctions which will lead Vladimir Putin and Russia to possibly abandon their Eastern Ukraine ambitions. That is the ideal scenario playing out for the market, but we doubt it plays out like that any time soon. Instead, expect a long, drawn out ordeal with Putin standing by the separatists.
Chart of the Day:
There are a lot of different opinions out there regarding the spread between the S&P 500 Index and the Russell 2000 Index, ranging from it is pointing to a correction to the idea it is going to lead to a major rally in small cap stocks. We find ourselves thinking that small caps will rise relative to the large caps, but not in the same camp which sees a huge rally just over the horizon.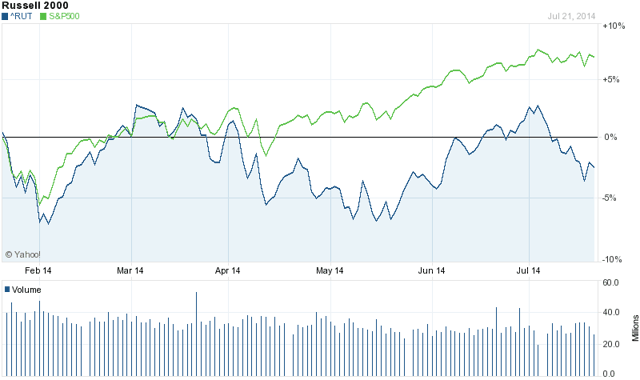 Click to enlarge
Source: Yahoo Finance
We have economic news today, and it is as follows:
CPI (8:30 a.m. EST): Est: 0.3% Act: 0.3%
Core CPI (8:30 a.m. EST): Est: 0.3% Act: 0.1%
FHFA Housing Price Index (9:00 a.m. EST): Est: N/A Act: 0.4%
Existing Home Sales (10:00 a.m. EST): Est: 5.0 M Act: 5.04 M
The Asian markets are higher today:
All Ordinaries -- up 0.06%
Shanghai Composite -- up 1.02%
Nikkei 225 -- up 0.84%
NZSE 50 -- up 0.14%
Seoul Composite -- up 0.52%
In Europe, the markets are higher this morning:
CAC 40 -- up 1.08%
DAX -- up 1.01%
FTSE 100 -- up 0.86%
OSE -- up 1.00%
Ackman Hits Herbalife Again
Bill Ackman was on CNBC yesterday taking shots at Herbalife (NYSE:HLF) once again in order to set the stage for his presentation in New York this morning. As we watched the interview over lunch, we noticed that shares in Herbalife were beginning to fall and that the selling picked up momentum the longer Mr. Ackman spoke on the matter. During the segment, the shares fell as low as $4/share, but the selling did not stop there as shares found further weakness later in the session, finally closing at $54.02/share after falling $6.82, or 11.21% on volume of 11.3 million.
As we have stated before, this is a battle which we would prefer to be on the sidelines for, as there are far too many questions that remain unanswered. With that said, we do find it an interesting story and will be looking to see what new information Mr. Ackman presents today.
Depending on what new information surfaces today, Herbalife shares could test its 52-week low as shares have become quite weak as of late.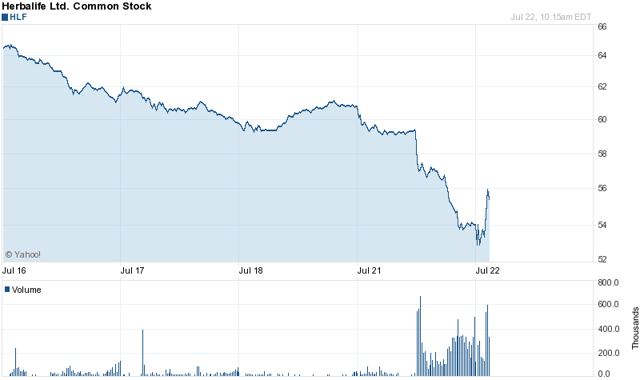 Click to enlarge
Source: Yahoo Finance
Food Scare In China
In yesterday's article (located here), we discussed the news that McDonald's (NYSE:MCD) and Yum! Brands (NYSE:YUM) were facing another food issue in China after a supplier was found repackaging expired meat and operating facilities that fell short of health standards. We now find out that the supplier not only supplied McDonald's and Yum! Brands' KFC and Pizza Hut in China, but also was a supplier to McDonald's in Japan as well as Starbucks (NASDAQ:SBUX) and Burger King Worldwide (NYSE:BKW).
Now that the meat in question is not just at McDonald's and Yum! Brands restaurants, but also Starbucks, Burger King and other smaller names, this might be less of an event than originally thought. To clarify, it is a big event in its scale but potentially less of an event in regard to its impact upon any one of these companies as consumers will not lose faith in one or two names, but rather the entire sector. The biggest beneficiary of this event having gained scale has to be Yum! Brands and we would be surprised if they saw traffic fall as dramatically as it did before.
Disclosure: The author has no positions in any stocks mentioned, and no plans to initiate any positions within the next 72 hours. The author wrote this article themselves, and it expresses their own opinions. The author is not receiving compensation for it (other than from Seeking Alpha). The author has no business relationship with any company whose stock is mentioned in this article.