by Mike McDermott
Niche restaurant stocks have been trading sharply higher after well-received earnings from a few of the industry stalwarts. Chipotle Mexican Grill (NYSE:CMG) rallied 19% in the days immediately following its Q3 announcement. Not to be outdone, BJ's Restaurants Inc. (NASDAQ:BJRI) tacked on as much as 22% to the delight of long-term investors.
Even long-time industry standards like Cheesecake Factory Inc. (NASDAQ:CAKE) are experiencing stock advances that seem to outpace any improvement in the fundamental state of the business.
Bullish arguments point to lofty management goals of new store openings, and stronger margins due to cost-cutting and closings of unprofitable locations. But bearish traders continue to see weak nationwide employment as an impediment to growth, and rising food costs could very well cut into margins in coming quarters.
As Mercenary Traders, we are much less concerned with being right – and instead focus on profitably trading through the opportunities as they are presented. With this approach, it's important to understand the fundamental drivers, the valuation arguments, the price targets along with support and resistance points… but then to look at the price action as an overlay to all of the information.
This past summer and fall, the price action has run counter to our bearish themes. Restaurant stocks for the most part have ramped higher on expectations for a "full recovery" seem to carry more weight for traders than the bearish macro risks that hang above. But how long can this last? And what vehicles offer the most potential for profit once the trend shifts?
Positive Reports
For the third quarter, Chipotle Mexican Grill reported a revenue increase of 23% along with earnings growth of 41% over last year. Not only did the company see an 11.4% increase in same-store sales for the quarter, but operating margins also increased by 220 basis points.
Management continues its aggressive expansion with an additional 22 new stores opened in the quarter along with guidance for a full 120 to 130 new stores for this year. Since CMG has only opened 67 restaurants in the first three quarters, the company will need to nearly double this number of store openings in the fourth quarter.
Next year, the company is expected to open an additional 135-145 new restaurants which will likely increase its store count by about 12% to 13%. Officially, the company is also guiding investors to expect "low single digit comparable restaurant sales growth" during the year – which compares with expectations for high single digit growth in the current year.
The stock ramped sharply higher on the news. Investors appear to be enamored with the growth rate and confident that it can continue ad infinitum. Ironically, while analysts expect the EPS growth rate to stall from 37% in 2010 to 19% next year, investors are still willing to pay a premium PE of roughly 33 times next year's earnings.
While CMG's track record is certainly impressive, my fear is that investors are failing to discount the potential cost pressures associated with future growth. Since the company has built its reputation on "high quality ingredients," CMG has even more vulnerability to increasing food prices.
Large food chains like McDonalds Corp. (NYSE:MCD) and Starbucks Corp. (NASDAQ:SBUX) are already passing higher costs of food on to customers according to The Big Picture. As Chipotle has ramped growth, it has become increasingly difficult to find ingredients such as beef, chicken and avocados that meet management's high quality standards.
With the potential for slowing growth rates – and profit margins that could shrink unexpectedly – the current premium price for CMG makes the stock extremely vulnerable. Still, as traders we are committed to not fighting the tide, but rather respecting the price action along with the magnitude of the eventual shift in current. (click to enlarge)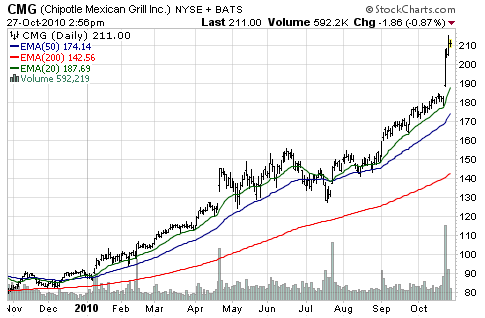 In a similar fashion, BJRI ramped higher on Friday after reporting 24% revenue growth in the third quarter along with an 83% jump in adjusted EPS. The big news for BJ's was that as the company opens new restaurants (of which four were opened in the third quarter) the revenue from these new locations has outpaced expectations.
Management has expectations for another two locations to be opened in the fourth quarter and next year BJ's will open 12 to 13 new stores. Similar to CMG, this is a growth rate near 12-13% and the positive expectations have inspired bullish traders.
We continue to make prudent investments in the very core of the BJ's concept to more solidly position our restaurants as a higher quality, more differentiated 'dining out for fun' experience with outstanding value, while keeping BJ's exceptionally approachable by all consumers. As a result of our relentless focus on quality and differentiation, coupled with steadily improving execution, blah blah blah…

Jerry Deitchle, CEO
We get it… BJ's is attempting to capture the casual dining market with proper pricing to keep margins strong, but still be available to an ailing consumer. But isn't that nearly everyone's strategy?? The danger in this industry is that too many competitors are opening new stores, capturing market share – in an industry that is almost certain to be shrinking.
Earnings for the company will likely come in at $0.80 per share – representing a quite healthy 48% growth rate over 2009. But in 2011, the exceptionally bullish analyst expectations are for a decline in the growth rate to only 23%.
Twenty three percent earnings growth is nothing to sneeze at. I'm not suggesting that this is an easy target or even that the company shouldn't be proud if it hits this goal. But I see two primary risks in this situation:
1) BJ's could fail to achieve expectations and risk serious disappointment among shareholders
2) BJ's could actually HIT the 23% growth next year, but investors could pay a "reasonable" multiple for the stock.
Even a robust multiple of 25 times next year's earnings would result in shareholders losing a full quarter of their investment! (click to enlarge)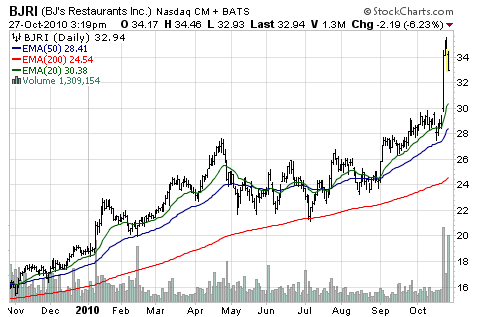 Once again, as Mercenary Traders, we're not interested in stepping in front of a train. Bullish traders have the ball right now and whether it makes sense or not, strong restaurant companies like CMG and BJRI are trading at an exorbitant premium. But eventually, fundamental valuation and price action will align, and there's a good chance that we will be able to capture some short profits on the way down.
Flies in the Soup
The ultimate reversal in these niche restaurant stocks could actually be close at hand. Yesterday's earnings reports by Panera Bread (NASDAQ:PNRA) as well as P.F. Chang's China Bistro (NASDAQ:PFCB) have been much less appetizing:
PNRA's earnings were in-line with the consensus estimates and management even increased its guidance for the fourth quarter. Revenue was 11% higher than last year and the company will make $1.15 to $1.17 in the fourth quarter. Next year, management expects to produce $4.30 to $4.35 per share which was well above analysts published expectations. Yet despite the "positive" news, the stock was down nearly 5% in late trading.
PFCB was a bit of a different story with strong Q3 earnings (up 70% over last year) but tepid guidance for the rest of the year. Management expects profit margins to take a hit (higher food costs are likely in the mix) and yet the company will still continue to expand by opening new stores. Shares of PFCB dropped more than 7% an hour before the close.
The negative reaction to these two widely followed stocks once again raises the question of which chains will win, lose, or even survive in the coming year. From a trading perspective, there are opportunities to participate on the short side in all three of these categories.
At times, the strongest names in the group (with the highest multiples and the most optimistic shareholders) will be the best short candidates. Timing is critical and it is important to be nimble as any positive data points could easily ignite the ever-hopeful bullish traders.
For weaker names in the group, the strategy is more geared toward finding decent spots to initiate short positions, and then adding to profitable trades at key inflection points along the way. Trailing stop orders should be used to keep risk clearly defined, but those stops should be loose enough to allow for fluctuations without taking us completely out of long-term profitable trades.
At this point, our job is to exercise patience and wait carefully for the best opportunity to strike. To quote William Wallace…Hold… HOLD… HOLD!!!
Disclaimer: This content is general information only, not to be taken as investment advice or invitation to buy or sell securities. As active traders, we may or may not have positions in securities mentioned. For full disclaimer click here