One important change in Apple (NASDAQ:AAPL) during the quarter worth noting is that the company is now losing market share in the U.S. PC market at a time when overall PC sales are finally picking up - at least according to IDC. The good news about the data is the IDC has historically low-balled Apple's numbers, but even Gartner shows Apple's PC shipments in the U.S. falling while the rest of the industry has grown on a year-over-year basis. That doesn't necessarily mean that total Mac sales fell during the quarter because Apple gets less than half of its total Mac sales inside the U.S. and sales have been growing faster outside of the U.S., but it does suggest there are downside risks to the consensus estimate of 3.94 million units sold during the quarter since the company sold 3.75 million units during the same quarter last year.
Of course, Apple has changed a lot over the years with Mac sales now barely exceeding 10% of total revenue and the company sells more music, software, and accessories than it does Macs. The iTunes/Software/Services and Accessories categories are expected to grow by 7% or more compared to the same period last year.
Overall, the company said last quarter it expected to report revenue of $36.0 billion to $38.0 billion with gross margins in the 37% to 38% range. Throw in other items, and this comes to earnings of 1.08 to $1.23 per share after accounting for the stock split but prior to any reduction of shares from its buyback program. The consensus estimates are at the high-end of this range with earnings of $1.22 per share on revenue of $37.8 billion.
Despite the risks to Mac estimates, Apple is still expected to beat top-line estimates. If that is to be true, a big reason has to be iPhone sales which now accounts for more than half of the company's revenue. The percentage is likely to be around 55% for the fiscal third quarter. Sherri Scribner at Deutsche Bank said she sees upside to iPhone estimates due to emerging markets and Kathryn Huberty at Morgan Stanley said their checks suggests strong iPhone demand should allow for upside to estimates. The consensus estimate is for roughly 35.5 million iPhones sold during the quarter, but whispered expectations are closer to 36.5 million. That difference, with an average selling price of $600, adds $600 million in upside to the consensus revenue estimate. iPhones, however, do not present the real upside potential to estimates…or downside risks to whispered expectations. While unit sales expectations are varied, there aren't many that view the ASP for the iPhone to be much different than $600. The iPad, on the other hand, has differing views.
Last quarter, Apple surprised to the upside due to much better-than-expected gross margins and an import piece of that upside was an increase in the iPad ASP from $440 to $465. That $25 increase was 0.9% of the company's total revenue. That might not seem like a lot, but the company had guided to gross margins of 37.0% to 38.0% and the whispered expectations were for gross margins of 38.3%, but the company beat the Earnings Whisper number by posting gross margins of 39.3%. Much of that surprise came simply from being able to charge a higher price for iPads - or $0.46 per share on a pre-split basis came from the higher ASP. This quarter, most analyst's models show iPad ASPs back near $440 while the analysts also see upside to unit sales nearing 15.0 million compared to consensus estimates of around 14.3 million.
The reason for the potential higher ASPs and margins is the improving mix of iPads from the cheaper and lower-margined mini iPads to the larger iPad Air. Steven Milunovich at UBS said their checks show Apple's product mix improved during the quarter, which he believes presents upside to consensus estimates. Alex Gauna at JMP Securities also said Apple is likely to beat on both sales and gross margins.
This brings revenue whispers to around $38.9 billion and gross margins of 38.7%, and throw in a continued decline in shares from the company's buyback program, and we get an Earnings Whisper number of $1.32 per share on a post-split basis. However, using the same expectations and an average selling price of $465 for the iPad gives us revenue of more than $39.5 billion, gross margins above 39%, and earnings of greater than $1.36 per share.
Ben Reitzes at Barclays Capital also said Apple is likely to beat estimates and Abhey Lamba at Mizuho Securities even thinks guidance for next quarter will be positive due to new product announcements.
In short, it is hard to find someone that doesn't expect Apple to beat estimates. In fact, of users of our website, we've had 311 different people give their expectations up through the weekend for Apple's June quarter results. This number will likely increase by 25% during the beginning of the week prior to Apple's earnings release on Tuesday, but so far 92% expect the company to beat estimates. As we make it clear on our website, we do not use user input for the Earnings Whisper number because, quite frankly, visitors to websites just aren't very good at predicting earnings. Visitors to our website have submitted nearly 1.5 million sentiment readings over the years, and we can tell you, at least as a whole, these people are right just roughly 50% of the time. Like all sentiment readings, the information is only useful when expectations are at an extreme and should only be used as a contrarian indicator.
For Apple, when more than 91% are bullish Apple going into the company's earnings release (which surprisingly has occurred 16 different quarters), the stock has closed lower by an average of 1.05% following the company's earnings release. On the other hand, when fewer than 91% of our users are bullish going into Apple's earnings release, the stock has closed higher by an average of 3.51% the day after earnings while closing higher more than 75% of the time.

There are technical concerns too. Shares of Apple pushed to a new high earlier in the month, but the new high came with a bearish divergence using both the 14-day Relative Strength Index (RSI) and the Moving Average Divergence/Convergence (MACD). Overall, the Earnings Whisper Score is a +3, which has shown in the past to result in a higher stock price ahead of earnings and through the release 60% of the time, but with the price move ahead of the news and the sentiment holding back the odds typically reserved for expected strong earnings beats, we'd rather be on the sidelines this quarter.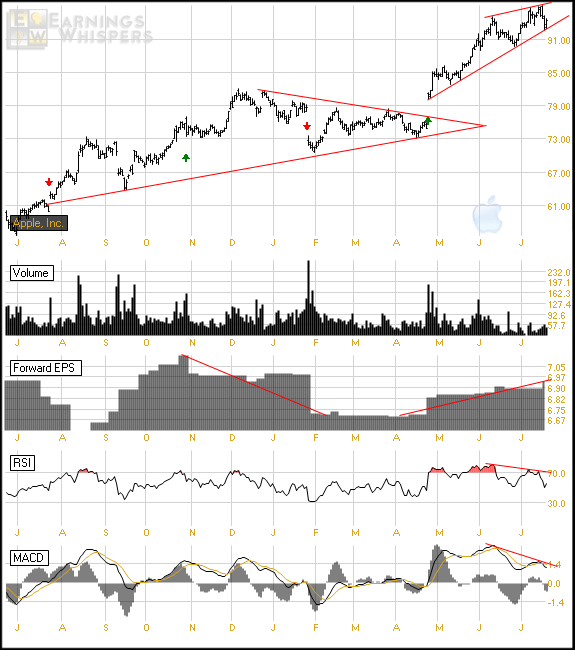 Apple is schedule to report earnings after the market closes on Tuesday, July 22, 2014.
Disclosure: The author has no positions in any stocks mentioned, and no plans to initiate any positions within the next 72 hours. The author wrote this article themselves, and it expresses their own opinions. The author is not receiving compensation for it. The author has no business relationship with any company whose stock is mentioned in this article.