Townsquare Media, LLC (Pending:TSQ), an owner and operator of radio stations in small- and mid-sized markets in the United States, plans to raise $125.0 million in its upcoming IPO.
The Greenwich, Connecticut-based firm will offer 8.3 million shares at an expected price range of $14-$16 per share. If the IPO can price at the mid-point of that range, at $15 per share, TSQ will command a market value of $394 million.
TSQ filed on June 24, 2014.
Lead Underwriters: BofA Merrill Lynch; Jefferies LLC; RBC Capital Markets, LLC
Underwriters: Guggenheim Securities, LLC; Macquarie Capital (USA) Inc.
Summary: TSQ's 312 radio stations, 325 local websites for 66 markets.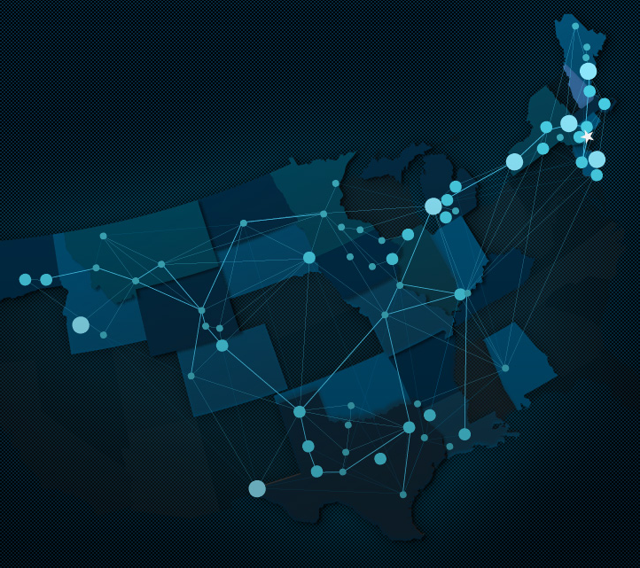 (Source)
TSQ owns and operates radio stations, as well as digital properties in small and mid-sized markets in the United States, and also supports live events in the same markets. The firm's music and entertainment websites received some 78 million unique visitors in March of 2014. TSQ offers advertisers the opportunity to connect with a larger audience than radio stations focused exclusively on larger markets, and also provides access to an audience that might otherwise be difficult to target.
The firm's properties include 312 radio station and 325 local websites for 66 markets. TSQ's radio stations boast the number one radio revenue market share in 43 of these markets, and the number two radio revenue markets share in 22 markets. The stations vary widely in their branding and content, and in many cases, have been established in their respective markets for decades, lending them cultural credence among listeners. Nielsen Fall 2013 data indicates that the firm's stations reach a weekly cumulative audience of some 11.6 million.
Approximately 86% of TSQ's revenue for calendar 2013 was generated through the sale of advertisements and sponsorship on its stations, websites, and mobile applications.
Valuation: Growing Revenues and Income
TSQ offers the following figures in its S-1 balance sheet for the three months ended March 31, 2014:
Revenue: $79,161,000.00
Net Loss: ($530,000.00)
Total Assets: $941,897,000.00
Total Liabilities: $707,737,000.00
Stockholders' Equity: $234,160,000.00
TSQ has posted growing revenues and incomes over the past two years, posting a net revenue of $222.7 million in 2012 and $268.6 million in 2013; the firm posted net incomes of $6.4 million and $10.1 million for the same periods, respectively.
Competitors On The Radio Waves
TSQ's radio stations must compete with other local and regional stations for listeners and advertisers, though TSQ is, in most cases, the best-capitalized radio firm in its target markets. TSQ's websites also face competition to attract both visitors and advertisers, though the firm's digital properties generated more monthly unique U.S. visitors than any other music-oriented digital advertising network as of March 2014. Major digital advertising competitors include MTV, owned by Viacom (VIA.B), and Q1Media.
Like other radio station owners and operators, TSQ is facing increasing pressure from other sources of music and entertainment, including cable and satellite television, satellite radio, and internet-based sources.
Management: Academic, Industry Credentials
Co-founder Steven Price serves as TSQ's chairman and CEO, and is also the co-founder and managing director of FiveWire, an entity formed for the purpose of investing in TSQ.
Mr. Price previously worked as a senior managing director at private equity firm Centerbridge Partners, and in a similar position with Spectrum Equity Investors. Mr. Price formerly served in the Pentagon as deputy assistant secretary of Defense (Spectrum, Space, and Communications). He also founded and served as president and CEO of LiveWire Ventures, and was the president and CEO of PriCellular Corporation.
Mr. Price graduated magna cum laude from Brown University, and holds a J.D. from the Columbia University School of Law.
Conclusion: Investors Should Consider Tuning In
We are neutral-to-positive on this IPO.
TSQ is a powerhouse within the small-market radio business, and has found a way to consistently reach a massive audience that, we believe, will continue to attract advertisers in the near term; though radio certainly faces pressure from other media, it shows few signs of fading.
The firm has seen growing revenues and profits in recent years, and we believe that the firm's commitment to generating large quantities of publicly available original content for its websites and stations through a dedicated marketing staff should help it to maintain its sizable audiences.
TSQ also boasts solid lead underwriters, which could further bolster TSQ through its IPO.
We invite readers wishing to join the discussion on IPOs to click the +FOLLOW button above the title of this article -- and those looking for the latest developments to click +Get real-time alerts.
Note: As a large sample of information sources does not yet exist for TSQ, we have taken much of the information for this article directly from TSQ's S-1 filing.
Disclosure: The author has no positions in any stocks mentioned, but may initiate a long position in TSQ over the next 72 hours. The author wrote this article themselves, and it expresses their own opinions. The author is not receiving compensation for it (other than from Seeking Alpha). The author has no business relationship with any company whose stock is mentioned in this article.