Apple (NASDAQ:AAPL) and International Business Machines (NYSE:IBM) announced an "exclusive partnership that teams the market leading strengths to transform enterprise mobility through a new class of business apps." This agreement was deemed a "landmark partnership" according to Apple's recent press release. It was also well received by SA contributors that focus on these companies.
However, investors need to look beyond Tim Cook's buzz words in order to realize the holes on this announced partnership. In this article I cover three of them:
1. The BYOD market needs device-agnostic mobility solutions. A product centered on iOS obviously comes up short.
2. While IBM is surely a giant when it comes to hardware and some specific software solutions for business processes, it's a newcomer in mobility management and faces an uphill battle in this industry.
3. Companies in regulated industries demand secure solutions. iOS has been anything but secure in recent years. The argument that IBM could actually improve iOS security is nothing but wishful thinking.
Remember BYOD?
Bring Your Own Device (or BYOD) is the single most relevant trend for smartphone demand for business users. Outside the corporate world, employees adopted new technologies that they deemed better than their traditional work tools. The iPhone was at the center of this trend and displaced competitors such as BlackBerry (NASDAQ:BBRY) in the corporate world, along with Android devices.
BYOD is projected to retain around two-thirds of the smartphone market for business users in the years to come, according to Strategy Analytics. Corporate-owned devices should hold their ground and still remain a lucrative, yet limited, segment in the coming years.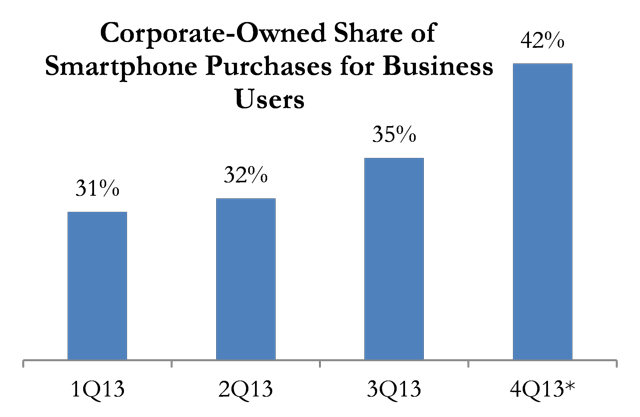 Source: Strategy Analytics. *1Q13-3Q13 figures are provided directly from the source, while 4Q13 is implied from a stated 35% share for 2013.
What is the implication of BYOD for any enterprise mobility management solution? Around two-thirds of the companies that use this service should have a mixture of different devices, including BlackBerry, iPhone, Android and Windows phones. These companies would have to favor device agnostic mobility solutions if they are to keep their BYOD policies in place.
Anyone see the problem with the announced Apple-IBM agreement? This agreement is obviously centered around iOS devices, as stated in Apple's press release. In an EMM industry that has already moved toward device agnostic platforms, I think this counts as a major issue and should hinder the adoption of Apple-IBM's joint products in at least two thirds of the market.
It doesn't even help if Apple's devices truly dominate already in the enterprise space, with a market share of 59%, according to IDC. If you were an IT guy responsible for choosing mobility management vendors for your company, and if you knew 41% of your employees have non-iOS phones, would you still pay for a non-device agnostic platform? Given that the BYOD trend is not going anywhere, for me the answer is a resounding no.
The silver lining for Apple should be gaining, or defending, market share among corporate-owned devices. However, this agreement won't help Apple much in this regard because of IBM's limited foothold in the mobility management market.
IBM's Clout in the Mobility Management Business
Options Calling noted in a recent article praising the Apple-IBM agreement that:
"Big Blue's team of over 100,000 domain and industry consultants and developers will allow for strong international demand among those companies that have been doing business with IBM for decades, but have yet to switch to signing the long-term contracts that come in the enterprise market. Apple can also leverage the fact that IBM has such a strong foothold in the enterprise market that Apple itself will not have to allocate assets to build a large enterprise sales team, lowering costs without giving up selling potential."
This guy is right about IBM having a strong foothold in the enterprise market. IBM's hardware dominates in its segment as well as its tailored software for business solutions. It is also doing some exciting things in big data analytics, with Watson computer. However, there is one problem with Options Calling's statement: IBM is a new player in device mobility management.
For a company that is continuously praised as one of the most innovative in the world, IBM so blatantly ignored mobility management that it just begun creating specific products for this segment in 2013. IBM just recently ventured into mobility management with the recent launch of MobileFirst and the acquisition of Fiberlink in November 2013.
In Mobile Device Management, IBM's Fiberlink is even smaller than start-ups like Mobile Iron (NASDAQ:MOBL) and Good Technology, let alone BlackBerry. In its 10-K for the year ended in 2013, IBM disclosed that it had helped "more than 1,000 clients become more mobile enterprises." That pales in comparison with MOBL's 6,000 and Good Technology's 5,000.
For more evidence, it is simple enough to compare the company's MD&As for 2012 and 2013. In 2012, the word "mobile" appears only 6 times in this document, while only one year later it appears 90 times. Don't get me wrong, it's positive for IBM investors that this company has finally woken up under Ginni Rometty and begun focusing on the high-growing mobile management segment. However, the company starts with a serious handicap given that some competitors have been around for years.
Security: The Single Greatest Obstacle for iOS Devices
iOS security loop-holes appear to be an everyday ordeal. Just three months ago, security expert Andreas Kurtz noted that anyone in possession of your iPhone could easily access documents sent to your e-mail, just to cite one example. Given that security should be a high priority for companies that operate in regulated businesses, Apple has yet to penetrate this market buffing up its security offering.
I'm not so sure exactly how SA contributor J. M. Manness expects that "by working together (Apple and IBM), particularly on security, they will generate a very strong hold on the enterprise market, which will severely disadvantage all other players."
Apple, one of the biggest and most powerful companies in the world, has been unable to credibly fix the recurring security glitches on its own devices and ecosystems for years. Why should IBM succeed where Apple has repeatedly failed is beyond me.
Silver Lining: Big Data Analytics
Arguably, one of the most exciting initiatives at IBM is enabling the commercial applications of Big Data analytics for customers. IBM's solutions should appeal to companies seeking to understand their customers and continuously improve their products, as well as helping businesses optimize everyday processes.
Tim Cook noted on Apple's press release regarding the agreement with IBM that "for the first time ever we're putting IBM's renowned big data analytics at iOS users' fingertips, which opens up a large market opportunity for Apple. This is a radical step for enterprise and something that only Apple and IBM can deliver." However, solutions that are not agnostic to any platform should experience serious obstacles in widespread adoption. In the end, IBM will realize that it makes more sense to provide Big Data analytics for any device, and more importantly, that it doesn't really need Apple's help on this one.
Conclusion
Where most SA contributors, who have recently written about this topic, see a win-win "landmark" deal, I see severe obstacles.
While this is only a small part of Apple's growth strategy in the upcoming years, it seems to me like IBM really needs this one given its abysmal top-line growth in recent quarters. Unfortunately for IBM, this deal isn't the solution to its growth problems.
Disclosure: The author is long BBRY. The author wrote this article themselves, and it expresses their own opinions. The author is not receiving compensation for it (other than from Seeking Alpha). The author has no business relationship with any company whose stock is mentioned in this article.