The market in the short term is a popularity contest, which can push the prices of the new "it" companies to unsustainable highs only to see them come crashing down once expectations fizzle. I prefer to invest with a longer term horizon, looking for the companies that can perform well over a multitude of business cycles. Once these stellar companies have been identified, I patiently wait for the market to have a "fit" and mark the shares down lower than they should. At that point, the patient long term investor has a distinct advantage over the institutional investors who are slaves to their short term performance goals. I believe we are seeing the exact opportunity today unfolding in the shares of McDonald's Corp (NYSE:MCD). In the article below, I will detail the investment case for MCD along with a discussion on the merits of holding the shares as a bond substitute.
MCD today reported their second quarter earnings which missed analyst consensus. Revenues were up 1% as the worldwide restaurant category continues to suffer from a lack of wage growth of its customers. The US segment showed a 1% decrease in same store sales while the European division showed a 1% increase. The best performing division was the Asia/Pacific, Middle East and Africa (APMEA) which showed a 1.1% bump in sales with particular strength in China offsetting pronounced weakness in Japan. As we can see from the sales numbers, sales are relatively sluggish throughout the world. I suspect this is due to the lack of meaningful worldwide wage growth over the past couple of years. As we can see from the table below, sales have been sluggish the past three years which helps support my sluggish wage growth thesis. I suspect the trend will persist for a bit longer which will cause the shares of MCD to trade in a relatively tight range.
| | | | |
| --- | --- | --- | --- |
| Year | 2011 | 2012 | 2013 |
| Revenue in millions | 27,006 | 27,567 | 28,106 |
| Earnings per share | 5.27 | 5.36 | 5.55 |
| Dividends per share | 2.53 | 2.87 | 3.12 |
| Shares outstanding | 1021.4 million | 1002.7 | 990.4 |
| Share high | 101 | 102.2 | 103.7 |
| Share low | 72.1 | 83.3 | 89.3 |
The shares have been range bound this year, with the highs for the year of 103.8 followed by the low of 92.2. I suspect we have seen the highs for the year with the greater risk of us revisiting the lows. The shares are indicated to open in the low 95's range when trading begins on Tuesday off the back of MCD disappointing profit report. Not exactly the most appealing short term picture, yet the longer term outlook is far more appealing.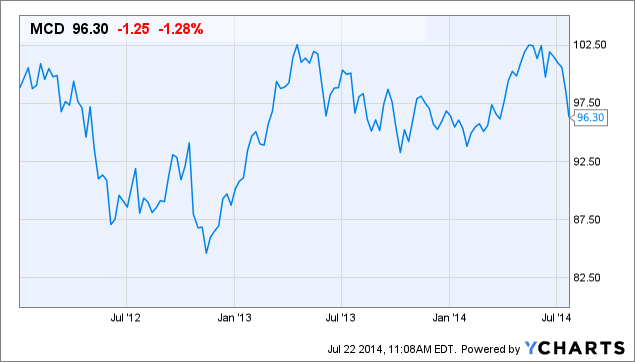 MCD data by YCharts
MCD recently announced a new 3 year cash return proposal which I found to be quite interesting. The proposal will return $20 billion to shareholders over the next three years through a combination of share reductions and dividends. The plan would therefore return roughly 21% of MCD current market cap to investors. The following are some key excerpts from the press release that I thought were particularly appealing.
Return $18 to $20 billion to shareholders between 2014 and 2016 through a combination of dividends and share repurchases, representing a 10% to 20% increase over the amount of cash returned between 2011 and 2013;
Refranchise at least 1,500 restaurants by the end of 2016, primarily in Asia/Pacific, Middle East and Africa (APMEA) and Europe, reflecting a more than 50% increase in refranchising activity compared with the prior three-year period; and
Analyze G&A spending with the primary intent of reallocating resources to higher return initiatives and growth areas, including development of the Company's global digital capabilities.
"The actions we are taking to enhance long-term shareholder value fit squarely within our proven business model," said Senior Executive Vice President and Chief Financial Officer Pete Bensen. "Our 3-year cash return target is based on several activities including the significant free cash flow generated from our operations, as well as the use of cash proceeds from our debt additions and refranchising activity. Financial discipline has always been a cornerstone of McDonald's strategic plan, and we will pursue these activities while maintaining appropriate levels of financial flexibility, liquidity and access to capital for the Company and the System. Our commitment to this discipline continues to fortify our long-standing financial strength and our ability to deliver sustained profitable growth."
Let's examine the implications of this announcement from the perspective of dividend hikes going forward. MCD has grown dividends by an annual rate of 15.5% over the past five years for a net payout ratio of 57%. I don't expect this rate to continue, instead I anticipate the rates will grown by roughly half the past rate which translates to 8%. That translates to a yield of 4.78% based on a share price of 96 per share today. A comparable 10 year US treasury bond yields roughly 2.5% without the potential of annual interest hikes. I view MCD as a suitable bond substitute for two reasons. The first reason is the yield is well above what a treasury bond with the potential for annual hikes. The second reason is I view the business as very stable and virtually recession proof. MCD tends to own the majority of the real estate the restaurants are located on. The value of the real estate is held on their balance sheet for far less than it would fetch on the open market which adds to the appeal of the shares. Management has indicated in the past they have no desire to pursue a sale/leaseback option which is a similar to the strategy Red Lobster recently transacted.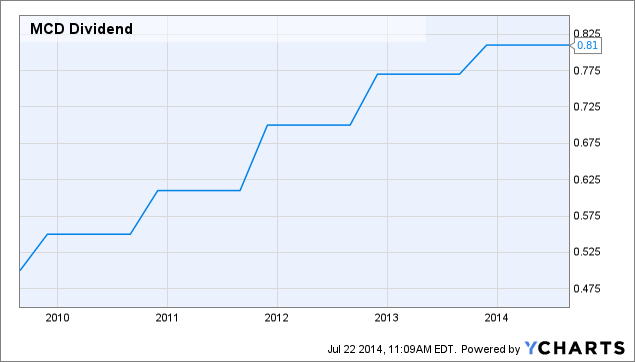 MCD Dividend data by YCharts
I dub MCD as recession proof for the following reason. Sales dipped a bit with the worldwide recession of 2008, yet earnings and dividends continued to rise. As we can see from the chart below, the small dip in sales in 2008 quickly rebounded in 2009. One of the keys to the constant increase in earnings revolves around MCD methodical shrinking of its shares outstanding.
| | | | |
| --- | --- | --- | --- |
| Year | 2008 | 2009 | 2010 |
| Sales in millions | 23,522 | 22,745 | 24,075 |
| Earnings per share | 3.67 | 3.98 | 4.60 |
| Dividends per share | 1.63 | 2.05 | 2.26 |
| Shares outstanding | 1,115.3 million | 1,076.7 | 1,053.6 |
This brings us back to the second key portion of the cash return plan which is the increase in the amount of shares repurchased. Periodically, all great business's fall into a rut as their core market suffers from sluggish growth. The great one's use this opportunity to better position themselves for the inevitable rebound in their fortunes. I believe MCD is doing exactly this by aggressively repurchasing their shares at this time. MCD is on track to return approximately $5 billion to shareholders in 2014 through a combination of share repurchases and dividends. Dividends payments are approximately $3.2 billion with the rest earmarked for share reductions. The company would be earmarking an additional $1 billion to shareholder returns which would be best served in my opinion at this time to reduce the shares outstanding. By aggressively reducing the share count, when the inevitably rebound in the industry comes the earnings growth will be more pronounced which will lead to a higher P/E ration than the current 16 the shares are trading for.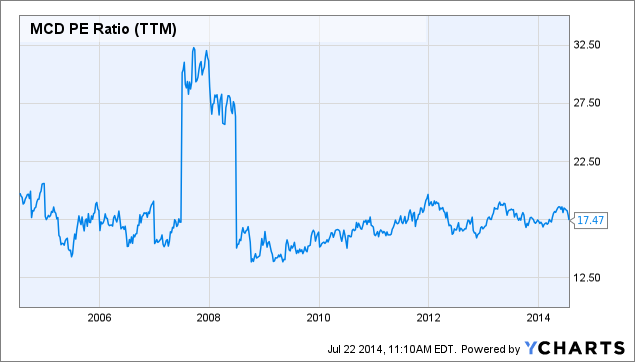 MCD PE Ratio (TTM) data by YCharts
What type of return could an investor reasonably expect to generate by holdings the shares of MCD over the next three years? Using the sluggish earnings growth generated over the 2010-20143 time frames as a reference, earnings grew at a 6.3% CAGR. Applying the same rate to 2013 earnings of 2013 and projecting out to 2017 nets us earnings per share rate of $7.09. Applying the 16 multiple nets out a share price of roughly $113. An investor would generate an additional $10 in dividends which could be used to repurchase additional shares. The income seeking investor would receive a return well above what bond rates are with a capital gain on principle. The growth and income seeking investor would generate a return of roughly 30% over this time frame. It is difficult to accurately model the effect or reinvesting the dividend, yet I highly suspect the overall gain will be higher than I stated at the end of this period.
The risks to my thesis are the continued sluggish wage growth persists longer than expected which hampers MCD ability to grow sales. If sales continue to flat line, the company may be forced to explore other avenues to generate growth such as purchasing other restaurant concepts. Keep in mind, Chipotle Mexican Grill (NYSE:CMG) was owned and nurtured on by MCD, before it became the success it is today. MCD may decide to go down this path again which proved to be distracting and led to the ultimate spin-off of CMG and other concepts.
In conclusion, I find the share of MCD a low risk dividend growth play with a chance for significant capital gains. I have initiated a position at $95 per share and will look to add to my position on any weakness throughout the year. I anticipate holding the share for at minimum the next there years while reinvesting the dividends. I tend to balance my holdings between income holdings and equities held for capital gains. I use shares in companies such as MCD as bond substitutes as the interest rates offered currently are simply unappealing. For the a look at my overall portfolio, feel free to view the following link. I would like to thank you for reading and look forward to your comments.
Disclosure: The author is long MCD. The author wrote this article themselves, and it expresses their own opinions. The author is not receiving compensation for it (other than from Seeking Alpha). The author has no business relationship with any company whose stock is mentioned in this article. Investors are always reminded that before making any investment, you should do your own proper due diligence on any name directly or indirectly mentioned in this article. Investors should also consider seeking advice from a broker or financial adviser before making any investment decisions. Any material in this article should be considered general information, and not relied on as a formal investment recommendation.