I have been very negative on 450mm diameter semiconductor wafer manufacturing, and have verbalized my analyses during two keynote presentations I gave at Semicon conferences in 2010 and 2012. My contention is that increasing wafer sizes is good for semiconductor manufacturers, but bad for semiconductor equipment manufacturers.
Late in 2013 ASML (NASDAQ:ASML), the dominant leader in lithography equipment, announced it was delaying work on porting its equipment to handle 450mm wafers, instead focusing on development of EUV equipment on 300mm wafers. So why, if the delay in 450mm wafers is good for equipment, should Applied Materials (NASDAQ:AMAT) be the biggest loser? To understand, we need to go back to 1996, because this is not the first time that ASML refused to port its equipment to the next wafer size.
Back in 1996, the semiconductor industry was humming along making chips on 200mm wafers. Intel (NASDAQ:INTC) and other semiconductor manufacturers began a push for 300mm development, since they could make 2.25 times more chips on each wafer. In the past, the semiconductor manufacturers championed the transition, funding much of the development costs.
For the 300mm transition, that was not the case. Instead, Applied Materials took it upon itself in mid-1996 to foster conversion to 300mm by internally funding development of a full suite of 300mm tools at 0.25 microns. However, they forgot that they had no lithography tool. (Later in 2000 AMAT purchased Etec for $1.2 billion in the hope of being an electron beam lithography manufacturer, but that proved to be a big mistake.)
Lithography vendors ASML and Nikon chose to focus on 193nm instead, spending R&D money on DUV on 200mm wafers at 0.25 microns and didn't want to spend more money on a 300mm platform at the same time. 300mm development cost $25 billion because there were actually two development peaks - in 1997 and 2000 because of the delays.
The result, AMAT and TEL had $1.2B in 300mm inventory that would be scrapped due to postponements and subsequent redesigns. These were developed for 0.25 micron production, and by the time 300mm wafers went into production, chips were made at smaller feature sizes, primarily 0.13 microns (130nm).
We estimate that AMAT lost $444 million in the 1997-1999 period in the first development peak and $1.21 billion on the second peak. This is just research, development and engineering (RD&E) cost loses, and does not include the above-mentioned inventory it had to eat. The chart below shows RD&E expenses as a percentage of net sales from 1996 to 2013, showing the peaks in expenses for 300mm and 450mm equipment.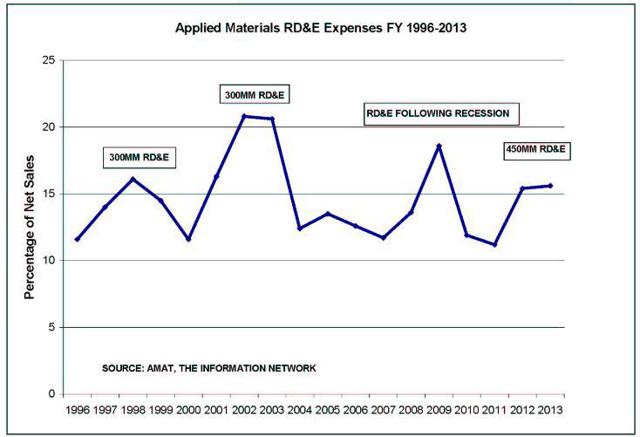 In 2014, we see a repeat of the same scenario. We estimate that AMAT spent $572 million on RD&E costs in fiscal years 2012 and 2013, which finish at the end of October. We also estimate that AMAT has $1.2 billion in inventory based on being production worthy at 28nm and 14nm and therefore obsolete, as 450mm won't happen until 2018, according to TSMC (TSMC), and the technology node at that time will be at 10nm and 7nm.
Finally, AMAT is the biggest loser in new equipment sales pushed out on 450mm wafers. AMAT, along with TEL, has the largest arsenal of different types of semiconductor equipment (except lithography). Semiconductor manufacturers, although they purchase "best of breed," will try to purchase equipment from one manufacturer because of commonality of platforms and interfaces. They also get a break on costs. When copper entered production several years ago as interconnect materials, AMAT offered the complete suite of tools for copper production. Lam Research (NASDAQ:LRCX) had to partner with Novellus for deposition equipment. AMAT was able to offer a large discount to manufacturers to get their business.
Lost sales in 450mm will enable competing companies, such as LRCX, KLA-Tencor (NASDAQ:KLAC), and ASM International (NASDAQ:ASMI) to gain further market share they had been gaining on AMAT for the past few years in metrology/inspection, etch, and deposition.
Disclosure: The author has no positions in any stocks mentioned, and no plans to initiate any positions within the next 72 hours. The author wrote this article themselves, and it expresses their own opinions. The author is not receiving compensation for it (other than from Seeking Alpha). The author has no business relationship with any company whose stock is mentioned in this article.