How Iraq crisis impacts Western oil companies
As the Islamic State of Iraq and Syria "ISIS" now known as the Islamic State (IS) strengthens its presence in Syria, major oil shareholders like ExxonMobil (NYSE:XOM), BP, and Occidental Petroleum (NYSE:OXY) are ostensibly breathing a collective sigh of relief, as the trio's operations located to Iraq's south continue to stay away from IS's militant maneuvers. The question now becomes, how long will it be before the IS has these oil companies' earnings and credit ratings under its gun?
Moody's Reassurance
Iraq's oil reserves are 141 billion barrels and its oil production is around 3 million barrels per day according to Moody's Investors Service. Northern Iraq accounts for around 15% of the overall oil production of the country. Even so, Moody's believes that the trio of Western oil companies are safe regardless of the IS taking over the south of Iraq, primarily because Iraq accounts for a fraction of these oil companies' production. Experts believe that even if the oil production from Iraq does get disrupted owing to the IS, the initial crude price hike would actually benefit these companies, who would be able to generate more revenue through their sales.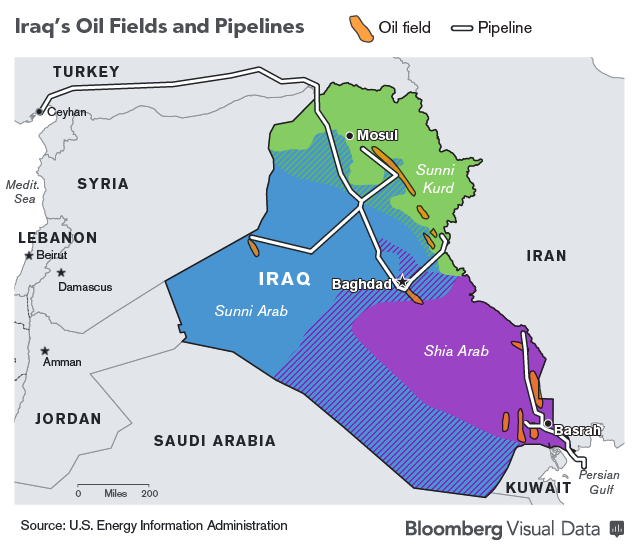 Courtesy: Bloomberg
IS's Impact
Exxon's operations are primarily in the West Qurna oil field, with the Kurdistan region also coming under its interests. BP has most of its interest (38%) in the Rumaila oilfield that was responsible for the addition of 39,000 barrels per day to BP's production. Meanwhile, Zubair field contributed 17,000 barrels to Occidental's production last year.
According to Morningstar Iraq accounts for 1.8% of Exxon's, 1.9% of BP's and 2.2% of Occidental's oil production, which at the end of the day is minimal in the grander scheme of things. The impact is further minimized when one factors in that oil companies contracts with Iraq's oil ministry which limits their remuneration to a few dollars for every barrel, following cost recovery. Hence, the impact on the earnings would be even lesser than the effect on the oil production, in the unlikely event that IS takes over the southern oil fields as well.
Some oil majors operating in Southern Iraq have chosen to airlift employees out of the region to avoid possible confrontation with ISIS. According to RT.com, Exxon Mobil has already pulled 20% of its operations staff out of the West Qurna 1 field in the south and BP has ordered all "non-essential" staff to leave the country's Rumaila field. Royal Dutch Shell (RDS), arguably has been the largest foreign contributor to getting Iraq's oil production back up to speed, has yet to pull staff out of the country as the company continues to produce at the Majnoon oil field, which the company has sunk over $1 billion into. Even China's China National Offshore Oil Corp. (CNOOC) has stated they will pull out of the country immediately once Baghdad comes under siege. ENI (NYSE:E), Schlumberger (NYSE:SLB), and Baker Hughes (NYSE:BHI) are all reportedly weighing exiting the country as well.
Long-term Ramifications
IS's militancy over the past month or so has resulted in a 0.6 million barrel per day reduction in oil production. According to Moody's various international companies have shut up shop. However, the likes of Exxon, BP and Occidental are a different kettle of fish altogether. Even so, if violence continues and Iraq's security situation continues to deteriorate, even this trio might be forced into adding a resounding exclamation mark to the exodus of oil companies from the Levant. Occidental especially, which has a 40% share in its assets in the Middle East/North Africa (MENA) including its operations in Iraq.
Moody's has highlighted potential regime change as another cause for concern for these oil companies, since that would mean that all current contracts would become null and void. Should IS's 'caliphate dream' spread in the region, oil companies would have to rush out.
Even so, the general consensus is that the situation would not get that far and the major oil companies would be able to ride the IS's storm. At the very least the big oil companies should be able to lead the queue of companies resuming operation in the region, once the IS packs up its bags.
Investor Apprehension
The lesson for the investors from the Iraq crisis is simple: the ongoing turmoil is positive for the revenues of XOM, BP and OXY. These revenues should continue to rise as Iraqi oil production decreases and crude prices rise precipitously. While long-term apprehension is understandable, but even in the worst case scenario, these companies' revenue is not going to get a major hit even if there is mass exodus of oil companies from Iraq. There definitely is a genuine concern of IS's caliphate dream spilling over in the rest of the Middle East. However, until its maneuvers are restricted to the north of Iraq, with only Syria in its sight for the time being, it's time to cash in on the crude price hike and retain or add to ones equity position.
Disclosure: The author has no positions in any stocks mentioned, and no plans to initiate any positions within the next 72 hours. The author wrote this article themselves, and it expresses their own opinions. The author is not receiving compensation for it (other than from Seeking Alpha). The author has no business relationship with any company whose stock is mentioned in this article.