On Tuesday, July 8, Seeking Alpha published the following piece of news through its "Breaking News" service: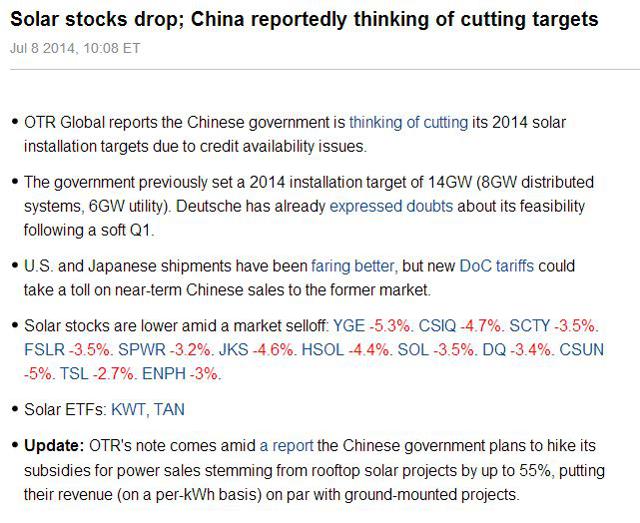 I have previously mentioned that the solar industry news sources need to be double-checked. Therefore, I decided to dig further into this particular news piece to see whether it had any basis. Note that the update at the bottom of the news piece was added several hours after it was published.
The link in the above news piece got me to the following Twitter page: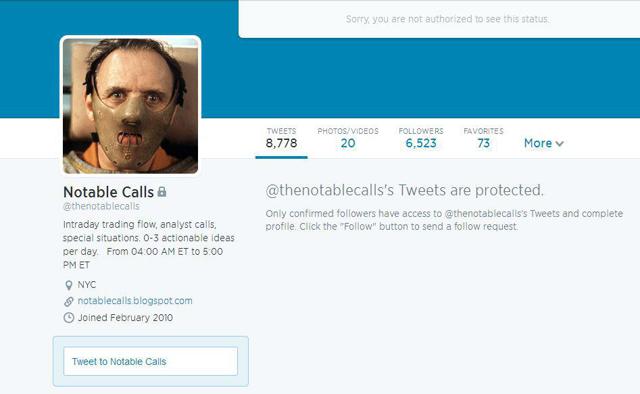 My efforts to obtain access to Notable Calls tweets were not fruitful. The blog that is linked to the Notable Calls Twitter account has not been updated in the past 15 months. Therefore, it's safe to say that Notable Calls has nothing to do with OTR Global Reports, and that the Twitter account probably quoted a news piece by OTR.
OTR is a well-respected research firm; however, there is no way to actually find the alleged report on their website. Nonetheless, I'll assume that the report is legit.
Next, I'll do some fact gathering and then attempt to connect the dots to determine the big picture in the industry going forward.
Fact 1: In March 2014, the NDRC Set a 70 GW Target By 2017
The NDRC is the National Development and Reform Commission, a Chinese government agency. In March, it was reported that the NDRC had set a target to reach a level of 70 GW of cumulative solar installations by 2017. This is up from 35 GW by 2015, and implies an accelerated rate of installations in China in the next three years.
Fact 2: IHS Project Tracker
IHS is a leading research firm with multiple regular reports that track certain metrics of the solar industry. In addition, it also occasionally announces its guidance. The firm increased its 2014 global installation target two times in the past 3 months. In a report released in early April, IHS reported that China will install 12.8 GW this year.
On May 30, an IHS report mentioned 13.1 GW of installations in China this year, with 70% of them occurring in the second half of this year. That was published just a month before 2H 2014 began, and I find it very unlikely that the project-by-project analysis by IHS is overly optimistic.
IHS has said that it expects a new policy to accelerate the rooftop solar market in China to be declared as early as July. They were spot-on.
Fact 3: New Policy is Discussed
At the same time as the Seeking Alpha news release, another report by South China Morning Post quoted the chief project officer of United Photovoltaics Group, a big project developer in China. According to this report:
"Beijing plans to increase the subsidy on power sales by rooftop solar farm developers to state-owned power distributors by up to 55 per cent, and compel the latter to act as an agent for collecting power bills if the developers directly sell to local customers."
The executive went on to say: "The top energy and financial authorities have agreed to the plan, but we are still waiting for the policy documents which are expected to come out soon." According to the executive, the new policy will offer rooftop solar system owners a price of 0.9-1 RMB (about $0.16), which will match the price large solar project owners are getting in China.
This comes about four weeks after the Chinese government announced a policy to ease the tax process faced by rooftop solar system owners.
Fact 4: Industry Supply Chain Checks Show Positive Signs
On July 9, Trina Solar (NYSE:TSL) announced an unusually large single order. The Chinese producer signed a deal to supply 200 MW by the end of 2014 to a solar project developer in China. In the press release, Trina's module business unit president said:
"We are thrilled to win this order with premium price and be the key module supplier for Zonergy in 2014… This record order is by far the largest single order Trina has been awarded this year and I thank the entire Trina sales team's diligent work and commitment to success. Our ability to win large orders like this is a testimony to Trina Solar's leading position in the flourishing solar market in China. Zonergy has an extensive pipeline of downstream projects this year, and we welcome the opportunity to partner with Zonergy team to support their rapidly-growing roster of solar projects. (Zhiguo Zhu, Module Business Unit President of Trina Solar)"
Shunfeng Photovoltaics, one of China's largest solar project developers and the new owner of the bankrupt Suntech manufacturing assets, had announced in late May that it was going to partner with a German company to develop 900 MW in the U.K. by the end of 2015.
Shunfeng is also planning a huge capital raise of $774M to support additional solar project developments.
According to an industry source I talked with recently, the downstream market in China looks very strong toward the second half of this year and thereafter.
Fact 5: China Establishes a First-of-its-Kind Chinese PV Association
A couple of weeks ago, probably in response to the proposed tariffs on Chinese solar modules by the U.S., 149 solar companies joined to found the China Photovoltaic Industry Association (CPIA), and they appointed Trina Solar's CEO as its first president.
According to the press release announcing the new association:
"CPIA aims to represent Chinese PV enterprises in order to promote the establishment of a free and fair trade environment globally for Chinese PV enterprises and to strengthen communications with global solar enterprises."
The CPIA also announced that it will work closely with both its American (SEIA) and European (EPIA) counterparts to solve trade issues.
Fact 6: China, the EU, and the U.S. Sit Down To Talk Tariffs
Just two weeks after the CPIA announcement, it was announced that 14 governments, including China, the EU, and the U.S., had opened talks to end trade tariffs on "Environmental Goods." The trade value of the goods between these 14 governments is $1T. Fifty-four products were discussed in those talks (including PV modules and PV cells).
Michael Froman, the U.S. Trade Representative, commented:
"By eliminating tariffs on the technologies we all need to protect our environment, we can make environmental goods cheaper and more accessible for everyone, making essential progress toward our environmental protection and trade policy goals."
This comes barely a month after the U.S. Department of Commerce announced that it plans to impose tariffs on Chinese solar modules. I believe this shows the intense pressure from all sides to promote free trade, and end all solar trade wars with the understanding that it will be the best possible result for all countries involved.
In addition to the above, it is worth noting that China and the U.K. had already announced a series of trade deals, which have already resulted in a pipeline of 400 MW worth of projects that a Chinese module manufacturer and a British project installer are co-developing in the U.K.
On July 14, the World Trade Organization announced that the U.S. had violated trade rules by imposing tariffs on Chinese solar modules. I expect that to give an additional push for the two governments to set things straight.
Fact 7: The Rest of the World Shows Strong Demand
In the past few weeks, we have heard positive news from many countries around the world.
The U.K. installed more solar in the first half of 2014 than all of 2013's installations altogether.
India is moving forward with very large plans to develop more than 7.5 GW of projects in two of its northern states. Considering the fact that 7.5 GW is 7.5 years' worth of Indian demand at current rates, this is huge news.
IHS had increased its forecast of Brazil solar installations to become a GW scale market, which means more than 1,000 MW of annual installations by 2018. This increase comes ahead of an auction for PV projects to be held in October 2014 by the Brazilian regulatory agencies.
Fact 8: Is Wall Street Changing Its Mind?
In the past few months, both Credit Suisse analysts and Deutsche Bank analysts have been bearish on the solar industry. In the past few weeks, Credit Suisse released a report saying that they are turning bullish on the industry. Credit Suisse analysts are expecting installations in China to reach 16 GW in 2015 and 18 GW in 2016.
Deutsche Bank analyst, Vishal Shah, who over the past months has been more bearish on the industry than Credit Suisse, said:
"We are becoming increasingly constructive on the solar sector as we expect further tightening of the solar supply/demand balance and expect increased investor interest driving valuation multiple expansion."
It appears that the Wall Street guys are slowly changing their minds. As I have said many times in the past, one of Wall Street's greatest weaknesses is the time it takes them to change their mind and act upon it. I believe that both analysts show that the sentiment is changing, and when sentiment + fundamentals are both positive and valuations are depressed, we can expect a tremendous upside in stock prices to follow.
Conclusion: Putting It Together
First, the Chinese solar market looks very strong going into the second half of this year. Cross-checking multiple sources shows that installations are about to surge in 2H 2014 from 1H 2014.
Second, just a short time after the well-reported U.S. tariffs, substantial progress is being made toward solving these issues. I believe that these issues will be solved within the next year or so.
Third, China installing 1 GW more or less is not going to change the grand scheme of things in the industry. Demand is growing rapidly all around the world, and plenty of evidence shows that.
I believe that investors should look at the bigger picture and not pay too much attention to one, un-based news piece. Connecting the dots between recent months' developments in the solar industry shows a very strong picture that is going to benefit solar companies tremendously.
The Wall Street guys' recent notes show that they are starting to notice the story. This is the time to pick the winners of this story. I invite you to join me to learn more on SolarStockIdeas.
Disclosure: The author has no positions in any stocks mentioned, and no plans to initiate any positions within the next 72 hours. The author wrote this article themselves, and it expresses their own opinions. The author is not receiving compensation for it. The author has no business relationship with any company whose stock is mentioned in this article.