Microsoft (NASDAQ:MSFT) earnings come out tonight, and the street will be alert to the trend. The stock has had a solid bull run over the past year, up over 40% from about $31 to the current level of $44 or so.
CEO Satya Nadella has started to put his stamp on the company, and has a vision of Microsoft that is targeted at the Cloud and Mobile, two burgeoning markets where Microsoft must be relevant for the future. Microsoft is a strong player in the Cloud, with Azure, One Drive and Microsoft Dynamics offerings leading the way. Office 365 is becoming the standard for productivity, and the switch to a subscription model both increases revenues and reduces costs, so this area should show sustained profit growth.
The quarter is likely to be noisy, with two factors at work. First, the Nokia acquisition will be recorded, and the accounting for an acquisition is sometimes pretty murky. Second, the recently announced job cuts of 18,000 personnel may result in a pretty sizeable accrual, if booked in the June period.
Leaving those aside, I am looking at a pretty solid result, with revenues for the quarter of $23 billion and net income of $0.66 per share, a few cents better than the street consensus of $0.60 per share.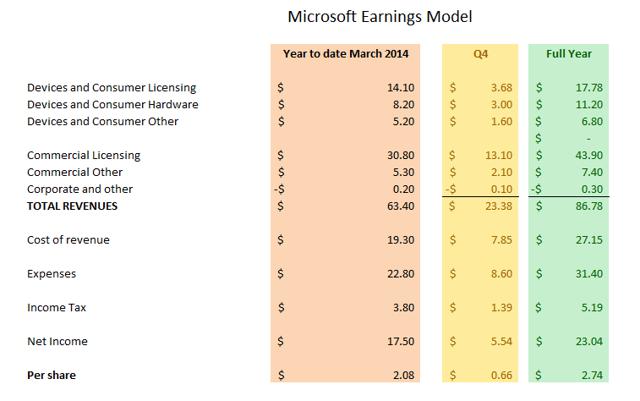 Click to enlarge
Other than a "beat the street" quarter, I am looking for guidance to reflect how Microsoft plans to expand its Cloud business and further integrate all units to be more Cloud-based; how much progress Microsoft is making in turning its Office business into a subscription model; and, what plans Satya Nadella has to for the handset and tablet business to become a profit generator.
The cut of 18,000 jobs should make fiscal 2015 even more profitable if revenues do not suffer, giving Microsoft a decent shot at income north of $3.00 a share next year.
I am neutral on the stock right now and hold no position. Longer term, I remain bullish.
Disclosure: The author has no positions in any stocks mentioned, and no plans to initiate any positions within the next 72 hours. The author wrote this article themselves, and it expresses their own opinions. The author is not receiving compensation for it (other than from Seeking Alpha). The author has no business relationship with any company whose stock is mentioned in this article.