As we look around the commodity space we have taken notice of the winning streak that oil has had. After briefly falling below the all important $100/barrel price level the recent rally has taken prices north of $104/barrel. The market is understandably worried about the news coming out of Eastern Ukraine and the Middle East, with Israel having put ground troops in Gaza as they go on the offensive and ISIS now demanding that Christians convert to Islam in the areas of Iraq they recently took control of (most notably Mosul). We are keeping an eye upon the situation, but thus far this is a physical commodities story and not one having much of an impact upon the equities.
Chart of the Day:
The market found support and now we are moving higher on the back of geopolitical events. The spread between WTI Crude (which is the chart below) and Brent Crude has fallen to roughly $3/barrel so once some of the "hot spots" cool off we would expect to see WTI underperform relative to Brent.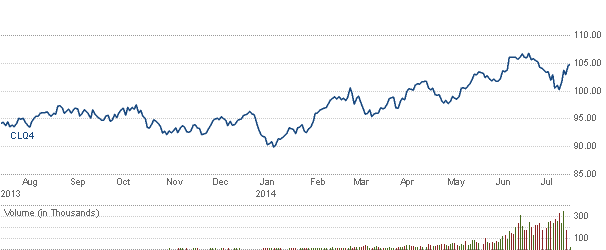 Source: CNBC
Commodity prices are as follows (at time of submission):
Gold: $1,309.10/ounce, down by $4.10/ounce
Silver: $21.10/ounce, up by $0.088/ounce
Oil: $104.77/barrel, up by $0.18/barrel
RBOB Gas: $2.8926/gallon, up by $0.0012/gallon
Natural Gas: $3.805/MMbtu, down by $0.044/MMbtu
Copper: $3.21/pound, up by $0.011/pound
Platinum: $1,491.90/ounce, down by $1.50/ounce
Jana Strikes Again
Jana Partners has made another move into the oil patch after disclosing that they had taken a stake in Apache (NYSE:APA) valued at more than $1 billion. The activist investor is pushing for the company to divest itself of its international assets in order to focus domestically. Investors have bid the shares higher this morning, but we think exercising caution here would be prudent because Apache management has already begun a process to minimize their international exposure.
This is probably a position which will not see Jana Partners take on a hostile stance towards the management team, but rather become a partner in the process and help provide insight into maximizing shareholder value throughout the process.
Fuel Cell Names Continue To Rise
Plug Power (NASDAQ:PLUG), Ballard Power Systems (NASDAQ:BLDP) and FuelCell (NASDAQ:FCEL) have all displayed strength lately as the fuel cell names continue to rally. Up until today the strength has been the result of a short squeeze with many of these names having large short positions built up, some as large as 30% of shares outstanding. Today we are seeing a follow-through of recent strength as General Electric (NYSE:GE) announced that it would be constructing a fuel cell plant, pushing the entire sector higher beginning in the morning.
We said that even though we did not want to take a position in Plug Power we could see it rallying higher if it could break through the $5/share resistance. It did, and the momentum traders have used that bullish move to punish the shorts.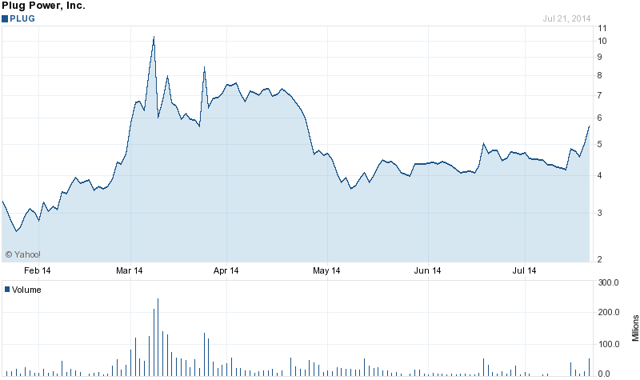 Source: Yahoo Finance
General Electric says that it has a breakthrough and will use the plant to begin putting its technology to work. Not too much is known about the company's efforts as this is a unit the company grew internally and operates separately. What we do know is that the process uses natural gas and a cell called a solid oxide fuel cell.
The other news out today is that FuelCell received a grant from Germany in the amount of 5 million euros (roughly $6.7 million) to fund research that will make fuel cells more efficient.
Disclosure: The author has no positions in any stocks mentioned, and no plans to initiate any positions within the next 72 hours. The author wrote this article themselves, and it expresses their own opinions. The author is not receiving compensation for it (other than from Seeking Alpha). The author has no business relationship with any company whose stock is mentioned in this article.