Yesterday, Chipotle Mexican Grill (NYSE:CMG) reported unbelievable earnings and has been the star performer, during this earnings season. However, the market has stretched this positive release a bit too far, and the stock has traded ahead of its business fundamentals. Stocks with patently optimistic outlooks priced into the share price invariably must continue to outperform or will face a harsh pullback. Avoiding situations where quixotic scenarios must materialize, to justify its trading level, is an investing precept that should be followed.
Quarterly Results
By nearly any measure, CMG reported exceptional quarterly results. Revenue was reported at $1.05 billion, topping analyst estimates of $989 million and earnings per share handily beat consensus of $3.09, coming in at $3.50. On a year/year basis, revenue grew an astonishing 28.6%. The outperformance was driven by comparable-store sales rising 17.3% compared to a 10.5% estimate by analysts. This quarter marked the second best comparable store sales improvement since its first quarter as a publicly traded company in 2006. Moreover, during the quarter, CMG opened 45 new restaurants which brings the total to 1,681.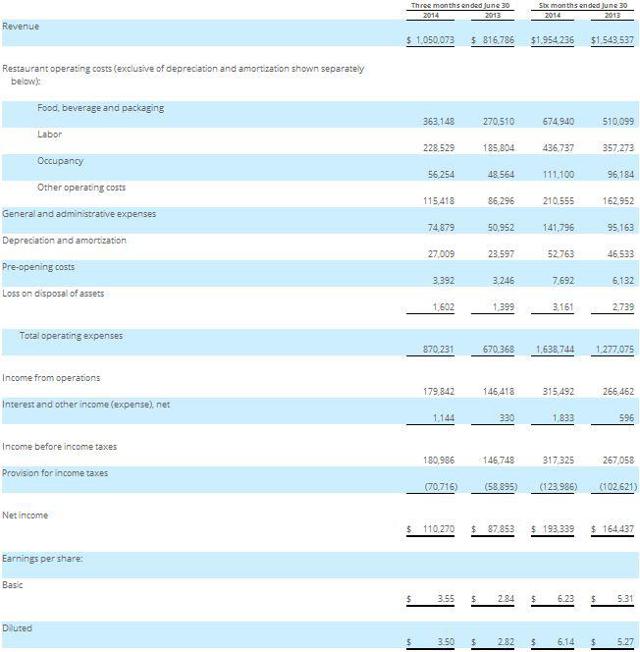 Source: 10Q
Guidance
Management gave a strong outlook for the rest of 2014, expecting comparable store sales to increase in the mid-teen percentages. Further, management has outlined a plan to open between 180-195 new locations during the rest of 2014. Investors took the strong guidance at face value and if the company fails to meet the optmistic outlook, it will face a selloff. During the call, management discussed a significant assumption that it has made in meeting its guidance.
Management's guidance assumes that price increases of approximately 6.25% to 6.50% will not effect sales at all:
"But assuming we experience little or no price resistance, we still expect comps well into the teens for the rest of this year."
Source: Earnings Conference Call
Comparable Store Growth Temporarily Raised
During the quarter, menu prices were raised, in order to offset rising food prices. The increased prices buoyed comparable store sales by 2.5%. Thus, the true comparable store sales figure is blurred and is not entirely reflective of organic sales growth. Worth noting is that the company raised average prices between 6.25% to 6.50%, but did so in late June, which is why it only raised sales by 2.5%.
Although revenue improvement was undeniably positive, margins actually declined 30 basis points y/y to 27.3%, which is vexing. Higher food costs and expanded marketing costs more than offset favorable sales growth. Despite the menu price increase, food costs were up 1.5% y/y, due to higher costs from beef, avocados, and dairy.
Earnings Per Share Blurred
On a year/year basis, earnings per share increased 24.1%, however, net income only grew 17.6%. The figures were skewed as management repurchased over $37 million of stock, at an average share price of $517, during the quarter. Although share repurchases are viewed as a positive, it also obscures the true operational performance of the company. With the share price increasing nearly 13%, after earnings, to approximately $670 per share, management will not have the opportunity to prop up eps growth to the same degree in the future.
Risks On The Horizon
Chipotle has spent a considerable sum in recent quarters on marketing and expects to increase its marketing expenditures further.
"We expect marketing to increase about 1.6% overall for 2014 and will remain [elevated] in the third quarter as we continue our better ingredients advertising campaign across the country in over 30 markets and 1000 restaurants."
Source: Earnings Conference Call
Marketing spending can be quite accretive, however, Chipotle is facing a serious risk, in the form of customer backlash. The advertising campaign will be centered around its "better ingredients" initiative. Nevertheless, CMG has faced rising food prices and has resulted in them "filling the gap" with conventionally raised meats. With the dichotomy of their marketing campaign and actions apparent, customer backlash is a serious threat on the horizon. This risk is certainly not priced into the stock.
Evidence of the use of conventionally raised beef is found from the earnings call:
"From many months now, we have struggled to get all of the beef we need from cattle raised without use of antibiotics for added hormones which is the cornerstone of our meat and dairy verticals. When we have not been able to get enough beef that meets our high standards, we have temporarily filled that gap with conventionally raised beef and posted notices in our restaurants so customers are aware of the change. With the nation's beef supply at a 60 year low and our demand continuing to rise, it looks as if this challenge is going to continue and we want to find a better solution, one that allows us to source as much beef as possible that meets our high standards."
Source: Earnings Conference Call
Valuation
Although CMG is growing at a faster rate than both McDonald's (NYSE:MCD) and Yum Brands (NYSE:YUM), the elevated trading multiples gives insight into the significant optimism priced into the stock. At a price to earnings ratio of 63 and price to sales ratio of 6.4, CMG is over double Yum brands trading level. Moreover, the trading level compared to MCD's is nearly triple.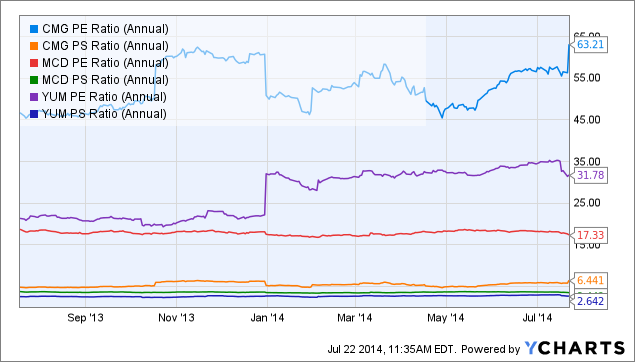 CMG PE Ratio (Annual) data by YCharts
Conclusion
Chipotle certainly posted dazzling results yesterday. However, investors are too enthusiastic, as comparable store sales and eps growth were blurred, to a degree. The risk of customer backlash from lower quality foods is apparent, especially when one considers that the marketing campaign is centered around their higher quality food. I would refrain from investing in CMG at these levels.
Disclosure: The author has no positions in any stocks mentioned, and no plans to initiate any positions within the next 72 hours. The author wrote this article themselves, and it expresses their own opinions. The author is not receiving compensation for it (other than from Seeking Alpha). The author has no business relationship with any company whose stock is mentioned in this article.