Creating a unique marriage of clinical and operating experience with drug discovery, Celsion Corp. (NASDAQ:CLSN), maker of mid-to-later stage therapies for cancer, joined forces with EGEN, Inc., creator of some of the most innovative cancer treatments seen throughout the industry that has even Big Pharma paying attention. Celsion's acquisition of EGEN recently closed, and promises to bring the combined company to the forefront of cancer research and development.
Celsion inherits a boost to its already healthy pipeline that comprises programs from multiple preclinicals to Phase III, launched from a single platform - ThermoDox - heat-sensitive liposomes that release drugs targeted directly to tumors. EGEN brings to Celsion a therapeutic product candidate already in clinical trials, and three new technology platforms that broaden beyond chemotherapy, into immunotherapy and cancer treatments exploiting nucleic acid-based cellular components of DNA and RNA.
A regulatory hiccup was encountered in 2013, when Celsion's most advanced clinical trial, the HEAT study (in Phase III) for primary hepatic cell carcinoma (HCC), did not meet its primary endpoint, a 33% improvement in progression-free survival at a specific level of statistical significance. Its stock price was hurt and investors lost confidence. Subsequent post-hoc data analysis showed treatment times were too short, and revealed that ThermoDox, when coupled with radio-frequency ablation for more than 45 minutes, results in 55% improvement in overall survival, at two years. Celsion's petition to the FDA has resulted in additional studies, as explained below.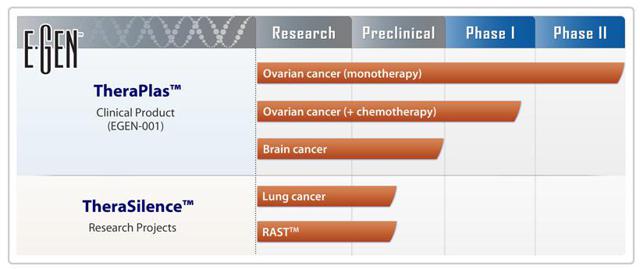 EGEN's lead drug is EGEN-001, an immunotherapeutic using a small circle of DNA called a plasmid that, combined with interleukin (IL)-12 and a chemotherapeutic agent wrapped inside a proprietary nano-sized material termed TheraPlas, can be directed to tumors to induce remission. IL-12 is a powerful biochemical tool bringing other cytokines to action, small proteins that help humans fend off disease and induce an immune response to cancer. Research into IL-12 DNA plasmids has a long history, beginning when intramuscular injection of a plasmid encoded with a human antigen to cancer showed immunity to carcinoma in lung tissue. This early work proved IL-12 to move poorly through the body and with toxic effects, but EGEN's methods to deliver EGEN-001 overcomes this obstacle, as shown in clinical trials.
EGEN-001 was first tested alone in ovarian cancer, a market estimated to grow to $1.6 billion over the next eight years. Ovarian cancer is usually advanced at the time of diagnosis, making it one of the most common late-stage diseases among women; early detection is tough, because symptoms are like those of any gastric disorder - bloating, abdominal discomfort, and difficulty eating. The World Health Organization pegs worldwide incidence at over 2 million women and recognizes the need for better treatment, as certain anti-cancer drugs simply stop working. Roughly 64% of those diagnosed with ovarian cancer in any given year die from it.
Celsion will continue a current trial of EGEN-001, devoting resources to furthering a Phase I using the drug in combination with doxorubicin, and expects that data and resulting safety profiles will support an even more effective study in first-line patients where the company hopes to combine EGEN-001 with docetaxel, another anti-cancer agent, and platinum, as a neo-adjuvant. Currently planned as a randomized Phase II study to be filed with FDA late this year, Celsion believes that its EGEN-001 IL12 immunotherapy has high potential for success in patients whose immune system has not been undermined by multiple rounds of toxic chemotherapy. Working with a healthy immune system, the therapy should stimulate an immune response to stop tumor growth in a way complementary to the adjuvant agents, enhancing efficacy.
Safety results have so far been encouraging, with adverse events limited to transient stomach ache, mild fever, and chills typical of a cytokine response. Importantly, use of the DNA plasmid did not lower efficacy of the chemotherapy agents nor add to side effects, pointing to possible commercial value of EGEN-001 as a maintenance treatment in ovarian cancer when other options fail. However, if positive results continue to emerge, EGEN-001 may be tested as ovarian cancer's front-line treatment.
Use of EGEN-001 in glioblastoma multiforme, one of the deadliest kinds of brain cancer, is next in line for human testing, which may also include combination with a standard-of-care chemotherapy drug. Future work in both of these indications, cancer of the ovaries and of the brain, will produce news flow for Celsion as EGEN hits milestones.
In addition to docetaxol, EGEN has experimented with combining EGEN-001 with doxorubicin in its proprietary platform, much like Celsion in ThermoDox. Because both are targeted therapies (attacking cancer cells, while limiting damage to normal cells), a strong synergy may emerge where research and development can be leveraged from one company to another.
TheraPlas is a vehicle for delivering DNA and messenger RNA, members of RNA molecules that transport genetic information within the nucleus of the cell to build proteins, as per DNA instructions. When changes in the foundation of these instructions occur, disorders result - hence, EGEN's therapy is considered targeted to within the cell. Using its expertise in intracellular manipulation, EGEN developed TheraSilence that delivers a variety of RNA molecules to the nucleus in an attempt to regulate the manufacture of proteins to, in effect, silence the mutations of disease. A drug candidate emerged, EGEN-RNA-002, now in preclinical development. The third platform EGEN developed is RAST (RNA Amplification and Secretion Technology) that would allow cells to make and produce RNA, offering potential drug design that, again, targets an intracellular source.
Immunotherapy and RNA-based therapies are what's sought after in the laboratories of large drug makers, with significant money changing hands. Last month, Pfizer Inc. (NYSE:PFE) agreed to pay Paris, France-based Cellectis $80 million upfront to develop an oncology immunotherapy. In April, Celgene Corp. (NASDAQ:CELG) committed a total of $2.6 billion for the rights to an RNA-targeted compound created by private Nogra Pharma Ltd., still in early-stage trials, while Biogen Idec Inc. (NASDAQ:BIIB) gave $100 million to its partner Isis Pharmaceuticals (NASDAQ:ISIS) to expand research for RNA drugs, roughly half of what it promises to pay in milestones.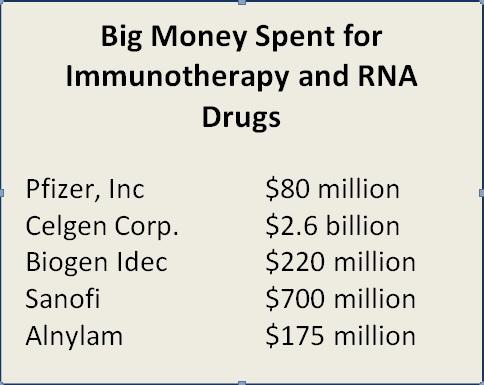 Drawn by what could become an annual market worth tens of billions of dollars, investors have bid up pre-revenue RNA drug companies like Alnylam Pharmaceuticals (NASDAQ:ALNY) to a nearly $5 billion market capitalization, despite an esoteric pipeline that features rare bleeding disorders and high cholesterol. Recognizing a growing trend, Sanofi (NYSE:SNY) recently bought a 12% stake in Alnylam for $700 million. Alnylam itself purchased Sirna Therapeutics, an early adopter of RNA research, from Merck & Co. (NYSE:MRK) in March for $175 million, a steal compared to Merck's acquisition of Sirna for $1.1 billion in 2006.
What has increased value in RNA companies is the technical ability to deliver the compounds into human cells, something Merck and other Big Pharma firms did not have the time or budget to explore. EGEN has already proved itself capable of this feat. EGEN also differs from competitors by pursuing cancer; oncologists have long been puzzled why, after so much money spent on RNA therapy, this disease lacked attention. But in the last few years, cancer researchers have "silenced" a number of cancer-related genes with RNA, and point to RNA's role in helping with chemotherapy resistance by suppressing certain proteins, maintaining sensitivity to anti-cancer drugs.
Celsion's deal with EGEN is a good one for shareholders that keeps capital intact for further research and development, and investment risk small. At closing, Celsion issued $8.5 million of common stock to EGEN (around 16% of outstanding shares, with a hold-back period of two years), and cash of $3 million, for a total consideration of approximately $11.5 million. Milestones, bringing the sum to $30.4 million, are conditional on clinical goals and licensing, and are subject to settlement by stock versus cash. With EGEN's three platforms and the industry's appetite for new cancer therapies that include immunotherapy and DNA/RNA-based drugs, licensing opportunities could be plentiful.
Its acquisition of EGEN enriches Celsion's profile in cancer therapeutics, and meanwhile, Celsion moves forward its prime candidate, ThermoDox, a radio frequency-activated liposomal formulation of anti-cancer agent doxorubicin for primary liver cancer. Despite past problems, the company received FDA approval to start a large double-blind, placebo-controlled Phase III trial, the OPTIMA study, and also has consent in Taiwan, Hong Kong, South Korea, and Canada, with other territories expected to come on board - the Philippines, Thailand, Germany, France, and Spain. ThermoDox will be evaluated in conjunction with radio frequency ablation, or tissue cutting, versus radio frequency ablation alone. Overall survival is the primary objective, and patient enrollment, now underway, is targeted toward 550 subjects, with commencement expected to occur this quarter.
A clinical trial of this size will not come cheap, and Celsion, with over $51 million in cash and securities available for sale (as of March 31, 2014), stands in a good position to fund studies; however, returning to the capital markets to raise money is a distinct possibility and may cause significant shareholder dilution. Cash runway of this size, however, may not bring Celsion to any positive conclusion in clinical trials. Lead time to product approval, assuming good results, may take years, even with the company's primary drug candidate in Phase III. This is not a unique problem for biotechnology firms, but investors must be aware of this risk.
Additional risks to purchase of Celsion shares include the typical dangers of small-cap stocks: lack of liquidity, lack of following by Wall Street analysts, and infrequent news announcements. However, Celsion surmounts at least one of these risks, because diversification of its business model should lead to a number of news items, creating more interest within the investor community. Continued trials of ThermoDox may not yield desired results, and shut off a principal technology platform. But with EGEN, Celsion has more opportunities for progress in cancer therapeutics, not just in chemotherapy, but also with immunotherapy and RNA drugs.
This is the new Celsion - a combined company bringing together scientific and operational talent with a larger pipeline of drugs in a range of clinical trial stages, from discovery to preclinical to Phase III. EGEN's drug delivery platforms look to complement Celsion's own. Moreover, efforts sounded in the pharmaceutical world are persuasive that medicine can be made of RNA technology, and Celsion, with this shrewd investment, will be there among the first.
Disclosure: The author is long CLSN, CELG. The author wrote this article themselves, and it expresses their own opinions. The author is not receiving compensation for it. The author has no business relationship with any company whose stock is mentioned in this article.
Editor's Note: This article covers one or more stocks trading at less than $1 per share and/or with less than a $100 million market cap. Please be aware of the risks associated with these stocks.