After much cautious consideration, and patient wait for more complete data and a highly favorable risk-reward profile, I have green-lighted myself on Eaton Vance Risk Managed Diversified Equity Fund (NYSE:ETJ). I purchased ETJ for the 1st time in my account licensed to Covestor's Long Short Opportunistic model at Tuesday's $13.15 open and kept buying.
ETJ is generically a tax-advantaged, high-yielding covered call fund, one of my current favorites among a group I believe poised to benefit from the prospect of higher dividend tax rates as soon as 2011. Call writing premiums passing through Closed-End Fund distributions can be highly tax-efficient. Peers including BDJ, IRR, ETB, NAI, EOS, CII, DPD, IGA and IGD casually trade at premiums, in one occasion quite bubble-like (NYSE:PGP). ETJ itself traded at 10%+ premium in the last year.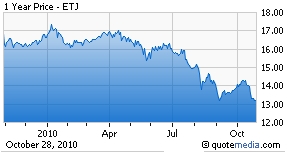 In the wake of a recent selling impetus, ETJ most recently closed at a 6.39% discount to its $14.08 Net Asset Value ("NAV"). ETJ's equity portfolio is dominated by blue-chip names like Apple (NASDAQ:AAPL), JP Morgan (NYSE:JPM), General Electric (NYSE:GE), and Microsoft (NASDAQ:MSFT). ETJ is not leveraged and is very expense conscious within its peer group. Perhaps most unique among its peer group, ETJ buys protective puts to protect against major market downturns. For readers desiring to become walking encyclopedias, the added protection component allows Wall Street steers to refer to ETJ's strategy as a Collared Overlay.
As is the case with most of my favored Closed-End Fund theses where I perceive market inefficiencies, there is much more to know about ETJ and its market dynamics. Before being a buyer, I choose to contemplate the seller. I have the greatest uncertainty in a logical trade when there has never been logic to the trade's other side, which is not the situation here.
A cautionary word on "Reversion to the Mean" Closed-End Fund Investing
I believe it wise to be very discriminating of the pool of Closed End Fund "Reversion to the Mean" candidates. I like ETJ in spite of, not based on, such simplistic and potentially illusory comparative value.
"Reversion to the mean" trades are popular among Closed-End Fund investors. Over any period of time, a Closed-End Fund will have on average traded at a certain discount or premium to its NAV. The style suggests buying at such relative valuations worse than historical average, and selling at valuations better than historical averages. The style is purely quantitative, ignoring why a fund's relative valuation has varied. The style's popularity can subject investors to crowded trades with other active investors, increasing downside exposure and reducing upside exposure.
When I make an investment that fits into "Reversion to the mean" classification quantitatively, I very much want to temper my actions with wisdom. Relative valuations often change for reasons. Perhaps an Activist is sprinting into a required SEC disclosure. Alternately, insightful buy-side selling might be anticipating a rights offer below NAV or an unethical Activist taking greenmail. Quantitative comparisons of relative valuations can create what I believe wise to fear, illusory inefficiency. I want to have a qualitative appreciation for why the relative valuation has varied from its historical average. Only then can I contemplate whether any variance is appropriate, overdone, or underdone, and what potential market dynamics may be forthcoming.
What was the impetus for the ETJ premium to erode, then for it trade to a discount?
The extent of NAV protection afforded by the ETJ portfolio's protective puts is not free, and the ETJ's inbound option premiums are partially offset by the cost of that protection, unique among the peer group. Distributions are always subject to be adjusted over time, particularly fund like ETJ, which have been the subject of some NAV erosion since being brought public. Bank of America Merrill Lynch analyst Jon Maier, whose firm reported holding over 2% of the outstanding shares as of June 30th downgraded the stock to underperform nearly two months ago. I would discourage anyone from faulting the data in Jon's piece. Whether related to Bank of America Merrill Lynch clients' selling force or otherwise, ETJ market price underperformed dramatically around the timing of his downgrade. The irony is that his egg hatched in spite of ETJ not laying an egg, potentially related to client selling forces. I am in no way suggesting Jon's call was intended to stimulate transactional revenue at Bank without perceived merit under the conditions present at the time of the downgrade. But, I certainly do not think an "underperform" rating holds water at present.
I believe Eaton Vance likely to address the condition of Jon's core observation by adjusting put protection levels and never laying an egg with ETJs distributions. I do not adversely judge the building blocks of Jon's research, and he deserves credit among Closed-End Fund retail analysts for actually doing some work and taking an assertive position. Jon made some intriguing observations about the changes to VIX since inception, a macro factor affecting all Covered Call Funds. He also took a position in which I lacked similar conclusion at the time, and now debate in arrears of speaking with a common Eaton Vance contact and collecting other data. Jon's position was that the payout was unsustainable; the relative valuation change since implies a market audience believing a dramatic change in the payout must be imminent.
A contrary opinion
Jon's retail research focuses heavily on changes to the overall VIX (a measure of options pricing) in arguing a causal relationship between payout and NAV deterioration since July 27, 2007 inception. Yes, the VIX and alternate pricing between calls and puts constantly change over time based on options market forces. Such is likely to have had at least some effect on NAV over the last few years. But, I believe options pricing was a secondary force at greatest. The NAV of ETJ should have a positive correlation to the broad market, although a Beta of less than 1. Such is what the strategy suggests, and in observing the data that is what the NAV reflects. I look to the broad market's decline as having been the primary stimulant to a decline in NAV.
I believe Eaton Vance respected Jon's underlying observations. I do not think the ETJ distribution declaration since (which made no change) displays any arrogance or indifference. Rather, Eaton Vance may be taking an approach of fine tuning what they do. I expect the next portfolio glimpse will show an emphasis on value in its choice of protective puts. (Link to ETJ updated SEC filings)
Governance wise, I have conviction that Eaton Vance is in tune with responsible handling of its Managed Distribution Policy, of which their recent semiannual report stated "there are no reasonably foreseeable circumstances that might cause the termination". Not only did I want to discuss this subject with a shared Eaton Vance contact, but I also wanted to see the first distribution declaration after Jon's piece. My assessment of the distribution risk is far less dramatic than Jon's written work, much less the marketplace reaction implies. I would argue there is also far less risk to ETJ's distribution than PGP. If there is a tweak to the managed distribution amount of ETJ, it would likely occur upon further adverse performance in the broad market. In my estimation, a hypothetical percentage change may be less than the relative valuation change which has resulted in reaction to Jon's research report.
On the macro level, if markets are efficient an abnormally strong and abnormally weak market over three year periods are equally (un)likely. Random timing has no impact on long term returns and much can be argued for the long term returns of equities when the pain inflicted through the harshest periods is mitigated. ETJ is a unique fund with low expenses. If managed effectively ETJ, unlike PGP among peers, is not trespassing on a clear need to alter distribution policy to avoid certain long term NAV deterioration in my view.
Any Closed-End Fund discount can always widen, but in this instance with a dramatic cut seemingly priced in and the event now appearing unlikely, the most real fear for investors to have is fear itself.
Why Now?
I'm not the first to observe a possible opportunity for in ETJ. A fellow Seeking Alpha contributor named George Spritzer observed what was titled a Short Term Opportunity in Eaton Vance CEF on September 21st. Personally, I have been intrigued by ETJ since the days leading up to Jon's published report. But, ETJ is no simple situation. Patience and additional data have served my clarity and conviction. I require high anticipated reward thresholds for risk assets. The reward appears higher and the risk far lower with additional data and a more mature set of market dynamics.
I evaluate risks some people probably find silly. I needed to root out the possibility of a friendly relationship between Jon and Eaton Vance. I needed to talk to Jon about his perspective, and Eaton Vance. I needed to contemplate old and new data, and re-evaluate the present opportunity objectively. Much has developed in the last two months. In my view, the reward prospects are greater, and more importantly the risk prospects have greatly diminished particularly very recently.
The October 13th distribution declaration was relevant in my eyes. After the market had anticipated in a cut, there were no changes. The selling force (plausibly prior holdings reported by Jon's firm, Bank of America (NYSE:BAC)) has provided an ample opportunity for me to be patient as the discount broadened.
Retail Bank of America clients have had not only the opportunity to sell on Jon's research, but to sell on and after the ex-date (October 20th). That probably sounds irrelevant to somebody who never saw the retail financial service business from the inside, or who doesn't know the shareholder base of high yielding closed end funds. In my days as a research/broker liason at Morgan we watched research and less official swap ideas play out in the firm's retail box position over time. We knew transactional volume in our product was relevant. I will say the following with respect for Jon, his firm, and my own former employer Morgan Stanley. The business model which supports Retail Research has plentiful imperfections.
The market errs all the time. On a macro basis, markets may be efficient, but even Billion dollar funds with retail research are underfollowed, underappreciated, and have inefficient market prices.
Disclosure: My long position in ETJ and short position in PGP, along with my other portfolio and trading activities are licensed as data to Covestor Ltd. ("Covestor"). Covestor is a Registered Investment Advisor that uses my trading data in effort to replicate my actions with models for its retail investing clients.