Rovi Corporation (NASDAQ:ROVI) (formerly Macrovision) is focused on revolutionizing the digital entertainment landscape by delivering solutions that enable consumers to intuitively connect to new entertainment from many sources and locations. The company also provides extensive entertainment discovery solutions for television, movies, music and photos to its customers in the consumer electronics, cable and satellite, entertainment and online distribution markets.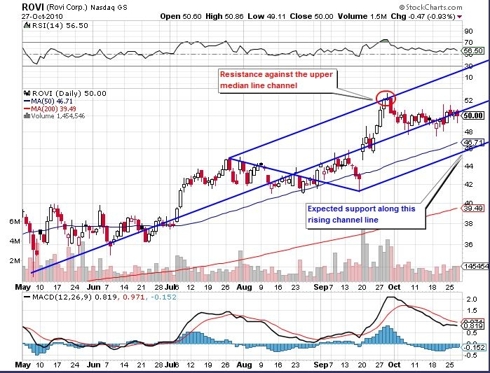 (Click to enlarge)
Earnings growth has been between 45% to 67% during the past three quarters. ROVI's multi-year deal with Apple (NASDAQ:AAPL) and their recent acquisition of Gemstar (GMST), along with AAPL cozying up to Netflix (NASDAQ:NFLX) with a possible deal in the making, is of interest to investors. AAPL wants to make Apple TV a success, and ROVI can help make that happen with a push toward interactive television.
Gemstar was a media company (now part of ROVI) that licensed interactive program guide technology to multichannel operators, such as cable and satellite television providers, and consumer electronics manufacturers. ROVI's purchase of Gemstar was seen as a brilliant move.
Buying before earnings is extremely dangerous so please do your own due diligence and strategy implementation. Protect yourself with options or buy a half position and buy more if it gaps down if you really believe in a company, but don't go into it blindly.
Buying afterhours after earnings have been reported is another possible strategy (if you're not a behemoth hedge fund), but none of these are recommendations, just examples. In my own opinion, early July 2010 would have been a good recent entry point. Despite the uptrend in the stock price, patience was required even with a good entry.
Disclosure: I plan on initiating a long strategy on Thursday, 10-28-2010 if circumstances warrant.