Deutsche Bank, the financial giant that has partnered with PowerShares on some of the most popular currency and commodity ETF products, has begun laying the groundwork to launch its own line of equity ETFs. In a recent SEC filing, the firm detailed five proposed ETFs:
DBX MSCI Emerging Markets Currency Hedged Equity Fund (XEMG)
DBX MSCI EAFE Currency Hedged Equity Fund (XEAF)
DBX MSCI Brazil Currency Hedged Equity Fund (XBRZ)
DBX MSCI Canada Currency Hedged Equity Fund (XCAN)
DBX MSCI Japan Currency Hedged Equity Fund (XJPN)
Each of the proposed funds would utilize forward contracts to hedge out the currency risk that usually accompanies any international equity investment. That feature would essentially isolate the component of returns generated from the performance of the underlying stocks, effectively reducing the overall volatility by stripping out exposure to exchange rates. The uptick in exchange rate volatility and speculation over a second round of quantitative easing have brought increased attention to the impact of the currency exposure that is baked in to most international equity ETFs.
Currency exposure is a two-sided coin: when the dollar sinks, returns to U.S. investors can be enhanced by their exposure to local currencies. But when the greenback shows strength, the movements in exchange rates can eat into gains or exacerbate negative returns. Currently, iShares offers ETFs linked to the unhedged versions of the indexes underlying these funds, including the MSCI Emerging Markets Index Fund (NYSEARCA:EEM), MSCI EAFE Index Fund (NYSEARCA:EFA), MSCI Brazil Index Fund (NYSEARCA:EWZ), MSCI Canada Index Fund (NYSEARCA:EWC), and MSCI Japan Index Fund (NYSEARCA:EWJ). Vanguard also offers funds linked to the emerging markets (NYSEARCA:VWO) and EAFE (EFA) indexes. The proposed funds from Deutsche Bank would essentially serve as alternatives to these funds for investors looking to establish exposure to the underlying equity markets without exposure to the related currencies.
Importance Of Currency Hedging
The difference between hedging currency exposure and remaining unhedged may seem like a minor detail to some investors, but the impact on bottom lines can be material–as evidenced by the performance of products that have already come to market. WisdomTree has been a pioneer in the hedged equity ETF space, currently offering two funds that strip out exposure to exchange rates to isolate the equity component of returns. The International Hedged Equity Fund (NYSEARCA:HEDJ) invests in non-U.S. developed market equities, while neutralizing the impact of fluctuations between the dollar and non-U.S. currencies through forward contracts. When the euro cratered earlier this year, HEDJ opened up a wide advantage over EFA, the iShares fund that doesn't hedge currency exposure; at one point the gap between the year-to-date performance of the funds had grown to more than 10%. As the tables have turned in recent months and the dollar has plummeted that delta has narrowed, as the unhedged fund has performed considerably better (it should be noted that there underlying indexes are similar but not identical; the benchmark to which HEDJ is linked is dividend-weighted):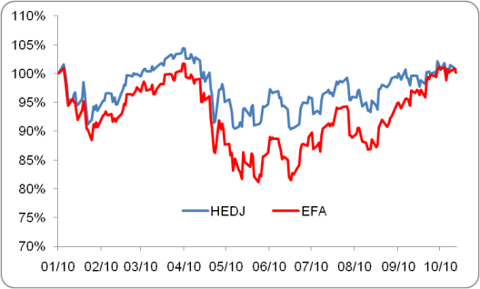 WisdomTree's other hedged equity ETF, the Japan Hedged Equity Fund (NYSEARCA:DXJ) takes a similar approach to the Japanese stock market, cutting out yen exposure. As the yen has surged–much to the dismay of the Japanese government–DXJ has lagged behind Japanese equity ETFs that don't hedge out currency exposure. Since DXJ adopted the hedged equity feature in April of this year it has trailed behind the iShares MSCI Japan Index Fund (EWJ) by nearly 12%. Again, the components of the underlying indexes aren't identical but similar, highlighting just how significant the impact of exchange rates can be on international equity returns: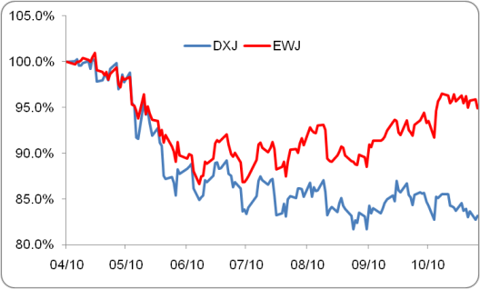 Disclosure: No positions at time of writing.
Disclaimer: ETF Database is not an investment advisor, and any content published by ETF Database does not constitute individual investment advice. The opinions offered herein are not personalized recommendations to buy, sell or hold securities. From time to time, issuers of exchange-traded products mentioned herein may place paid advertisements with ETF Database. All content on ETF Database is produced independently of any advertising relationships.